This post may contain affiliate links, which won't change your price but will share some commission.
New Year's Eve 2013. The plan: Epic Taco Tuesday to finish off the year with some good friends. Lots of tasty, vegan dishes and libations were planned.
New Year's Eve Eve 2013. The reality: Spent the night in the Emergency Room with my 2-year-old. There's a line in the baby books for "first ER visit", right?
Right.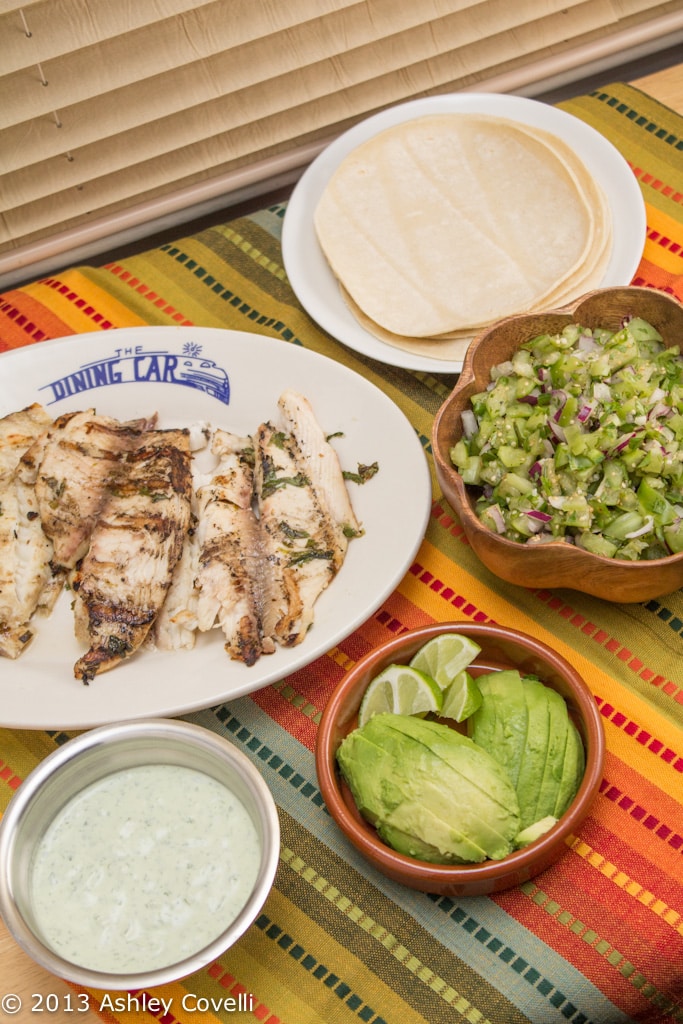 Everything is fine, but we had quite a scare, and with all of the hubbub and cooties and also a sick hubby, we decided to postpone our taco date with our friends. Once the dust settled a bit, I decided I still wanted to make at least some tacos, so I put together a few things to celebrate New Year's Eve. Dino even convinced me that we should fire up the grill for the last time of the year to make the aforementioned tacos.
So while I definitely wasn't planning on using a grill at the end of December, spending all day and night in pajamas, and eating leftover Ricotta Cookies with Dino in the kitchen right before the clock struck midnight, it was kind of perfect.
Except for all of the cooties.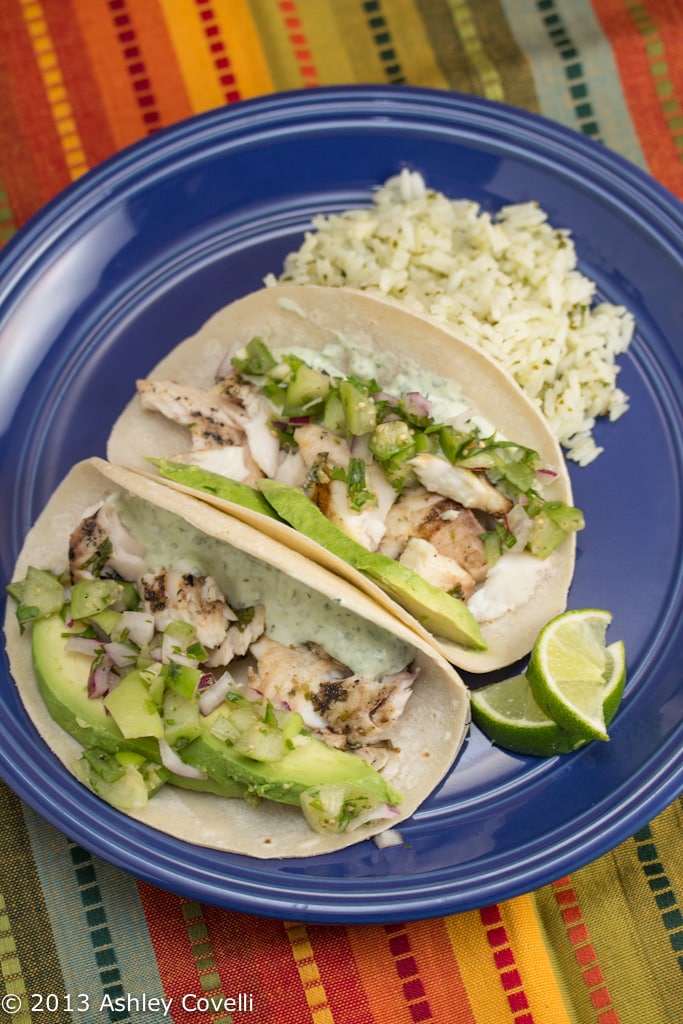 And now... the tacos. They were wonderful! I had planned to grill them indoors on my cast iron grill pan, but Dino convinced me that it was worth firing up the gas grill. I'm glad he did - the flavor was wonderful! These tacos are light and refreshing, and made me think of summertime, even though it's near freezing here in New York right now. I was surprised how much flavor this quick marinade imparted into the fish (in my case, tilapia).
I really liked the addition of the Tomatillo Pico de Gallo (recipe coming tomorrow!) and the Cilantro and Lime Crema was just awesome. Nice and tangy and creamy... it would be great on a lot of different types of tacos. And you know I'm down for trying lots-o-tacos in 2014.
In my hurry to get dinner together, I totally forgot to add the shredded cabbage to these, but I most definitely will be putting it in with the leftovers.
Hope 2014 treats everyone well!
Cilantro and Lime Fish Tacos
Closet Cooking
Makes 4 servings
Prep Time: 20 minutes
Cook Time: 20 minutes
Total Time: 40 minutes
1 pound white fish such as tilapia, cod, etc.
1 tablespoon oil
1 lime, juice and zest
1 jalapeño, finely diced
1 clove garlic, chopped
1 green onion, finely sliced
1 handful cilantro, chopped
½ teaspoon cumin seeds, toasted and ground
salt and pepper to taste
8 (4 inch) corn tortillas
1 batch tomatillo pico de gallo
3 cups cabbage, shredded
1 batch cilantro lime crema - see below
2 large avocados, sliced
Marinate the fish in the oil, lime juice and zest, jalapeño, garlic, green onion, cilantro, cumin, salt and pepper for 10-20 minutes.
Grill the fish over medium-high heat until cooked, about 4-6 minutes per side. The fish will be cooked when it flakes easily and it is no longer translucent.
Flake the fish and serve in tortillas garnished with your favourite toppings.
Cilantro and Lime Crema
Servings: makes ½ cup
Prep Time: 5 minutes
Cook Time: 0 minutes
Total Time: 5 minutes
½ cup crema or sour cream
1 green onion, sliced
1 handful cilantro
½ lime, juice and zest
½ jalapeño pepper, seeded and diced (optional)
Purée everything in a food processor.
Big Flavors Rating: 4 Stars