This post may contain affiliate links, which won't change your price but will share some commission.
I got this cookbook a while ago but haven't made anything from it until tonight. This meal totally hit the spot - great comfort food. I got to use my new 7 quart cast iron Dutch oven, and it worked out perfectly! The packages of chicken I got had a few extra pieces, so it took longer than 20 minutes of simmering for it to be cooked through. I served this on top of whole wheat couscous and it was wonderful!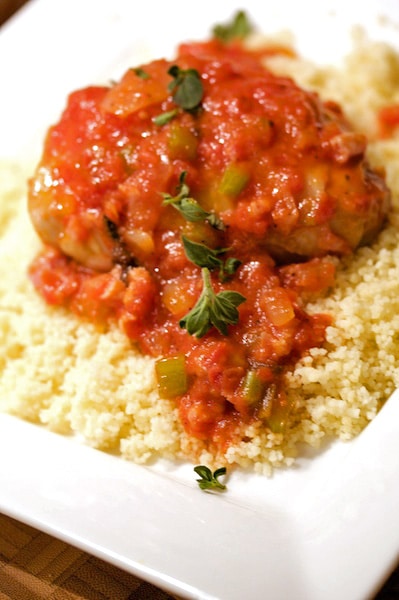 Chicken Cacciatora
The Food of Italy: A Journey for Food Lovers - Sophie Braimbridge and Jo Glynn
Just like the French Chasseur, Cacciatoria means 'hunter's style'. The dish is originally from central Italy, but like so much Italian fare, every region has put its own twist on the recipe. This one, with tomatoes, is probably the most widely traveled.
3 tablespoons olive oil
1 large onion, finely chopped
3 garlic cloves, crushed
1 celery stalk, finely chopped
150 g (5 ½ oz) pancetta, finely chopped
125 g (4 ½ oz) button mushrooms, thickly sliced
4 chicken drumsticks
4 chicken thighs
80 ml (⅓ cup) dry vermouth or dry white wine
2 x 400 g (14 oz) tins chopped tomatoes
¼ teaspoon brown sugar
1 sprig of oregano, plus 4-5 sprigs to garnish
1 sprig of rosemary
1 bay leaf
HEAT half the oil in a large casserole. Add the onion, garlic and celery and cook, stirring from time to time, over moderately low heat for 6-8 minutes until the onion is golden.
ADD the pancetta and mushrooms, increase the heat and cook, stirring occasionally, for 4-5 minutes. Spoon onto a plate and set aside.
ADD the remaining olive oil to the casserole and lightly brown the chicken pieces, a few at a time. Season them as they brown. Spoon off any excess fat and return all the pieces to the casserole. Add the vermouth, increase the heat and cook until the liquid has almost evaporated.
ADD the tomatoes, sugar, oregano, rosemary, bay leaf and 80 ml (⅓ cup) cold water. Bring to the boil then stir in the reserved pancetta mixture. Cover and leave to simmer for 20 minutes, or until the chicken is tender but not falling off the bone.
IF the liquid is too thin, remove the chicken from the casserole, increase the heat and boil until thickened. Discard the sprigs of herbs and taste for salt and pepper. Toss in the additional oregano sprigs and the dish is ready to serve.
MacGourmet Rating: 4 Stars