This post may contain affiliate links, which won't change your price but will share some commission.
In this installment of Big Flavors from the Farm I'm chatting with Mike Geller, CEO of Mike's Organic Delivery, a Stamford, Connecticut based service that brings gorgeous, locally grown, farm fresh food directly to its customers. I was blown away by the quality and range of products that they carry, and couldn't wait to share it here.
I was able to spend the morning checking out Mike's warehouse to see where everything is collected, stored and packed for delivery. It was really refreshing to talk to someone who is so passionate about what he does. He loves educating people about their food and where it comes from, and serves as a much needed bridge between farmers and consumers.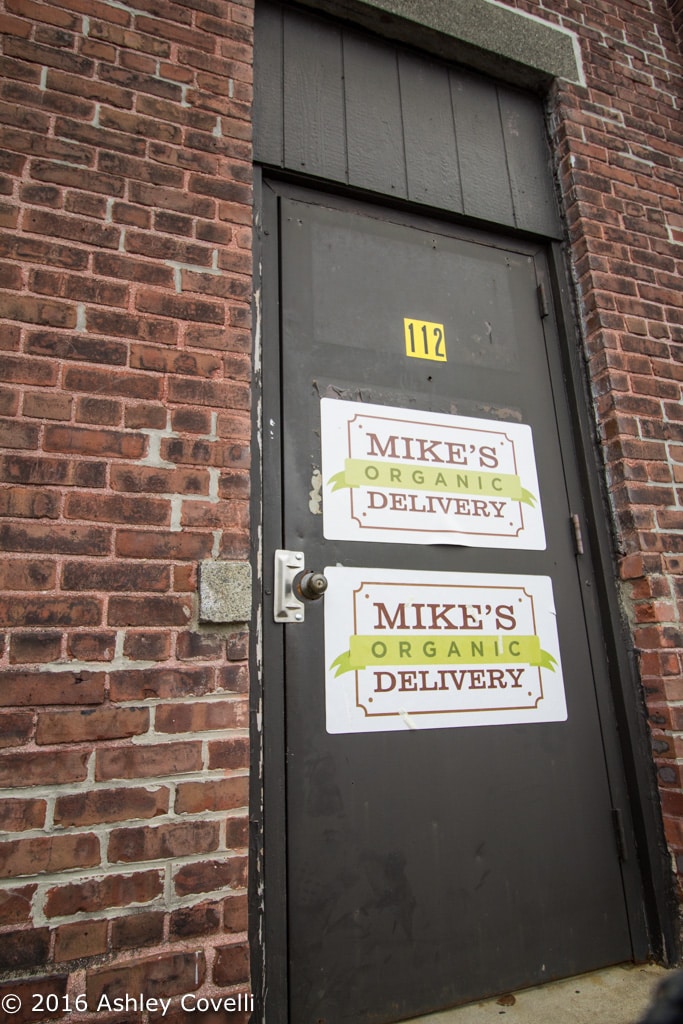 Plus, how cool is it to work somewhere that allows you to visit farms all over Connecticut and New York on a weekly basis?
As a bonus, if you live in their delivery area, Mike shared some discount codes for my readers – you'll definitely want to get in on this! Details at the end of the post. And stay tuned tomorrow to get the recipe for the amazing Farmer Fettuccine with Kale Pesto + Roasted Maitake Mushrooms that I made with some of the goodies that Mike sent me home with!
Big Flavors: Tell me how Mike's Organic Delivery got started.
Mike: I was in the corporate world for 7 or 8 years and did a lot of different things. Never loved what I did, never was really passionate about what I was doing, so I quit and went and spent 3 months living in the Kalahari Desert in Africa. I had an an amazing trip. 
I went to a supermarket in Botswana and all the food was better there than it was here and I couldn't understand why or how.
When I came home, I knew wanted to do something outside. I've always been connected to nature and food. I'm a lifelong cook and gardener… and I had the idea that I wanted to help bring good food to people and connect with all these local farmers. I came home and worked on a farm, at Stone Barns, a couple days a week just learning. From there just started meeting farmers and had the idea for the business. I didn't have anyone to ask any questions to – there wasn't anything like this at all 7 years ago… just started learning on my own in the community where I grew up, which was important.
Big Flavors: How did you end up in the Kalahari Desert?
Mike: I had been to Africa before. I had been hunting there… I was helping to build a photographic safari camp. So it was me and 3 Zimbabwean guys living out in the bush on this 20,000 acre ranch… the nearest town was 75 miles away. There was nothing. So I had to hunt for all of our food and whatever I bought at the store had to last for the whole time. It was one of those things that happens in life that really does change your path.
Big Flavors: How does your service work?
Mike: People use our service in two ways. One way is to sign up for a full season package. So our summer season begins May 30th. So you go to the website and pick a package that comes every week. Just fruits and veggies, or you can add on all kinds of things – eggs, meat, cheese, fish… all those things. There's a price for the whole season – you pay upfront. Or you can basically use our service like you'd use Fresh Direct or Peaopd or someone else and shop the site a la cart, pick out what you want, put it in your cart and check out. You order by Sunday for the coming week.
The only difference is that produce you order in a mixed basket. And pantry items, we have this really awesome breakfast cereal we've brought on for kids – there's 3 ingredients in them, and they're good, too. We have pastas, we're doing canned tuna now… I'd like to try and replace the supermarket for people. We're not gonna sell paper towels or dish soap, but as far as food goes, we're getting there!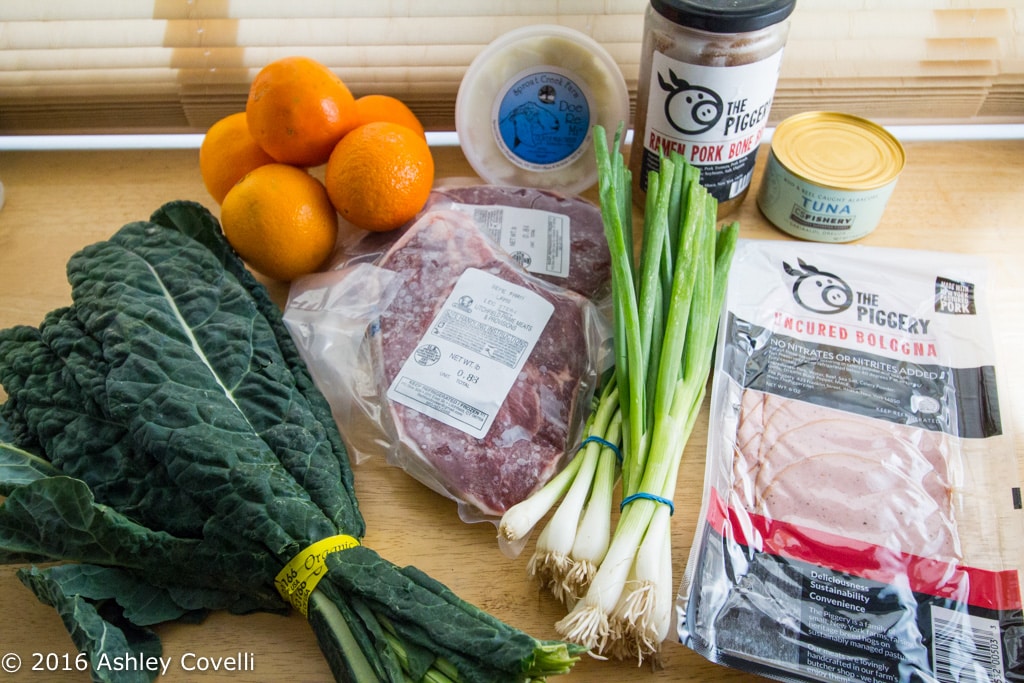 Big Flavors: The fact that you have a weekly option is great because for us, we've thought about doing a CSA before, but we go out of town, and I like going to the farmer's market and picking things out, but there are definitely weeks where I'll order Blue Apron or whatever. I just want someone else to think for me and then I'll get it at home and do what I want with it. So I love that you're doing both.
Mike: We're the only company in this space that does full season and week-to-week, home delivery and corporate drop-off. I'm a big fan of anything that supports local farms – CSAs, farmer's markets… I'm all for them whether you're ordering for us or not. However, where we're a little different is that because we do work with more than one farm, your variety is so much more extensive.
In the basket this coming week we're doing Fuji apples, Haas avocados, baby fennel, wild ramps, green garlic, cremini mushrooms, baby heads of lettuce, rhubarb, and broccoli rabe… we work with a few small organic farms in California to get citrus and avocados in the winter. The other thing is as far as going away, we get it. We understand that people are busy and go on vacations. So if you do a season package with us, you can pause your delivery and either get a refund or a credit. If you don't like beets, you can let us know you don't like beets and we'll give you a substitution. We try and really make it be as flexible as possible.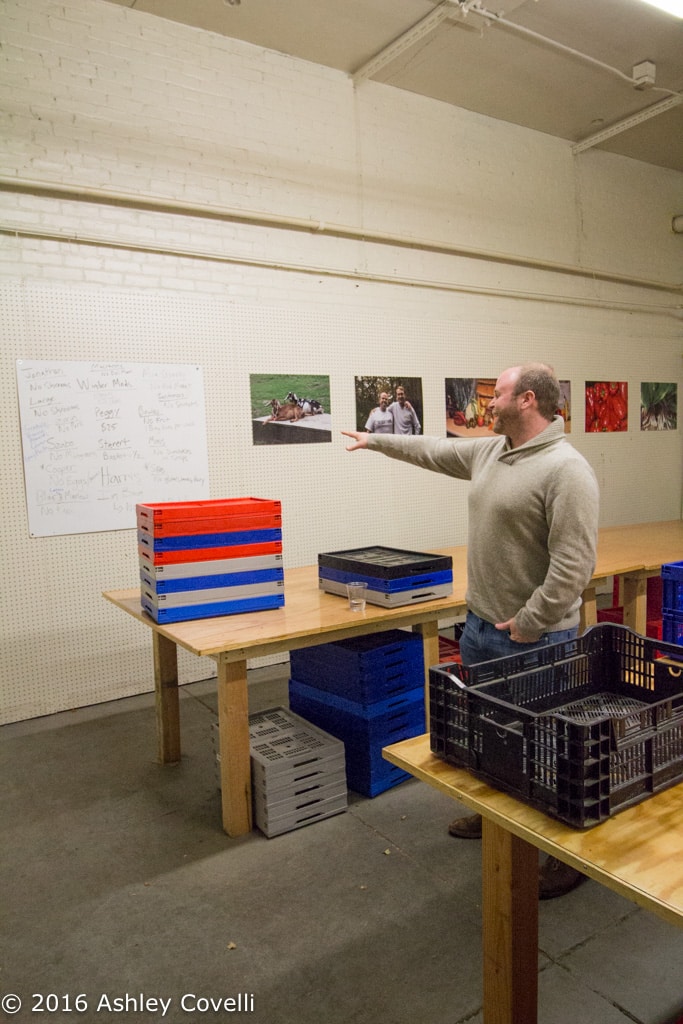 Big Flavors: That's great, too, because then you don't feel so locked into getting 20 weeks of kale.
Mike: And you never will, by the way. You'll never get the same thing 2 weeks in a row unless it's something like strawberries… or something that has a very short season. Like asparagus, you may get 2 or 3 weeks in a row because that's it for asparagus. But other than that, you'll never get kale, collard greens, any of those things 2 weeks in a row from us. And you'll never get more than one bunch. Enough to make 1 salad or side dish.
Big Flavors: How do you select the farms that you work with?
Mike: It's been a long process. In the beginning, it was just finding people that would be willing to work with me. And I actually lucked into working with some amazing farms. Like Hepworth Farm… the farm has been around since 1818 and Amy is a legendary farmer. She was the first person to farm organically in the state of New York in 1984. She's advising Governor Cuomo on the agricultural future of the state of New York… and they have like 400 acres of organic produce in Milton, New York. Everything is hand picked and certified organic.
Also looking close. Whenever we talk about adding a new farm or a new product, it's 4 things. Number 1: the product itself. Number 2: the story. Number 3: the logistics – how do we get it? And number 4: the price.
Our theory on pricing has always been to give the farmer the price that they need to have to support their business and their life, offer it to our customers at a reasonable price where we're trying to make it affordable, and where somewhere in between we can make enough to run our business.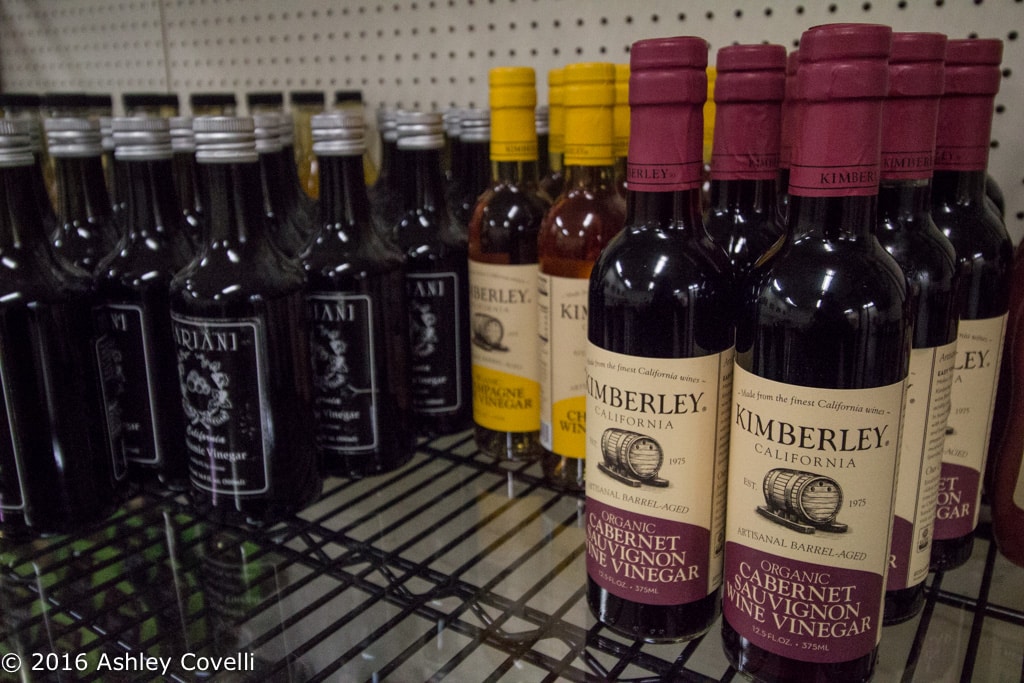 Big Flavors: What's one of your favorite products that you've discovered from working with local farmers?
Mike: There's so, so, SO many. There's a farm called Sprout Creek in Poughkeepsie, and they have a fresh goat cheese, a chèvre, called Doe Re Mi which is one of the best things I've eaten. It's amazing. We just brought on this amazing canned albacore tuna from Oregon. It's literally a big, beautiful piece of tuna in a can… Back Roads Granola from Brattleboro Vermont – their stuff is amazing.
And there's a farm called The Piggery in Ithaca – they're incredible. My wife went to Cornell, so I visited their farm a summer ago… pork, beef, turkey – but predominately pork – the happiest, healthiest animals I've ever seen. And their products are unbelievable. They do everything from nitrate free, pasture raised deli meats to pork chops and pork tenderloins to turkey chili to bone broth. They have a USDA kitchen and a butcher shop as well. Just an amazing place with amazing products.
There's no shortage of products that we carry. Every single product that we carry is a product that I eat and will feed to my son. There is nothing that we carry that I don't 100% believe is the highest quality you can get.
Big Flavors: What's in season now, and what's coming up next?
Mike: This is one of those very interesting times of year in this part of the country where you still have all of your root cellar things like potatoes, beets, apples and carrots. But you also have this little lag time between when things are really coming in and things that they're doing as far as season extension. So things right now like green garlic and baby fennel, those are coming out of the tunnels in the fields… it basically allows them to start things ahead… even a month or two ahead of time. They don't heat them, it's all via ambient air temperature and sunlight, but it gives you a jump on the season.
Between May 1st and June 15th there is a challenging time of year. So things that are coming in now are asparagus, fiddleheads, wild ramps, a lot of your baby greens – arugula, spinach, lettuces, scallions. And then what we do is we work with a few farms out in California to get things like avocados, tangerines, kumquats, stuff like that. Strawberries are coming up in probably 5 weeks, depending on the weather. And from there, you'll have new items every single week. It really kicks up to everything coming in in July.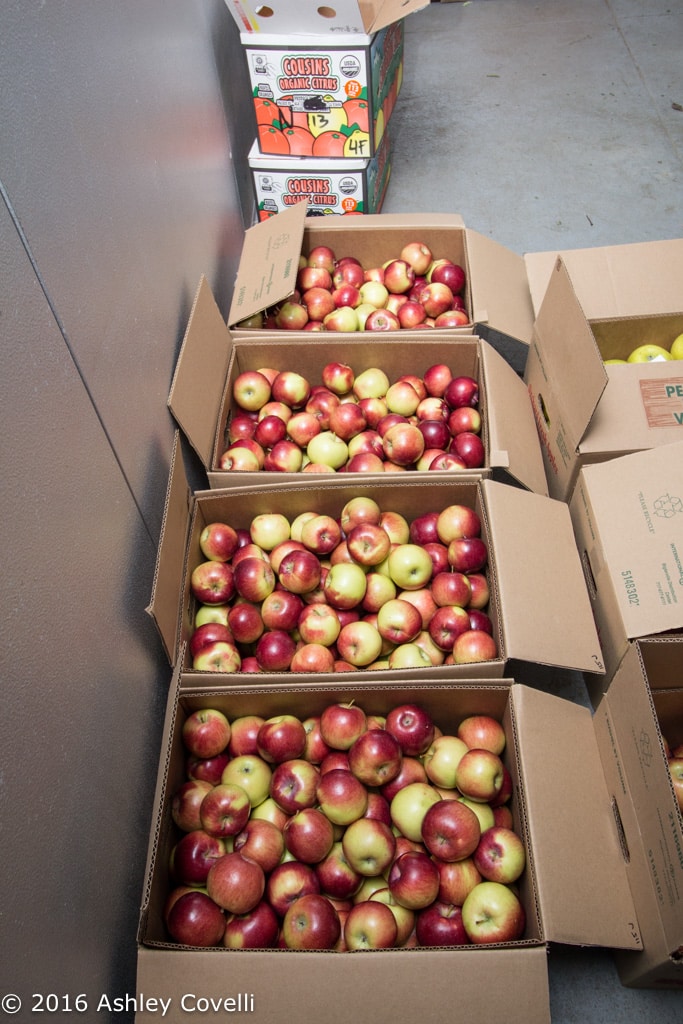 Big Flavors: Do you have any tips on how to store produce at home? There seems to be some debate over which items benefit from refrigeration and what needs to be used quickly vs. what can hold for longer.
Mike: Every week we give you storage tips for what you're getting. The easiest tip I give everyone is if we give you a bunch of kale or a bunch of collards, just wrap them in a damp paper towel and put them in your crisper and they'll last for a week. Tomatoes shouldn't go in the fridge. Realistically, cucumbers, eggplant, zucchini – none of that stuff should go in the fridge either.
What we tell everyone is this: for the best taste, they shouldn't go in the fridge. But if you're gonna keep them for a week, put 'em in the fridge, because they're obviously not gonna last as long on the counter. Everything we give you should last at least a week, unless you take really poor care of it and leave the lettuce on the counter for 8 or 10 hours and then put it in the fridge.
Big Flavors: Do you have any tips for people to help them identify items that are responsibly grown when they're out shopping?
Mike: It's difficult, and I get that question all the time, and I give an answer that's unfortunately not that helpful, but if you can't ask the farmer that grew it, then you don't really know. When you go to the store and buy an organic apple from… pick a country – how do you know it's organic? I know that it says that, but I went to Whole Foods and they had a big station with a big sign that said local asparagus. And I picked up a bunch of asparagus and looked at it and the rubber band said Peru.
Just try to establish a connection with where your food is coming from other than the store.
So I would say that if you were shopping at a store, buying organic things is definitely a better choice than conventional things. However, a lot of our farmers aren't certified organic and they grow to a higher standard… it costs $15,000 to $20,000 to get an organic certification.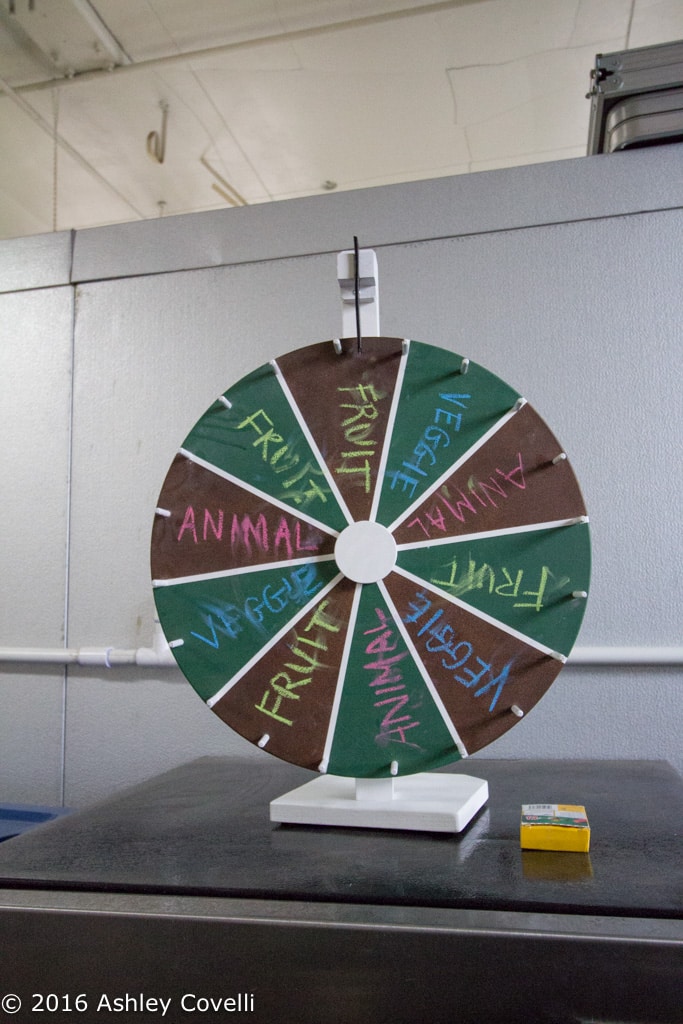 Big Flavors: And I feel like there's so much trickery with labeling, like "all natural".
Mike: Or free range! You know what free range means? It means 20,000 chickens in a barn. That's "free range". Those are "free range eggs". So you have to remember that behind food are huge companies with billions of dollars and they hire very good marketing people.
When you see the truck driving by with the cow on the grass field – that's not where your milk is coming from.
Big Flavors: What's the last thing that you ate from the farm?
Mike: Yesterday for breakfast I had roasted broccoli and leeks with a fried egg on top with organic ketchup from Elevation. For lunch I had a Lacinato kale salad which I massaged with lemon from one of the farms we work with, our olive oil, sea salt, pepper, shallot and Doe Re Mi goat cheese on top.
Big Flavors: What are some small steps that people can take toward cleaning up their diets and eating more sustainably? Because it can get overwhelming.
Mike: It is. And life is all about balance. Like, I went to dinner last night and I ordered chicken paillard. I know where the chicken came from – it didn't come from a small local farm. So balance is really important. And you can't make yourself crazy about this stuff. People will go to extremes in a lot of different aspects of their life, and this is no exception. The goal for many people should be to just incorporate as many healthy, local items into your diet as possible. I go to a farm every single week. Not every single thing I eat is from the farms. A lot of it is, because I have unusual access.
But for a person, try to make 30% of your diet from small, local farmers. And the way to do that is either to A: go to a farmers market, B: visit a farm, or C: get it from us. And ours obviously is the least leg work in all that, but unless you really know the people that are growing and raising your food, you don't really know anything about your food. And when you lose that connection with your food is when you start sacrificing quality and nutrition for convenience. There's a great quote, by Anonymous, "There's nothing that Americans fear more than inconvenience".
Big Flavors: That's incredible. And sad, but true.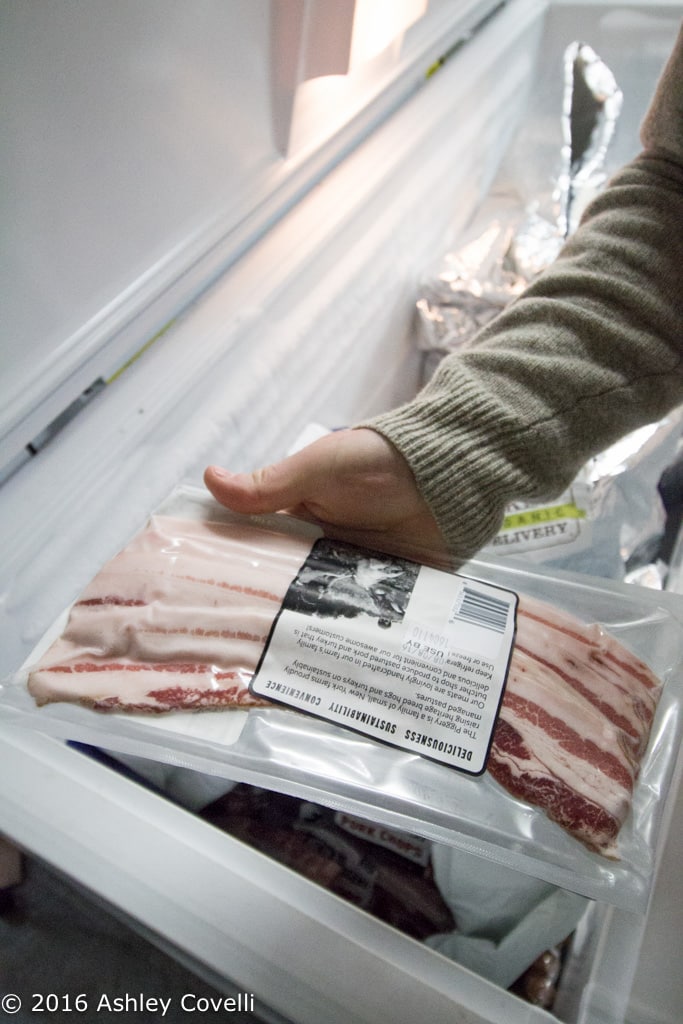 Mike: We want everything wrapped up in plastic with a little label and a date and a pretty sticker and instructions on how to cook it – and I get that, we're busy. I do a newsletter every week, and the last one I did was called Survival Cooking. It was for busy moms and dads. We send you recipes for everything we give you, which is awesome, and there will be times that you will have time to sit down and make a complete meal from start to finish.
However, like the broccoli that I ate the other day… I was like, look, I know I have 45 minutes this morning, so here's what I'm gonna do: I'm gonna take the broccoli and leeks and cut 'em up. I'm gonna roast them in the oven, take them out and cool them and put 'em in my fridge. And then I can do a million things with that. I can have them with an egg like I had for breakfast yesterday. I can warm it up and have it as a side dish when I make a meat or whatever it is. There's a lot of things you can do, but I think what is really important is the cooking aspect of it.
People are so A: intimidated, and B: lazy. We want someone else to cook it. And that's fine, but when you go to a restaurant, I don't care what you get – a roasted chicken – it is nowhere near as healthy as when you roast it. Forget about the chicken itself – butter, salt – they all make food taste better. I cook all the time – you layer salt into dishes. So when you have no control over the cooking of your food, that's the last step in that chain of where that chicken was raised and the way that chicken was treated and all that – then you get to the restaurant. So just reestablishing a connection with your food.
Big Flavors: And that's a really good tip, 30%, because I feel like that's doable.
Mike: It's realistic.
Big Flavors: It's realistic! You're not even saying half. Just try!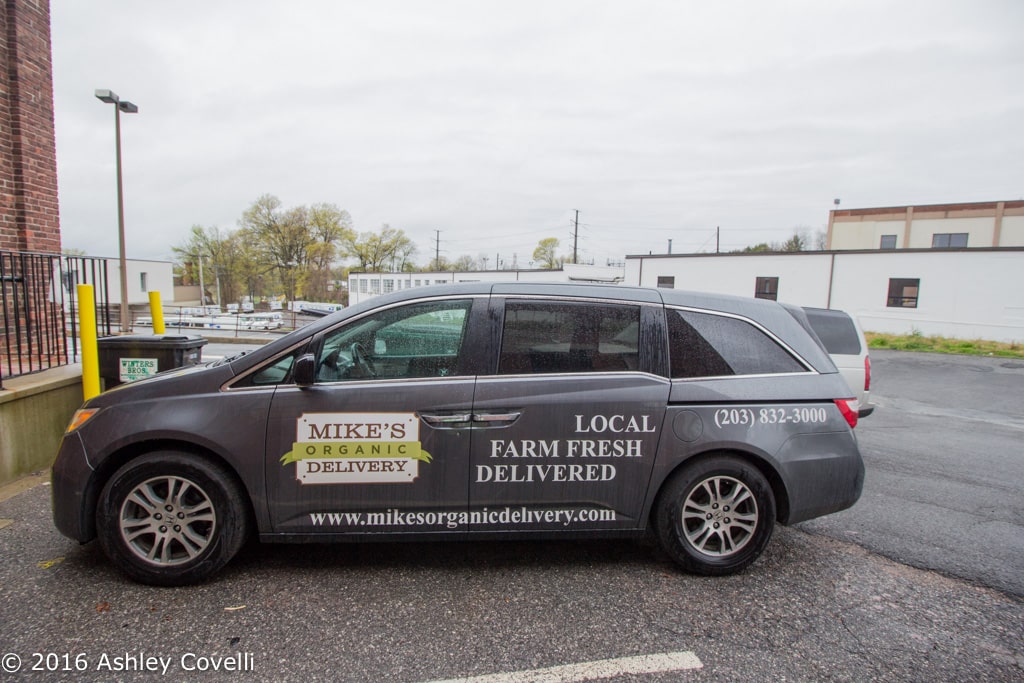 Mike: Exactly. There are lots of good options now. I can go buy Mary's Gone gluten free crackers. But to me, the veggies are so important. But meat, eggs, dairy – those are the things to me that you should never buy from a supermarket, honestly.
My theory has always been, with food, attain as much information as you can and then make whatever decisions are best for you financially, ethically, convenience-wise. Eating is a very personal choice like voting or religion… you should be entitled to eat what you want. However, ignorance is not an excuse…
The other thing that you see which is interesting, and in some ways makes me optimistic is that when I was a kid, you'd go to the store and you'd see Heinz or Kraft and you'd buy that brand because you could trust that brand. Now when you go to the store and you see Clausen Pickles and you see McClure's and Brooklyn Brine and these other ones, you're more likely to choose one of the small ones. Because you actually do think that they care about you.
An analogy that I use all the time is in this country, people walk into a supermarket and they see a pound of ground beef for $1 and we say, "that's a great deal", right? If you went to a Mercedes dealership and saw a car for $800, your first question would be what's wrong with this car? We don't prioritize food financially in this country. We don't say, "I'll spend an extra dollar on that because…" food-wise.
We'll do it for clothes, we'll do it for shoes, we'll do it for cars… it's so backwards. And it's a shame, because what you're doing by not being willing to pay the extra dollar is you're not supporting the people that are willing to do what it takes to grow better food for you, because it is more expensive for a lot of reasons that are beyond their control. No organic farms are subsidized – only large industrial farms get government subsidies. So what do you expect the system to do? So it is amazing and something that I'm really passionate about.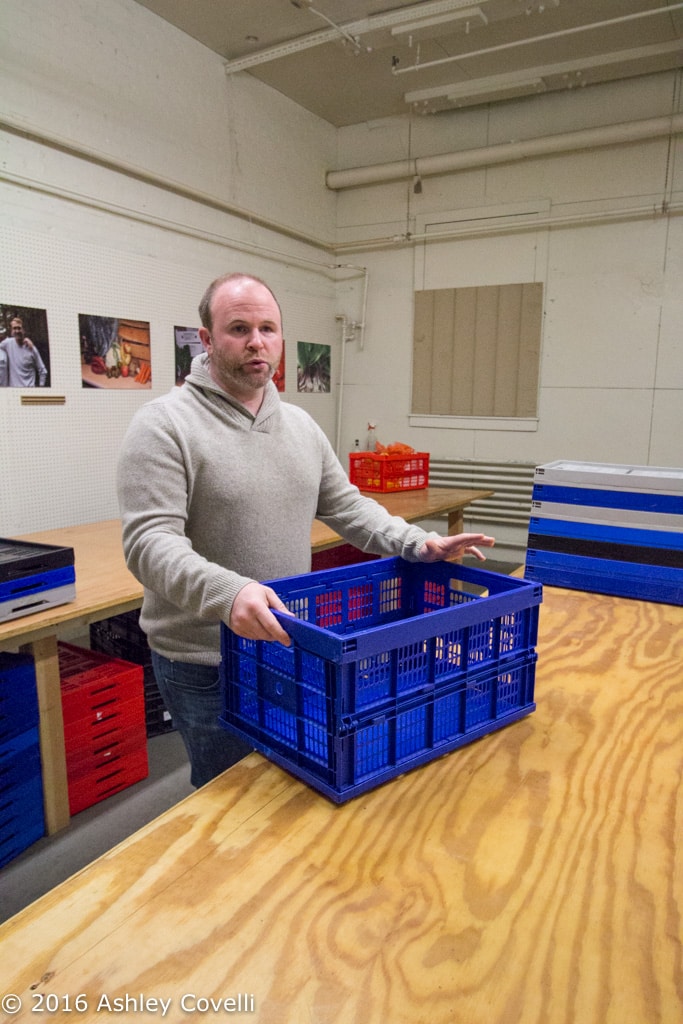 Thanks again to Mike for such a fun, educational day! To get more information and check out delivery locations, head over to Mike's website or follow them on Facebook, Instagram and Twitter.
SPECIAL OFFER: Big Flavors readers can use coupon code "bigflavor" for $10 off any 1 time order or "bigflavor100" for $100 off any full summer season package. Shop now!
Again, I can't speak highly enough about how happy I am with Mike's company, their mission, and the superior quality of their products. And the flexibility that they offer is just so nice – it's easy to customize it to fit your family's needs. Really exciting, revolutionary stuff!
Stay tuned tomorrow to get the recipe for my Farmer Fettuccine with Kale Pesto + Roasted Maitake Mushrooms, made with lots of goodies from several local farms, all from one basket from Mike!