This post may contain affiliate links, which won't change your price but will share some commission.
The theme of my Supper Club's September dinner was Swiss cuisine. I wanted to try to find something other than fondue to make, and it was fairly tricky to find recipes for things that weren't Swiss cheese or Swiss chard.
It was frustrating - I really wanted to find something authentic, especially since I have some Swiss ancestry. Once I saw this hearty soup, I knew it would be a hit!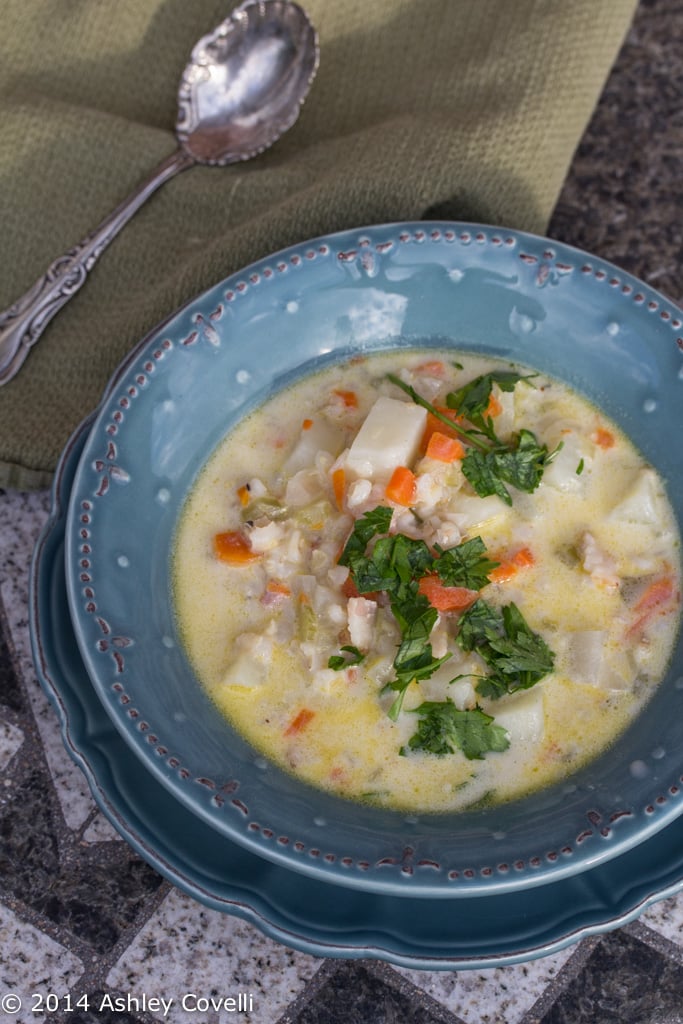 Leeks, onions, carrots and celery are sautéed to form a base for this comforting soup. Bacon, barley and potatoes bulk it up and a bit of cream is added at the end for richness.
It was hearty without being too heavy, and it was a big hit at dinner. The leftovers reheat really well, too! This soup will make your kitchen smell divine while it simmers away.
Bunder Gerstensuppe (Swiss Barley Soup)
Food.com
Total Time: 1 hrs 40 mins
Prep Time: 20 mins
Cook Time: 1 hrs 20 mins
Servings: 4
2 tablespoons unsalted butter
2 tablespoons olive oil
1 medium onion, peeled and finely chopped
1 large leek, washed and finely chopped (white part only)
3 medium carrots, peeled and finely diced
3 stalks celery, finely diced (including leaves)
1 bay leaf
5 ounces smoked bacon, diced
8 cups chicken stock (or vegetable stock)
¾ cup pearl barley
2 medium russet potatoes, peeled and diced
salt and pepper, to taste
1 cup cream
fresh parsley, chopped (for garnish)
1 Heat butter and olive oil in a soup kettle over medium-high heat.
2 Add onion and leek and cook until they begin to soften, about 10 minutes.
3 Add the carrots, celery, bay leaf and bacon and lower heat to medium. Cook for 10 minutes, stirring occasionally.
4 Add stock, barley and potatoes. Simmer for 1 hour.
5 Add salt and pepper to taste. Stir in cream and bring back to heat, without boiling.
6 Ladle into bowls and garnish with parsley.
Big Flavors Rating: 4 Stars