This post may contain affiliate links, which won't change your price but will share some commission.
Have you heard of Bulletproof Coffee? My friend (and partner in crime over at The Domestic Mixologist) Mara has been drinking a lot of it lately. When she raved about this butter-and-coconut-oil-infused pick-me-up, I knew needed to have it in my life!
A lot of people like that it gives them energy without the typical caffeine crash, and that it suppresses their appetite. You can read all about it on the Bulletproof site.
I've never been very affected by caffeine - I just really love the taste of good coffee. I typically add milk and sugar to mine, but this version doesn't need any additional sugar, which makes me feel even better about it. One of the things I liked best about it was that after every sip, I had a little coconut oil/butter residue on my lips, so it was like it had built-in lip gloss. Ha!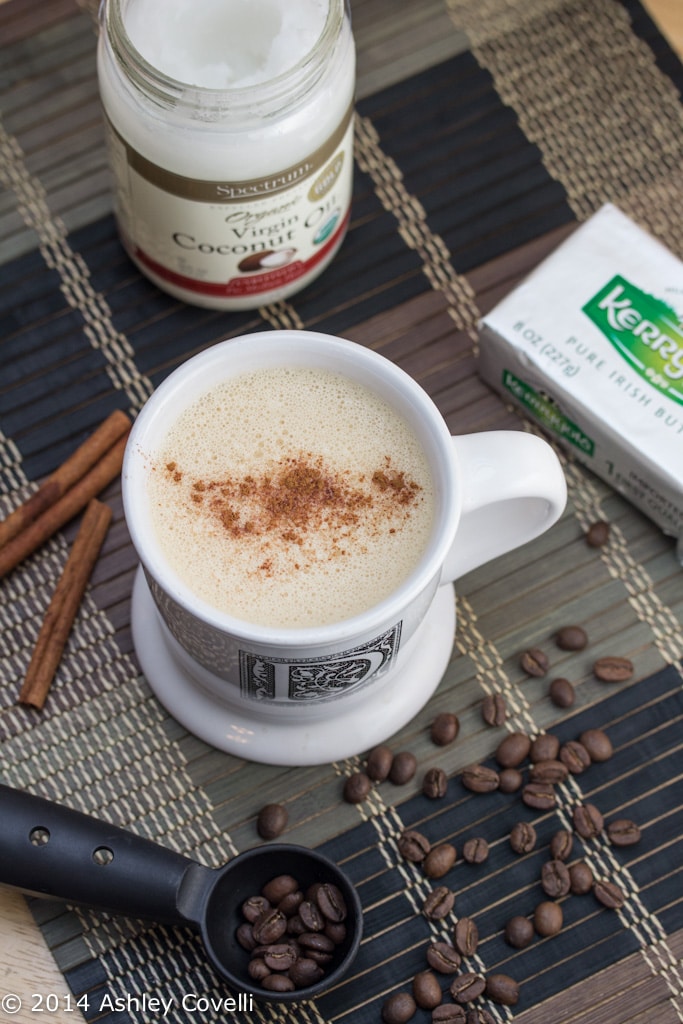 It's imperative that you use grass-fed unsalted butter (such as Kerrygold) and high quality coffee beans. There are a few local roasters in my neighborhood that I like, but the goal is to get something fresh and free of toxins. I haven't tried the actual Bulletproof Upgraded coffee beans but definitely will try it with those one day.
As with all of the coffee I make at home, I ground my beans right before brewing. It makes a huge difference in flavor! I use a lot less of the butter and coconut oil than what he calls for, and I like it just fine. Just go with whatever size your favorite coffee mug is and work up from there.
Bulletproof Coffee
Adapted from Bulletproof
1 mug (8-12 ounces) freshly brewed coffee
1 tablespoon grass-fed unsalted butter
1 tablespoon coconut oil
Ground cinnamon, for garnish (optional)
Add coffee, butter and coconut oil to a blender and blend on high for 20-30 seconds, until it gets nice and frothy, like a latte. Pour into a mug, garnish with cinnamon, if desired and enjoy!
Note: you can pre-heat your blender by pouring some hot water in it while your coffee is brewing. I have a Vitamix, which keeps it pretty hot, so I skip this step.
Big Flavors Rating: 4 Stars