This post may contain affiliate links, which won't change your price but will share some commission.
This was an easy recipe that was very tasty. The only change I made was to cook the pork chops in the pan, rather than partially in the pan and then in the oven. I don't think they were thick enough to bother with that. The chutney is very good - the sweetness of the apples and raisins go great with the tanginess of the vinegar and the slight spiciness of the cayenne.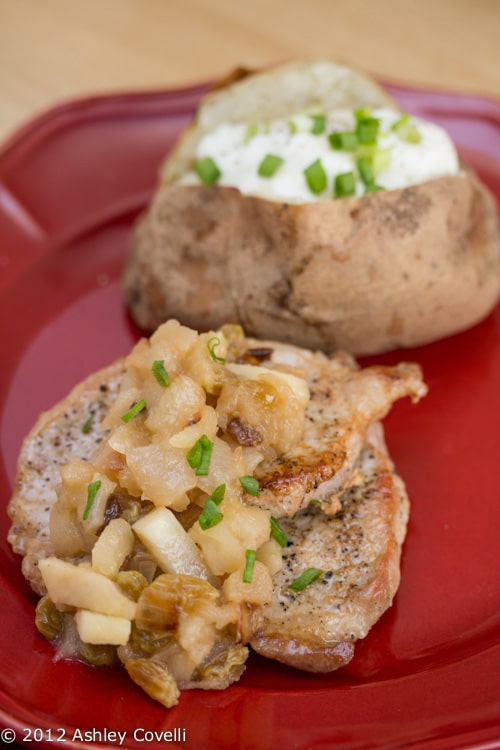 Boneless Pork Chops with Apple Chutney
Martha Stewart Living - October 2001
Yield: Serves 4
4 tablespoons olive oil
2 teaspoons coarse salt, plus more for seasoning
1 teaspoon freshly ground black pepper, plus more for seasoning
4 boneless center-cut pork chops (1 ¼ pounds), cut ¾ inch thick
1 large onion, cut into ½-inch dice
4 green apples (such as Granny Smith), peeled, cored, and cut into ½-inch dice
½ cup cider vinegar
½ cup golden raisins
1 teaspoon ground ginger
¼ teaspoon dry mustard
Pinch of cayenne pepper
Preheat oven to 400 degrees. Heat 2 tablespoons olive oil in an ovenproof skillet over medium heat. Sprinkle salt and pepper on both sides of pork chops; add to skillet. Saute until golden brown, about 2 minutes; flip. Cook 2 minutes more; place pan in oven. Roast until meat is cooked through and registers 155 degrees on an instant-read thermometer, about 5 minutes. Transfer to a platter.
Meanwhile, in a large saucepan, heat remaining 2 tablespoons olive oil over medium heat; add onion. Saute over medium heat until translucent and beginning to brown, about 6 minutes. Add apples; saute 4 minutes more. Add vinegar, raisins, ginger, mustard, and cayenne. Stir well to combine; cover. Continue cooking, stirring occasionally, until apples are very tender but hold their shape, about 3 minutes. Season with salt and pepper, and serve over pork chops.
Big Flavors Rating: 4 Stars