This post may contain affiliate links, which won't change your price but will share some commission.
My mother-in-law bought a beef tenderloin, and since she and my father-in-law were coming over today, she asked if I wanted to do something with it (she's a master of subtlety haha!) and I thought it would be a fun challenge. I don't think I've worked with a whole beef tenderloin in the past. This recipe looked really easy and didn't involve a lot of hands-on time. A lot of the reviewers said that you should double the rub for a larger piece of meat, so I did. The oven is at a really high heat, and it was getting pretty smoky in the kitchen, so I lowered the temp to 450°F for the last few minutes of cooking time. This roast came out beautifully! It was melt-in-your-mouth perfect. I can definitely see entertaining with this. It didn't even necessarily need the sauce. We all actually liked the sauce mixed in with rice better than on the beef. I think it would be great with some pommes frites or roasted potatoes. Yum!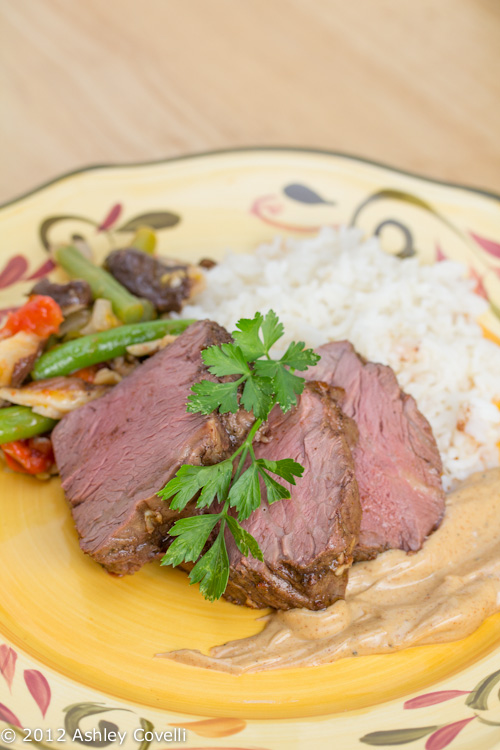 Beef Tenderloin with Smoked Paprika Mayonnaise
Gourmet July 2008
yield: Makes 8 to 12 servings
active time: 25 min
total time: 1 ¼ hr
Lovers of beef and chorizo can have their steak and eat it, too: Here, a garlic, cumin, and smoked-paprika rub on rare roast beef has the alluring smoky meatiness you've always associated with the richly flavored sausage. The same seasonings, plus some drippings from the meat, transform ordinary store-bought mayonnaise into a simply spectacular accompaniment.
For beef:
2 large garlic cloves
1 teaspoon smoked paprika
1 teaspoon ground cumin
1 tablespoon olive oil
1 (3 ½- to 4-pound) trimmed beef tenderloin roast, tied
For mayonnaise:
1 cup mayonnaise
1 teaspoon smoked paprika
½ teaspoon ground cumin
2 tablespoons meat juices from beef, or to taste
Roast tenderloin:
Preheat oven to 500°F with rack in middle.
Mince and mash garlic to a paste with 1 ¼ teaspoon salt. Transfer to a small bowl and stir in paprika, cumin, oil, and 1 teaspoon pepper.
Pat tenderloin dry, then rub garlic mixture all over it. Roast in a roasting pan until an instant-read thermometer inserted diagonally 2 inches into center of meat registers 120°F, 25 to 35 minutes for medium-rare.
Transfer to a platter along with any pan juices and cool, loosely covered with foil, 30 minutes to 1 hour. (Internal temperature will rise to about 130°F as it rests.)
Make mayonnaise:
Stir together mayonnaise, paprika, cumin, and ½ teaspoon pepper. Stir in meat juices and salt to taste
To serve:
Cut meat into thick slices. Serve warm or at room temperature, with smoked-paprika mayonnaise.
Cooks' note:
Smoked-paprika mayonnaise keeps, chilled, 2 weeks.
Big Flavors Rating: 5 Stars