This post may contain affiliate links, which won't change your price but will share some commission.
This is the last meal I made before we had people come in to start remodeling our kitchen. I'm posting it waaaay late but backdating it so it shows up on the right day 🙂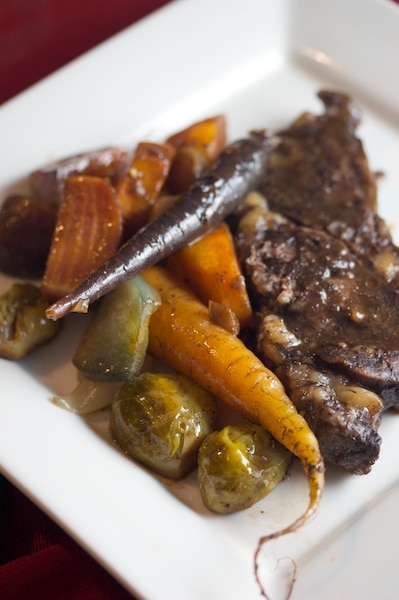 I got some gorgeous beef chuck eye steaks at the farmers market, and I bought some beautiful root veggies and brussels sprouts to go with them. I patted the steaks dry and dipped them in flour, shaking off the excess. I seasoned them up with salt and pepper and lightly browned them on both sides in a roasting pan in a few tablespoons of olive oil on the stovetop. I then threw in a few chopped cloves of garlic until it was really fragrant and added some beautiful multi-colored carrots (even purple!), golden beets, brussels sprouts, shallots and sweet potatoes. I cut everything into big chunks, leaving the carrots whole since they were pretty small.
I poured in about a cup of red wine and ½ cup of water, seasoned with salt and pepper and put everything into a 350°F oven for an hour. The end result was a super tender steak with perfectly roasted vegetables and a nicely reduced red wine sauce to go on top. This was simple and delicious and I can't wait to do it again!