This post may contain affiliate links, which won't change your price but will share some commission.
So the day after I baked a record number of cupcakes, I went out to visit some friends and came home to this: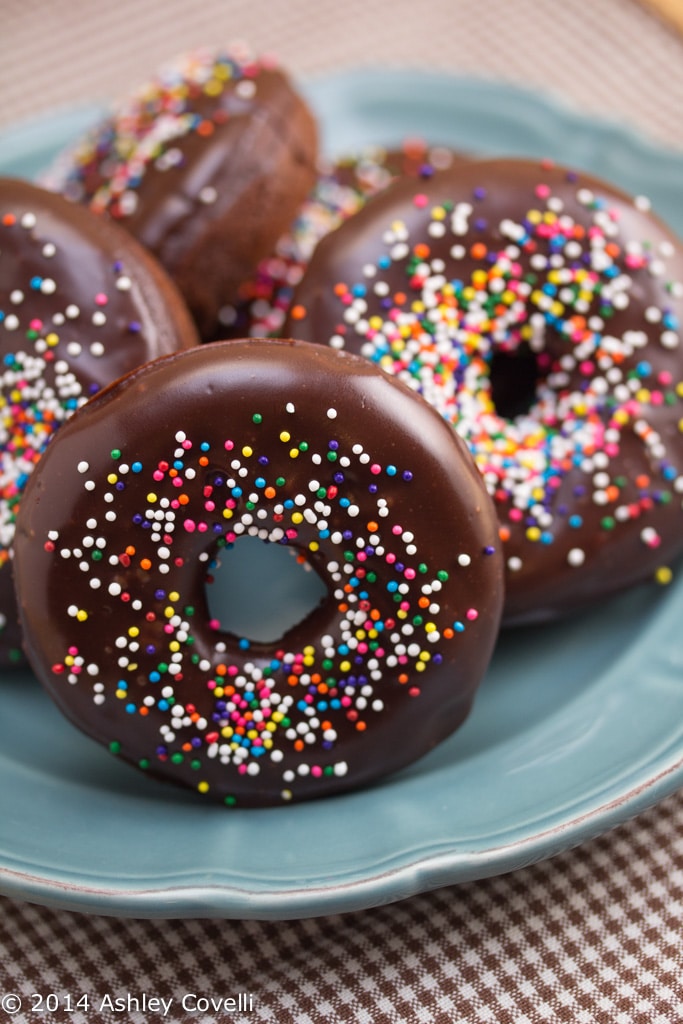 Apparently my husband and toddler decided to do some baking of their own.
Donuts.
From scratch.
Ambitious much?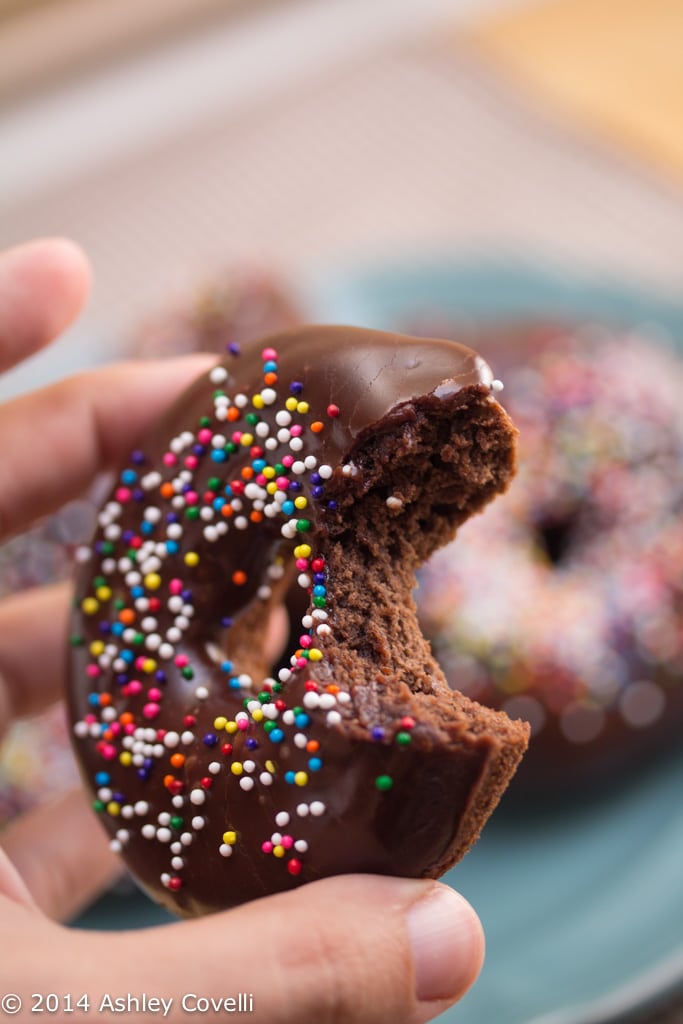 My husband picked a recipe from a site that I absolutely adore, and this donut recipe certainly did not disappoint.
The changes they made were to use self-rising flour and omit the baking soda. They used espresso instead of coffee, and for the glaze, they used a mix of 4 ounces 100% cacao baking chocolate mixed with 1 ounce of 60% bittersweet chocolate.
The donuts were nice and tender, and the glaze was dark and delicious. They held up really well for a few days, too. My husband even took a few shots of the donuts with my camera (below) - I think he may be gunning for my job! 😉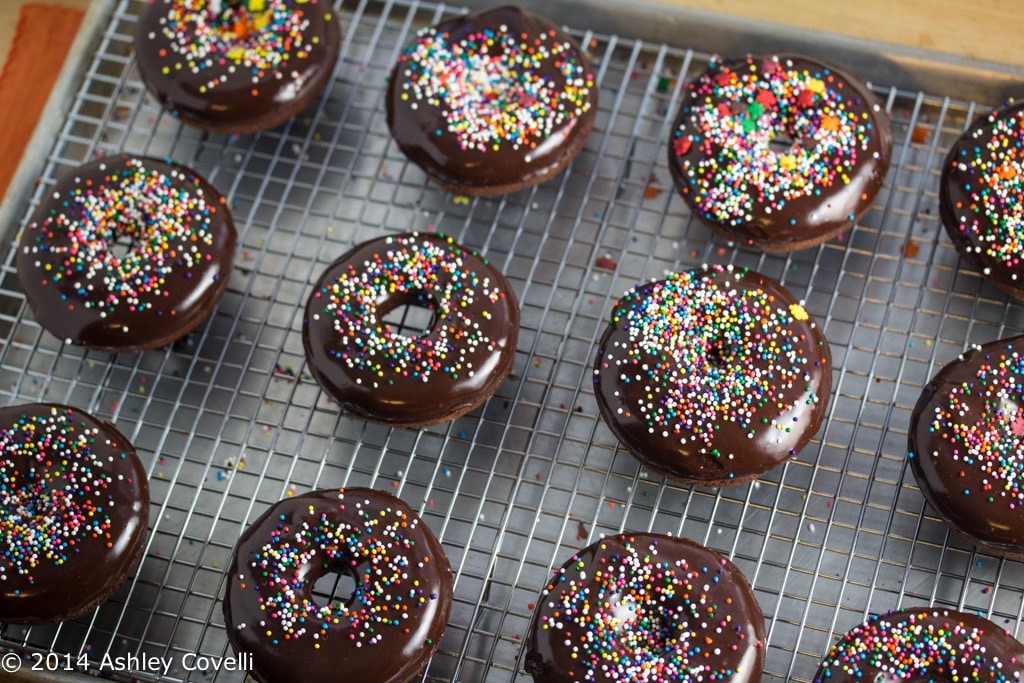 Awesome work all around, boys!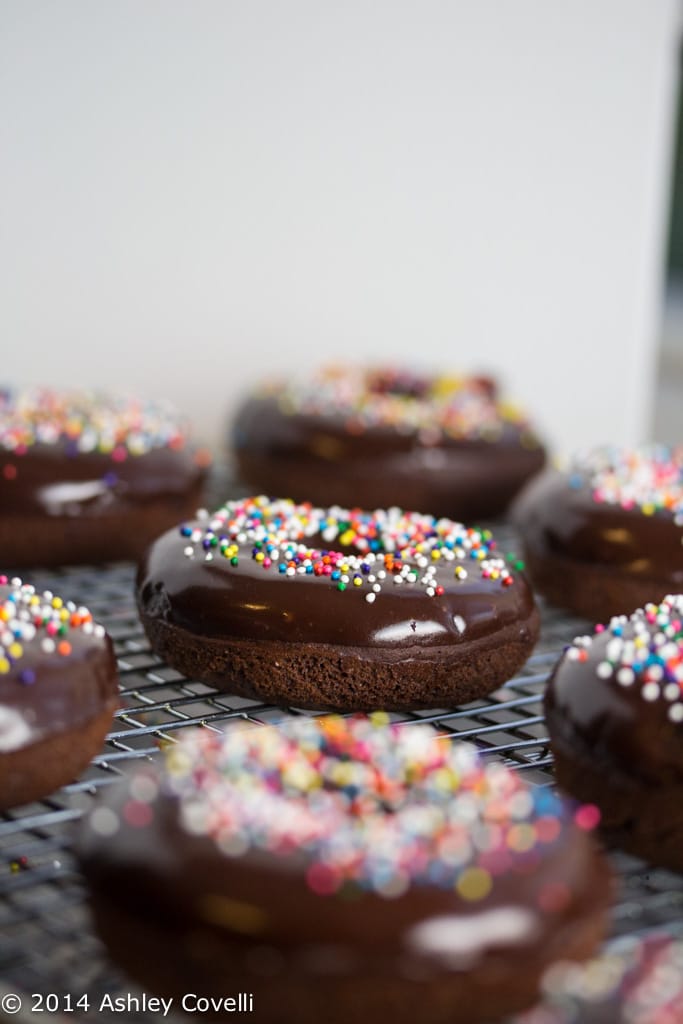 Baked Chocolate Doughnuts with Chocolate Glaze
Spoon Fork Bacon
Makes 20
Doughnuts:
2 cups bread flour
1 cup light brown sugar
⅔ cup unsweetened cocoa powder
1 teaspoon baking soda
½ teaspoon salt
1 cup buttermilk
½ cup strong brewed black coffee, cooled
2 eggs, lightly beaten
6 tablespoons unsalted butter, cooled
2 teaspoons apple cider vinegar
1 teaspoon pure vanilla extract
¾ cup melted semisweet chocolate chips, cooled
Glaze:
½ cup (1 stick) unsalted butter, softened
⅓ cup heavy cream
1 ½ tablespoons light corn syrup
1 teaspoon vanilla extract
5 ounces chopped bittersweet chocolate
2 ¼ cups sifted powdered sugar
Garnish:
chocolate sprinkles/jimmies
1. Preheat oven to 350˚F.
2. Place flour, sugar, cocoa powder, baking soda, and salt into a mixing bowl and whisk together. Set aside.
3. Pour buttermilk coffee, eggs, butter, vinegar, and vanilla into another mixing bowl and whisk together.
4. Pour the flour mixture into the buttermilk mixture and stir until fully mixed. Fold in melted chocolate until just combined.
5. Lightly grease a couple baked doughnut pans and pour batter into a piping bag or gallon sized re-closeable bag and pipe batter into the doughnut molds, filling ¾ of the way up.
6. Bake the doughnuts for 18 to 20 minutes or until a toothpick comes out clean when inserted into the center of a doughnut.
7. Remove from molds and transfer doughnuts onto a cooling rack and allow doughnuts to cool completely.
8. For glaze: Place all ingredients, except powdered sugar, into a small saucepan over medium-low heat. Stir until butter and chocolate have melted and mixture is smooth. Whisk in powdered sugar, ½ cup at a time, until all 2 ¼ cups has been added and mixture is smooth. Pour mixture into a heatproof bowl and set over a saucepan filled with 2 inches of simmering water (to create a double boiler, which is needed to keep the glaze loose and make it easy to dip the doughnuts)
9. To assemble: Dip the tops of each doughnut into the warm glaze and shake to remove any excess glaze. Place doughnuts onto a cooling rack, glaze side-up and top with a small amount of chocolate sprinkles. Repeat until all doughnuts have been dipped and sprinkled. Allow doughnuts to sit for 10 to 15 minutes to allow the glaze to harden. Serve.
Big Flavors Rating: 5 Stars