This post may contain affiliate links, which won't change your price but will share some commission.
I had my first big cupcake order last week. Four dozen regular-sized cupcakes plus 6 dozen minis. Wow. The order was for both chocolate and vanilla cupcakes. I already have an absolute favorite recipe for Vanilla Cupcakes with Vanilla Buttercream, so I went with that, but I didn't have any favorite chocolate cupcake recipes. I mean, these Self-Filled Cupcakes were very good, and so were these Super Easy, Super Moist Chocolate Cupcakes, but they just weren't calling to me.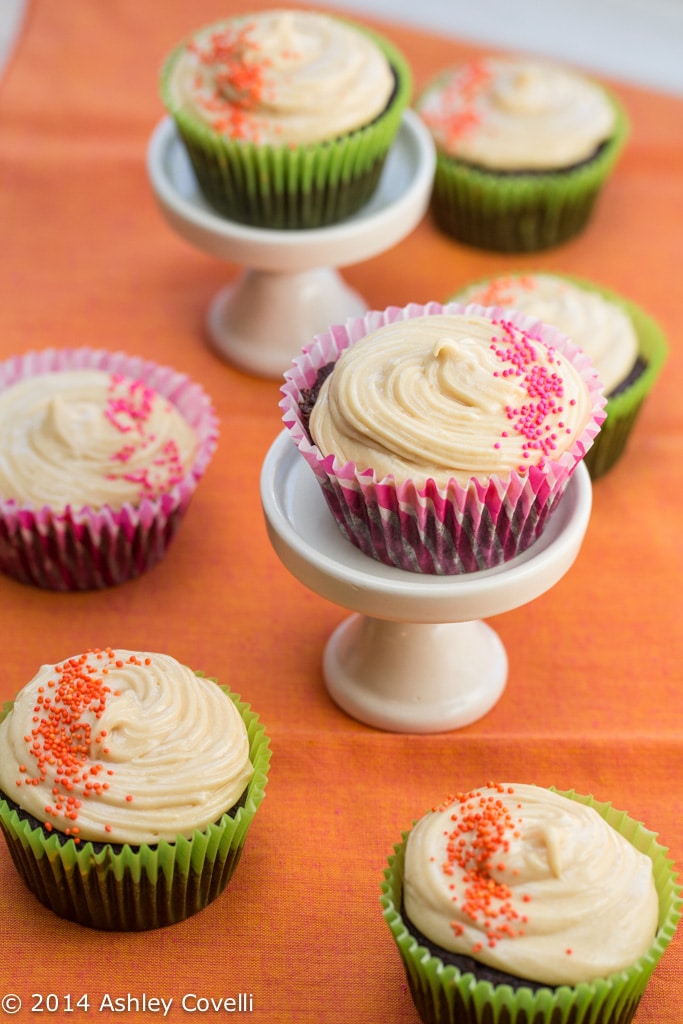 So I asked some of my cooking buddies and was directed to this recipe for chocolate cake with salted caramel frosting. It sounded pretty involved (especially the frosting!), but I figured what the heck? The worst case scenario would be that they wouldn't turn out well and I'd learn a lesson. Best case scenario I would find a new go-to recipe.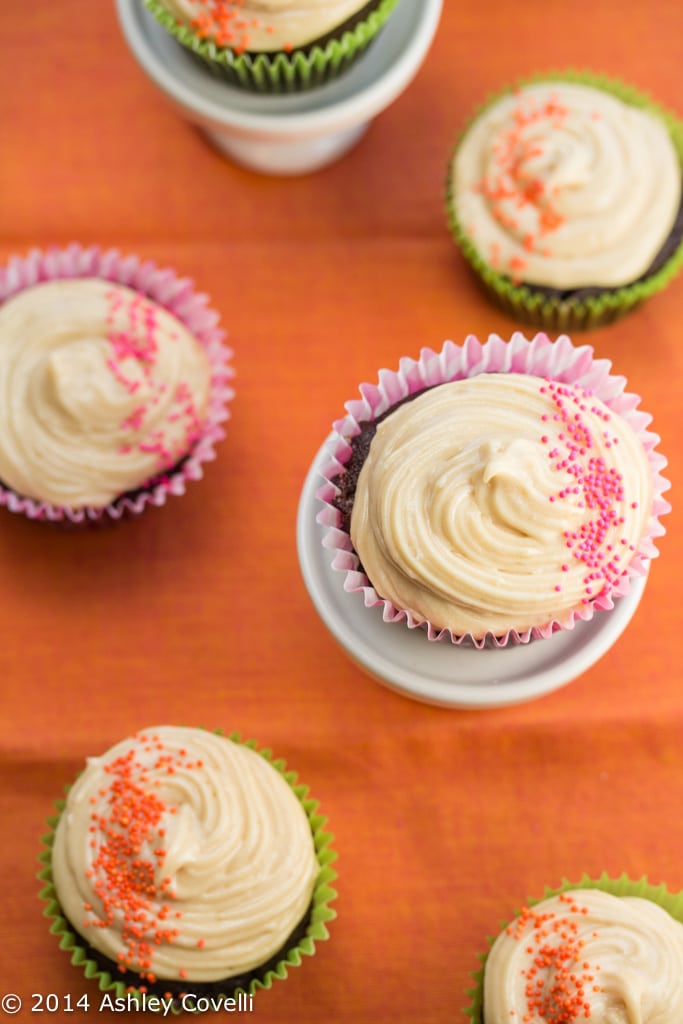 These cupcakes definitely took a lot of work, but they were well worth it. They were nice and moist and very chocolatey. This recipe made 26 regular cupcakes and 24 mini cupcakes for me. I'd guess it would make about 2 ½ dozen if you were making all regular sized ones.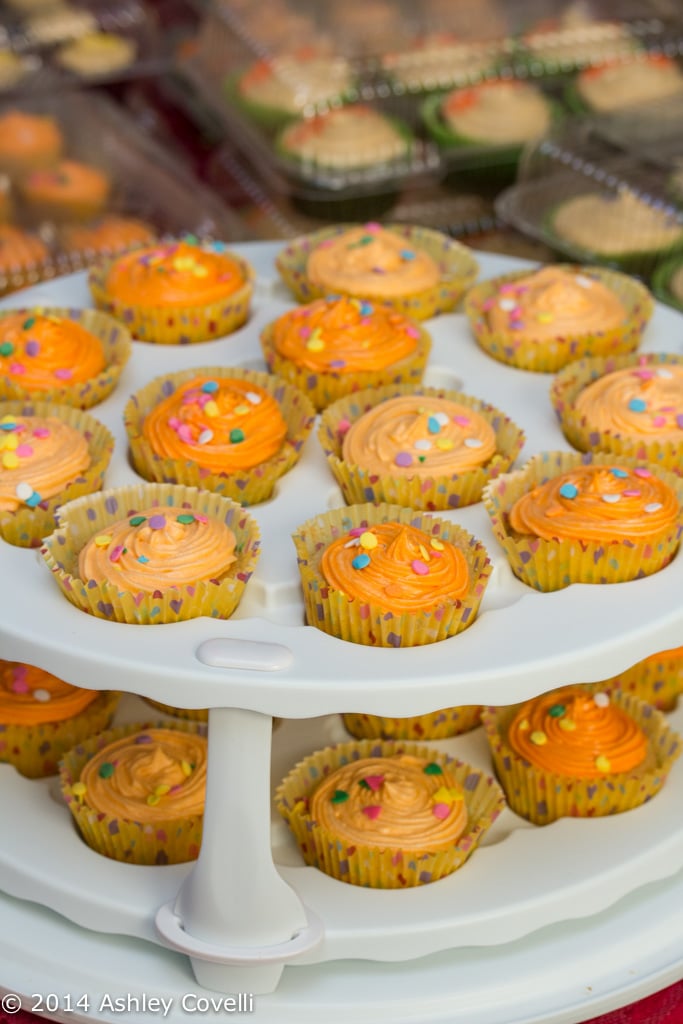 The sweetness of the salted caramel cream cheese frosting was balanced by the bittersweet chocolate cupcakes. I used Penzeys Dutch Process High Fat Cocoa Powder and it worked out really well. I didn't color the frosting on these, because the caramel made it a nice, creamy, lightly golden color. I embellished them with some sprinkles and called it a day.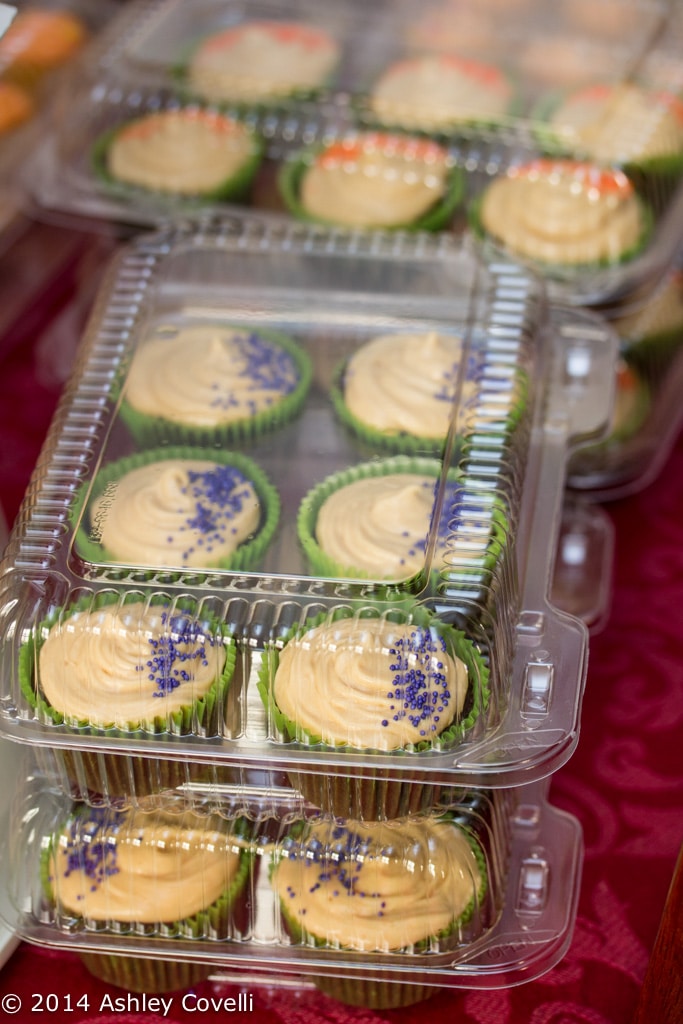 The minis were going to be used to spell out the company name, so I sent them a diagram with how to lay them out. They sent over a photo of the finished display, and they looked great!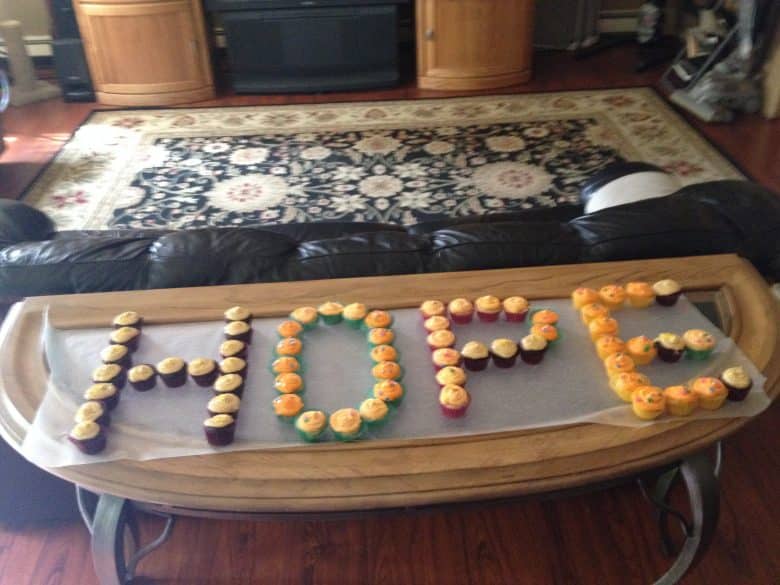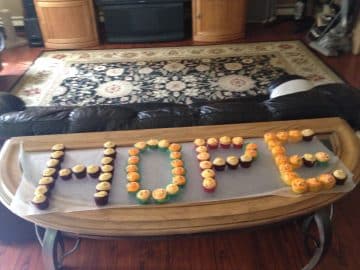 Chocolate Cake
Kimberly Taylor Images (adapted from Ina Garten)
12 tablespoons (1 ½ sticks) unsalted butter, at room temperature
⅔ cup granulated sugar
⅔ cup light brown sugar, packed
2 extra-large eggs, at room temperature
2 teaspoons pure vanilla extract
1 cup buttermilk, shaken, at room temperature
½ cup sour cream, at room temperature
2 tablespoons brewed coffee
1 ¾ cups all-purpose flour
1 cup good cocoa powder
1 ½ teaspoons baking soda
½ teaspoon kosher salt
Preheat the oven to 350 degrees F. Grease your cake pans.
In the bowl of an electric mixer fitted with a paddle attachment, cream the butter and 2 sugars on high speed until light and fluffy, approximately 5 minutes. Lower the speed to medium, add the eggs 1 at a time, then add the vanilla and mix well. In a separate bowl, whisk together the buttermilk, sour cream, and coffee. In another bowl, sift together the flour, cocoa, baking soda, and salt. On low speed, add the buttermilk mixture and the flour mixture alternately in thirds to the mixer bowl, beginning with the buttermilk mixture and ending with the flour mixture. Mix only until blended. Fold the batter with a rubber spatula to be sure it's completely blended. Divide your batter between your cake pans – use any extra to make some cupcakes. I like to fill my 6″ rounds ⅔ full. Bake for 20-25 minutes, until a toothpick inserted into the middle comes out clean. Let cool for 10-15 minutes and then remove to a cooling rack to cool completely.
Salted Caramel
1 cup sugar
4 tablespoons water
2 tablespoons light corn syrup
½ cup heavy cream
2 tablespoons butter
½ teaspoon lemon juice
½ teaspoon salt, kosher or sea
1. Combine the sugar, water, and the corn syrup in a large saucepan and stir with a wooden spoon over medium heat until sugar is dissolved.
2. Cover the saucepan and let it cook over medium heat for 3 minutes.
3. After 3 minutes, remove the lid, increase the heat to medium-high, and bring to a boil.
4. Do not stir from this point on, but instead swirl the liquid around the pan so that the caramel doesn't burn.
5. Continue to cook until the caramel turns an even amber color then remove from the heat and let stand for about 30 seconds.
6. *** Be careful here *** Pour the heavy cream into the mixture. The mixture will bubble up significantly and is very hot.
7. Stir the mixture, again being careful. Add the butter, lemon juice, and salt. Stir until combined.
8. Measure 1 cup into a Pyrex measuring cup. Stirring occasionally, allow to cool until thick like molasses and warm to the touch, about 20 minutes. Save any extra in a sealed container in the refrigerator. It is delicious on ice cream, not to mention your finger… 🙂
Salted Caramel Frosting
2 sticks butter at room temperature
8 ounces of cream cheese
3-4 cups sifted powdered sugar
1 cup salted caramel (recipe above)
1. Beat butter and cream cheese at medium speed until creamy.
2. Add 2 cups of the powdered sugar into the butter/cream cheese mixture and beat to combine.
3. Add 1 cup of the salted caramel and beat to combine.
4. Add additional powdered sugar until the frosting is the sweetness and consistency you desire.
Big Flavors Rating: 4 Stars