This post may contain affiliate links, which won't change your price but will share some commission.
This recipe from the newest issue of Bon Appétit sounded really interesting to me, and I had an avocado that I needed to use, so I thought it would be perfect. Turns out my avocado was past its prime, and I wasn't able to drink this. I'll definitely try it out again though, because it seems like a unique and refreshing beverage.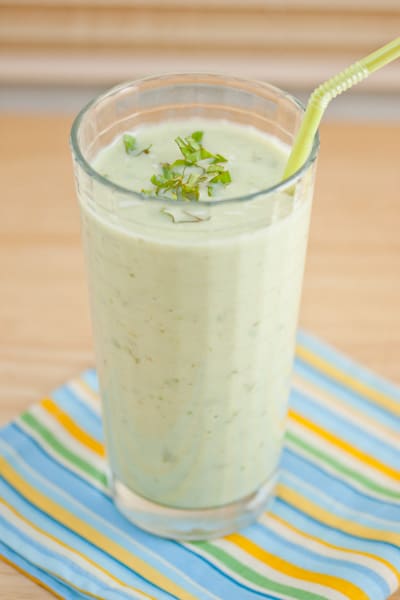 Avocado Smoothie
Bon Appétit August 2011
Carly Groben, Proof, Des Moines
Serves 2
1 ripe avocado, halved and pitted
1 ¼ cups whole milk
1 ½ tablespoons fresh lime juice
1 tablespoon sugar
1 tablespoon fresh basil, chopped
Basil, thinly sliced
To ripen avocados more quickly, place them in a sealed paper bag with an apple or a banana for 24 hours.
Scoop the flesh from the avocado into a blender. Add milk, lime juice, sugar, and chopped basil; purée. Add 1 cup ice; purée until smooth.
Divide between 2 chilled glasses and garnish with thinly sliced basil.
One serving contains:
Calories (kcal) 212.6
Calories from Fat (kcal) 120.6
Fat (g) 13.4
Saturated Fat (g) 4.1
Cholesterol (mg) 15.2
Carbohydrates (g) 19.5
Dietary Fiber (g) 3.9
Total Sugars (g) 14.2
Net Carbs (g) 15.6
Protein (g) 6.0
Sodium (mg) 69.9