This post may contain affiliate links, which won't change your price but will share some commission.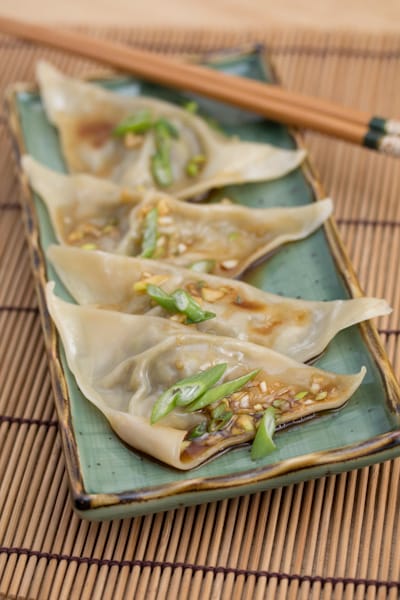 I hadn't made these fantastic dumplings for quite a while, so I thought I'd make a new batch. This recipe makes a TON of dumplings - the filling ended up being the perfect amount for the entire package of wonton wrappers (48). They're a lot of work to make, but sooo worth it. Plus, they freeze extremely well...you may need to add a minute or two to the steaming time if you put them in straight out of the freezer. These are delicious little vegetarian bundles of joy, and we absolutely love them!
Zen Temple Dumplings
Cooking Light
Dumplings:
1 ½ teaspoons coarsely chopped peeled fresh ginger
2 cloves, garlic peeled
1 cup (2-inch) slices asparagus (about ½ pound)
¼ cup (1-inch) pieces green onions
1 can (8-ounce) whole water chestnuts, drained and coarsely chopped
1 package (8-ounce) mushrooms, stems removed
2 teaspoons dark sesame oil
1 ½ teaspoons low-sodium soy sauce
¼ teaspoon kosher salt
36 wonton wrappers
Cooking spray
Sauce:
⅓ cup low-sodium soy sauce
1 tablespoon minced green onions
2 tablespoons rice vinegar
2 teaspoons dark sesame oil
To prepare dumplings, drop ginger and garlic through food chute with food processor on; process until minced. Add the asparagus, ¼ cup green onion pieces, and water chestnuts; pulse 4 times or until chopped. Add mushrooms, 2 teaspoons sesame oil, 1 ½ teaspoons soy sauce, and ¼ teaspoon salt; pulse 4 times or until mixture is finely chopped. Working with 1 wonton wrapper at a time (cover remaining wrappers with a damp towel to keep from drying), spoon about 2 teaspoons mushroom mixture in the center of wrapper. Moisten edges of wrapper with water. Bring 2 opposite corners together. Press edges together with fingertips to seal, forming a triangle. Place on a baking sheet coated with cooking spray while assembling; lightly cover with a towel or plastic wrap. Repeat procedure with remaining wonton wrappers and mushroom mixture.
Add water to a Dutch oven to a depth of 1 inch; bring to a boil. Coat a metal vegetable steamer with cooking spray. Arrange 9 dumplings in steamer, slightly overlapping. Steam dumplings, covered, 8 minutes or until tender. Remove dumplings from steamer; cover and keep warm. Repeat procedure with remaining dumplings.
To prepare sauce, combine ⅓ cup soy sauce and remaining ingredients. Drizzle over dumplings.
Yield: 9 servings (serving size: 4 dumplings and 2 teaspoons sauce)