This post may contain affiliate links, which won't change your price but will share some commission.
I wanted to make an Armenian dessert to go with the Pork Kebabs, so I found one in the book that I had all of the ingredients on hand. One major change that I made was to pour it out onto a silpat on a cookie sheet. I'd highly recommend doing it this way, because I'm not sure how a piece of foil could contain all of that molten hot sugar. This turned out really tasty, but definitely be careful eating this stuff, because It's kind of thick and could hurt your teeth. Toasting the walnuts really makes the flavor pop, and the small amount of rosewater permeates the whole batch. Yum!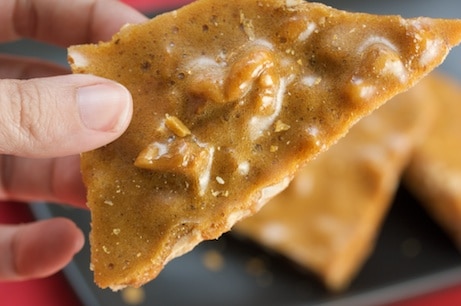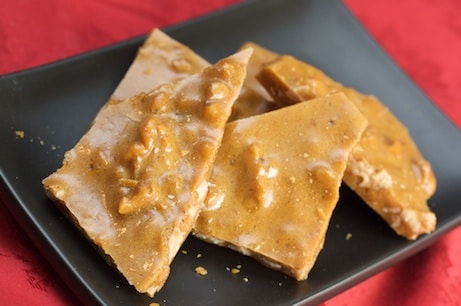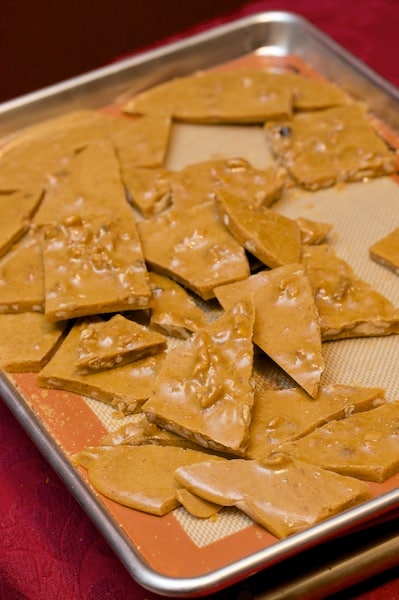 Walnut Brittle with Rose Water
The Armenian Table - Victoria Jenanyan Wise
Makes about 1 ¾ pounds
Butter, for greasing the foil
Olive or vegetable oil, for toasting the nuts
2 cups coarsely chopped walnuts
2 cups sugar
1 cup natural raw honey
2 tablespoons butter, cut up
¼ cup water
½ teaspoon rose water
½ teaspoon baking soda
Lightly grease a 24-inch length of extra-wide, heavy-duty aluminum foil with butter. Lightly grease a large sauté pan with about 1 teaspoon of oil and heat over medium-high heat. Add the walnuts and cook, stirring often, until lightly toasted, about 3 minutes. Set aside.
Combine the sugar, honey,butter, and water in a 6-quart microwave bowl and microwave uncovered on high for 3 minutes, until the butter melts. Stir to mix and continue microwaving on high for 5 to 6 minutes, until bubbling briskly and almost to the top of the bowl and starting to turn golden. Stir in the walnuts and microwave for 5 minutes more, until the hard-crack stage. Remove and whisk in the rose water and baking soda, stirring until the bubbling stops. Immediately, and very carefully, pour the candy onto the foil. Set aside to cool and harden for at least 1 hour.
MacGourmet Rating: 4 Stars