This post may contain affiliate links, which won't change your price but will share some commission.
I saw this recipe and just had to try it. I didn't even realize they were vegan until I read the recipe. These are really nice - and go big...don't skimp on the cayenne! The kick is great...it kind of sneaks up on you. Plus the warmth from the cinnamon...yum! I used almond milk for this, and they were a big hit with everyone who tried them. I ended up with 40 cookies from this recipe - not 24 like the recipe estimated.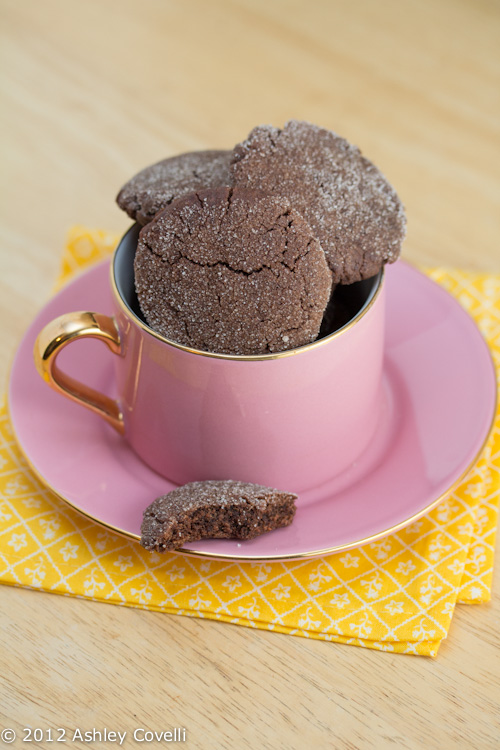 Mexican Hot Chocolate Snickerdoodles
Culinary in the Country (Adapted from Vegan Cookies Invade Your Cookie Jar)
For the cookie dough
1 ⅔ cups all-purpose flour
½ cup Dutch process cocoa powder
1 teaspoon baking soda
½ teaspoon cinnamon
¼ to ½ teaspoon cayenne pepper
¼ teaspoon salt
½ cup canola oil
1 cup granulated sugar
¼ cup pure maple syrup
3 tablespoons soy, almond or regular milk (if using regular milk, the cookies won't be vegan)
2 teaspoons vanilla
For the sugar coating
⅓ cup granulated sugar
1 teaspoon cinnamon
To prepare cookie dough
Preheat oven to 350 degrees.
In a large bowl, whisk together flour, cocoa powder, baking soda, cinnamon, cayenne and salt.
In a medium bowl, whisk together oil, sugar, maple syrup, milk and vanilla. Pour mixture into the dry ingredients, stirring with a wooden spoon until combined.
To prepare sugar coating
In a shallow dish, stir together sugar and cinnamon.
Roll dough into walnut sized balls, then gently flatten each ball into a 2" disc. Place once side of the dough disc into the sugar coating, pressing to adhere. Place dough, sugar side up, onto parchment-lined baking sheets, spacing them at least 2" apart.
Place into the oven and bake until the cookies have spread and are crackly on top, about 9 to 12 minutes. Remove from the oven and place baking sheet on a wire rack - let cookies cool for 5 minutes, then transfer to a wire rack to cool completely.
Makes about 24 cookies.
Big Flavors Rating: 4 Stars