This post may contain affiliate links, which won't change your price but will share some commission.
This succulent chicken dish was the main course for our Persian dinner a while back. It was rich and absolutely delicious!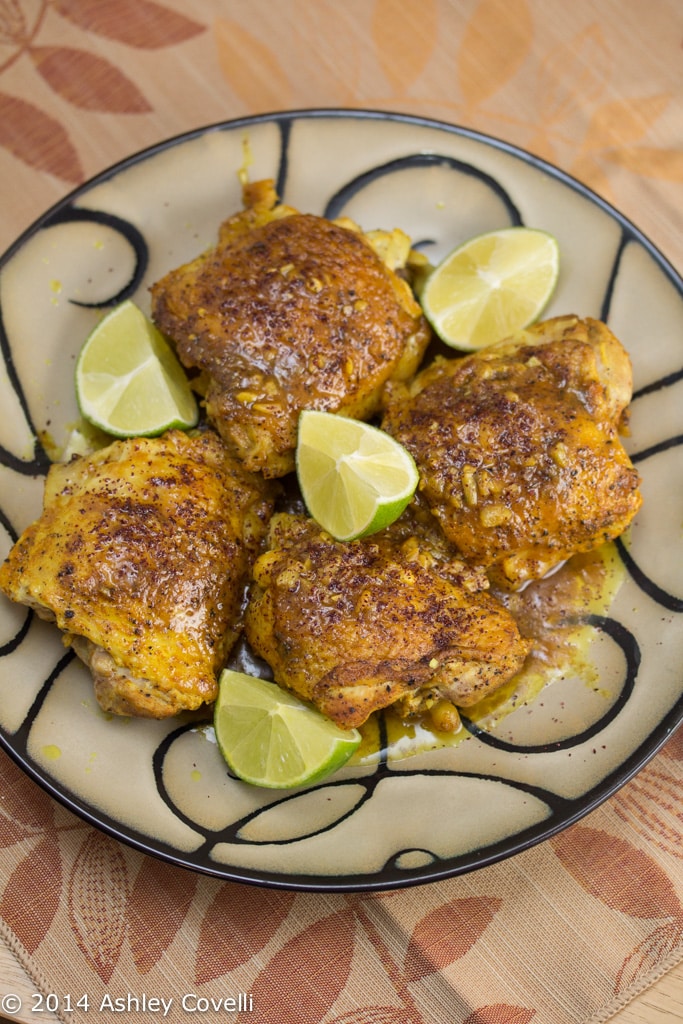 Chicken thighs are tossed in a mix of turmeric, salt and pepper and braised in a garlicky cooking liquid until tender. The pan juices are then reduced into a delicious sauce and poured over the chicken, which gets a sprinkling of sumac. A garnish of lime is the perfect, tangy accompaniment to the rich chicken.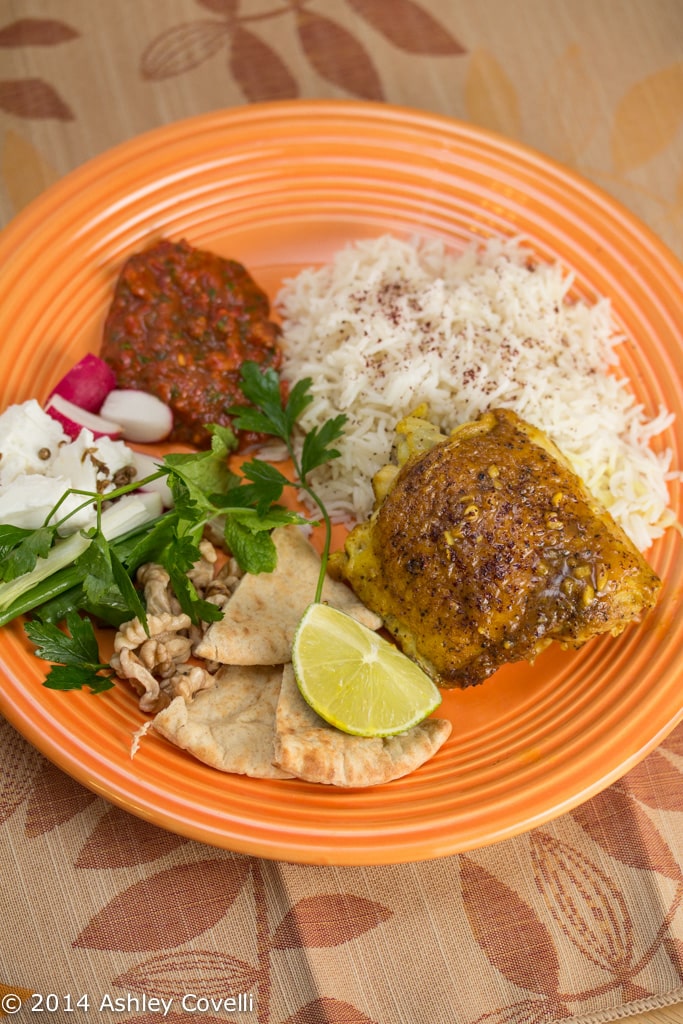 We really enjoyed this meal. I served it with steamed basmati rice, Turkish Roasted Tomato and Red Pepper Dip and Fresh Herb Platter (Sabzi Khordan).
Turmeric Chicken with Sumac and Lime
The New Persian Kitchen – Louisa Shafia
Serves 4
1 teaspoon ground turmeric
Sea salt and freshly ground black pepper
4 bone-in chicken thighs
2 tablespoons grapeseed oil
¾ cup water
4 cloves garlic, minced
2 juicy limes, halved
Sumac, for garnish
In a small bowl, mix the turmeric with 1 tablespoon salt and 2 teaspoons pepper. Place the chicken on a rimmed baking sheet and sprinkle with the spice mixture, turning to coat both sides.
Heat a large skillet over medium-high heat and add the oil. Brown the chicken well on both sides, about 7 minutes per side. Pour in the water, then add the garlic, stirring it into the water. Bring the water to a boil, then turn down the heat to low and cover. Braise the chicken for 2 minutes, until the inside is opaque. Transfer the chicken to a serving platter, turn up the heat to high, and reduce the cooking liquid for a few minutes, stirring occasionally until it's slightly thickened. Season to taste with salt and pepper, and pour the sauce over the chicken.
Dust the chicken with sumac and pepper, garnish with lime halves, and serve.
Big Flavors Rating: 4 Stars