This post may contain affiliate links, which won't change your price but will share some commission.
I made this appetizer to go along with the Turkish Roasted Tomato and Red Pepper Dip for our Persian meal a while back. This traditional appetizer platter is bursting with freshness.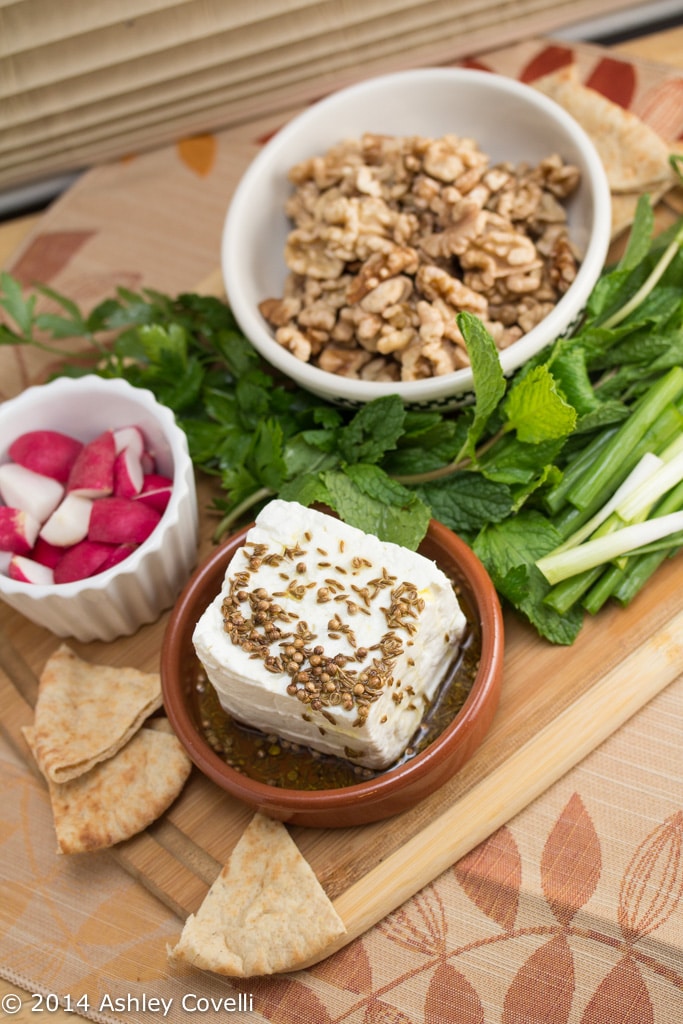 A blend of toasted spices and olive oil is poured over feta cheese as the centerpiece of this fragrant spread. I was able to find some fresh feta at a local Middle Eastern market, and it was absolutely delicious. I skipped the caraway seeds, because that's one flavor I just can't seem to get myself to enjoy.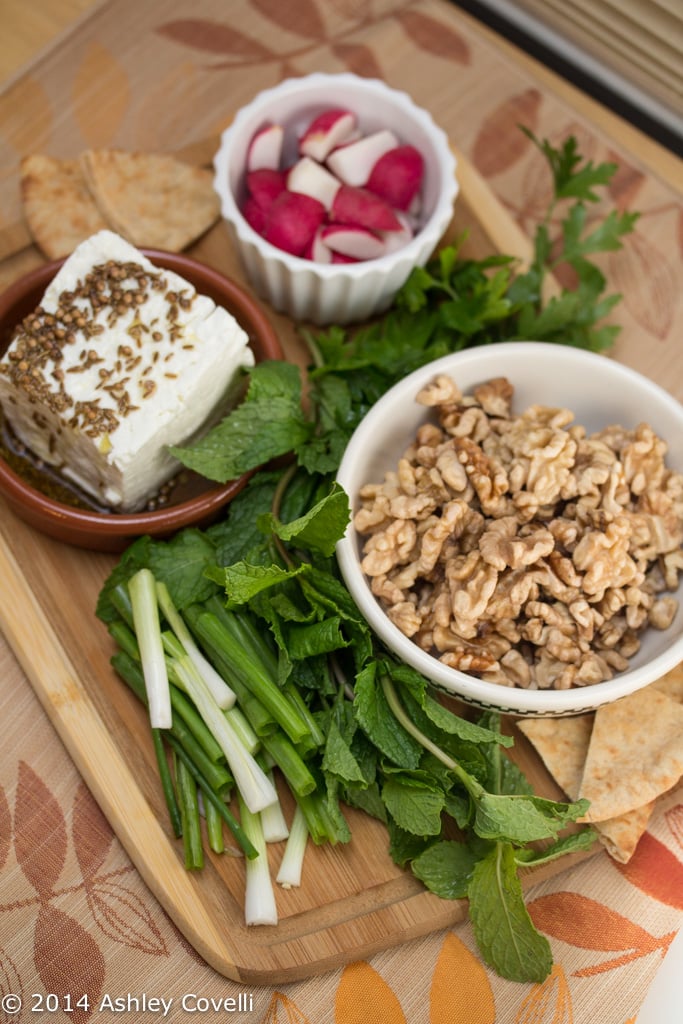 I really like her tip for removing bitterness from walnuts at the end of the recipe. That was a new one for me and worked out well.
This is a great way to start any Persian meal. I like to platters like this out throughout the meal so that people can pick on the components as often as they like.
Fresh Herb Platter (Sabzi Khordan)
The New Persian Kitchen - Louisa Shafia
Serves 4 to 6
8 ounces feta cheese
1 tablespoon coriander seeds
1 tablespoon cumin seeds
1 tablespoon caraway seeds
⅓ cup extra-virgin olive oil
Coarse salt, such as Maldon salt, fleur de sel, or kosher salt
2 bunches whole fresh herbs, in any combination: spearmint, basil, cilantro, flat-leaf parsley, tarragon, dill, chives, marjoram
1 bunch scallions, quartered crosswise, roots removed
2 cups walnuts (see Note below)
6 radishes, trimmed and quartered
Lavash or other flatbread
Drain the feta and place it in a medium bowl. Grind the spices coarsely, if desired. Heat a small skillet over high heat. Add the coriander, cumin, and caraway seeds, and shake the pan continuously until the spices start to release their aroma, about 2 minutes. Immediately transfer to a bowl and pour in the olive oil. Add a pinch of coarse salt. Swirl the spices in the oil and steep for a few minutes. Pour the mixture over the feta. You can even work it in with your hands, gently crumbling the feta, if desired.
Wash and dry the herbs. Trim the stems, but leave them intact. Place the herbs on a large platter in a few fluffy piles. Place the walnuts on the platter, along with the radishes and lavash. Transfer the feta to the platter and garnish it with coarse salt.
For a single serving, pick up a few stalks of herbs. Tear the flatbread into a manageable piece and stuff it with the herbs, walnuts, a small piece of cheese, and a radish or two. Fold and eat like a sandwich.
Note:
To remove bitterness from the walnuts, place them in a bowl, add boiling water to cover and a pinch of salt, and soak from 1 hour up to overnight. Before serving, drain and rinse until the water runs clear.
Big Flavors Rating: 4 Stars