I love taco salad, but I hadn't made it for quite a while. When I got this month's taco seasoning freebie from Penzeys, I took a look at what I had on hand and decided that taco salad was most definitely in order. I love making my own taco seasoning blend in big batches, but I don't always have enough on hand, so this was perfect. One note though - this blend contains lactose, which I would have NEVER thought to check for, but a friend pointed it out, because she is lactose intolerant and was bummed to not be able to use the seasoning. You've been warned! Penzeys has instructions for making a taco dip, too, which sounds pretty tasty.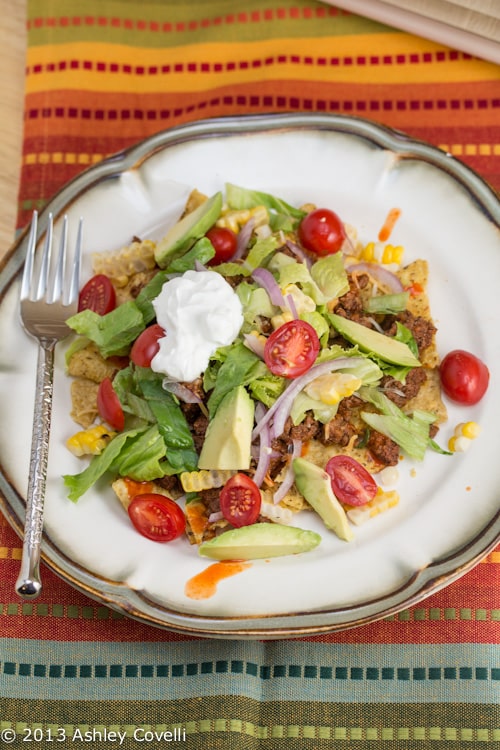 All I did to make this taco salad was cook a pound of ground beef, drain off the fat, and then follow the directions on the jar (except I put the seasoning right on the meat and stir, then add the water): mix 4 TB. Taco Seasoning with 6 oz. cool water, add to 1 lb. browned, drained ground beef or cooked chicken or beans. Simmer 10 minutes until the sauce starts to thicken. Let cool a bit before serving.
I have a particular order that I like assembling my taco salad in, because I like the cheese to melt a bit down onto the meat, and I like keeping the coldest ingredients on top. So I broke up some tortilla chips in my hands, scattered some of the taco meat on top, sprinkled some shredded cheese on top of that (I used a Mexican blend), then topped that with some hot sauce, halved grape tomatoes, sliced red onions, leftover grilled corn, romaine lettuce, chunks of avocado and a dollop of sour cream. It was great! Total comfort food in my book!
Big Flavors Rating: 5 Stars