This post may contain affiliate links, which won't change your price but will share some commission.
The Garden Fairy strikes again! Today, in addition to some more loose leaf lettuce, she brought in some rainbow chard for me. We planned to have some leftover Tofu Rigatoni Casserole tonight, so I found a recipe to make a quick side dish with. Chard can be bitter, so I figured that a recipe with some sweetness would be nice. This one was perfect! The smoked paprika was subtle in the background, and the raisins really added great bursts of sweetness to the slightly bitter greens. I loved the crunchy almonds on top, too, although next time I'll toast them in a dry skillet. I thought that oil was unnecessary. This is another dish that would get 4 ½ stars, but since we don't give out half stars, it gets a solid 4. This was easy and delicious. Yum!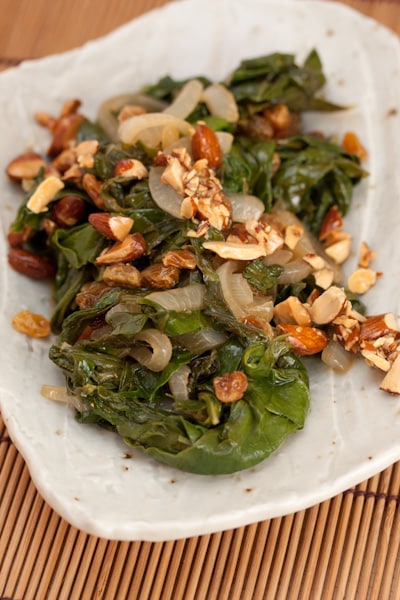 Swiss Chard with Raisins and Almonds
Gourmet February 2008
yield: Makes 4 servings
active time: 20 min
total time: 30 min
Toasted almonds contrast beautifully with sweet, tender raisins and earthy chard.
½ large onion, sliced lengthwise ¼ inch thick (1 cup)
2 ½ tablespoons extra-virgin olive oil, divided
¼ teaspoon Spanish smoked paprika
2 pounds Swiss chard, center ribs discarded and leaves coarsely chopped
½ cup golden raisins
½ cup water
¼ cup coarsely chopped almonds with skins
Cook onion with ¼ teaspoon salt in 2 tablespoons oil in a 5- to 6-quart heavy pot over medium heat, stirring, until softened. Sprinkle with paprika and cook, stirring, 1 minute. Add chard in batches, stirring frequently, until wilted, then add raisins and water. Cook, covered, stirring occasionally, until chard is tender, about 7 minutes. Season with salt.
Cook almonds in remaining ½ tablespoon oil in a small heavy skillet over medium-low heat, stirring frequently, until golden, 3 to 5 minutes. Sprinkle almonds over chard.
Big Flavors Rating: 4 Stars