This post may contain affiliate links, which won't change your price but will share some commission.
For our other Supper Club dish, I selected Ethiopian, which happened to be the theme that Dino added into the grab bag. This recipe sounded interesting, and I wanted to bring some veggies to our event, since there were already a lot of meat dishes being prepared. I read in the comments that it tasted better if you increase the amount of seasoning, so I adjusted the recipe below. It had a really nice flavor - I was surprised that it had that much from the few ingredients included. This takes about an hour to prepare, but it's definitely worth the wait. It just goes to show that simple ingredients really can come together in a complex way!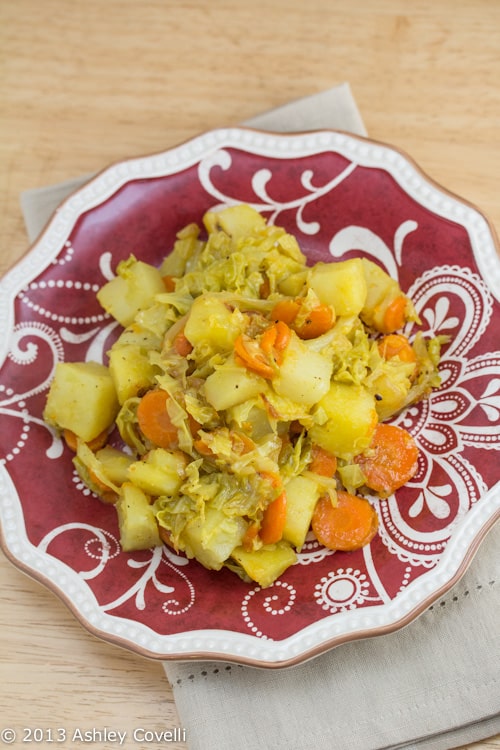 Ethiopian Cabbage Dish
Adapted from Allrecipes - stamarex
"My Ethiopian friend brought this dish to a potluck and I've been making it ever since. It is healthy and delicious. Do not add liquid. The cabbage and potatoes release enough moisture on their own."
Makes 5 servings
½ cup olive oil
4 carrots, thinly sliced
1 onion, thinly sliced
1 ½ teaspoons sea salt
1 teaspoon ground black pepper
1 teaspoon ground cumin
½ teaspoon ground turmeric
½ head cabbage, shredded
5 potatoes, peeled and cut into 1-inch cubes
Heat the olive oil in a skillet over medium heat. Cook the carrots and onion in the hot oil about 5 minutes. Stir in the salt, pepper, cumin, turmeric, and cabbage and cook another 15 to 20 minutes. Add the potatoes; cover. Reduce heat to medium-low and cook until potatoes are soft, 20 to 30 minutes.
Big Flavors Rating: 4 Stars