This post may contain affiliate links, which won't change your price but will share some commission.
Dino chose to make a dessert for our Supper Club this month. He used this cake recipe, but the photo was of cupcakes, so he did 2 batches of cupcakes instead. Since he really wanted them to taste nutmeg-y, he used freshly grated nutmeg instead of ground. He found an icing recipe on a gluten free blog that he made using almond milk. Again, he really wanted the nutmeg to stand out, so he grated it fresh, and was pretty liberal with it. These turned out really nice and fluffy, and the nutmeg was a really different, spiced flavor. We all enjoyed them!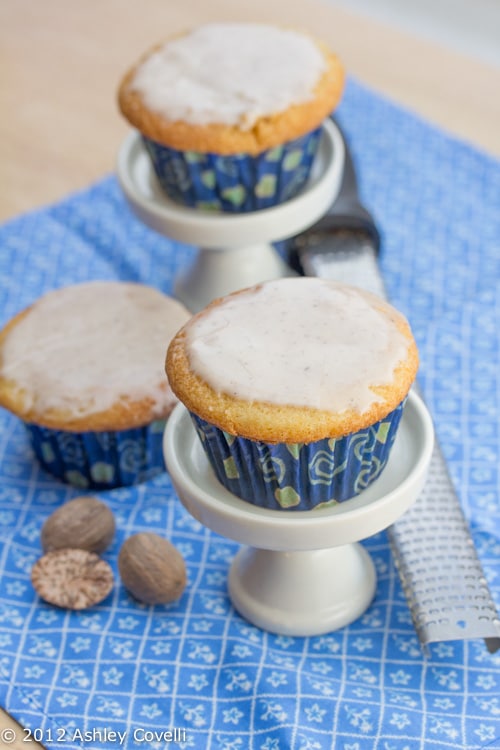 Nutmeg Cupcakes
Adapted from Allrecipes - Carol
Makes 24 cupcakes
3 eggs, room temperature
½ cup butter, softened
1 ½ cups white sugar
1 cup buttermilk
1 teaspoon vanilla extract
2 cups all-purpose flour
1 teaspoon baking powder
1 teaspoon baking soda
2 teaspoons freshly grated nutmeg
¼ teaspoon salt
Preheat oven to 350 degrees F (175 degrees C). Line muffin tins.
Beat the butter and white sugar with an electric mixer in a large bowl until light and fluffy. The mixture should be noticeably lighter in color. Add the room-temperature eggs in three batches, blending them into the butter mixture fully. Stir in the vanilla.
Sift together the flour, baking powder, baking soda, nutmeg, and salt.
Pour ⅓ of the flour mixture into the bowl; mix just until incorporated. Stir in ½ the buttermilk, mixing gently. Continue adding the flour alternately with the buttermilk, mixing until combined. Scoop the batter into the muffin liners.
Bake in the preheated oven until a toothpick inserted in the center of the cupcakes come out clean, about 25 to 30 minutes. Let the cupcakes cool in the pan for 10 minutes, then invert them on a wire rack to cool completely before icing.
Maple Nutmeg Icing
Adapted from Gluten Free Goddess
Use only a little liquid at a time as you beat the frosting. If it gets too thin, add more confectioner's (powdered) sugar.
1 cup confectioner's or powdered sugar
2 tablespoons pure maple syrup
½ teaspoon vanilla extract
1 tablespoon almond milk
freshly grated nutmeg, to taste
Beat until smooth and add more almond milk a tablespoon at a time until the icing is creamy- but not too thin. Taste test and add more nutmeg if it needs it.
Beat the icing for three to four minutes (this improves the texture).
Big Flavors Rating: 4 Stars