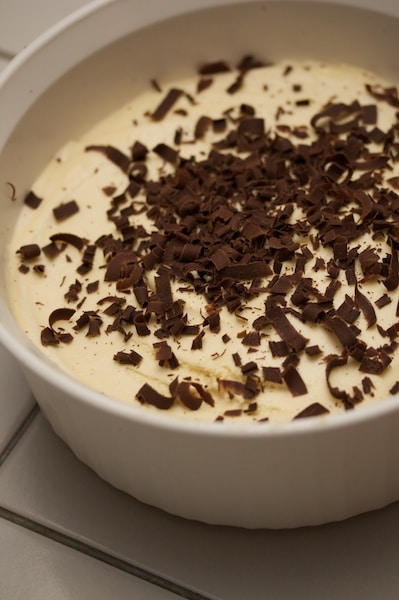 Supper Club: Aunt Enza's Tiramisu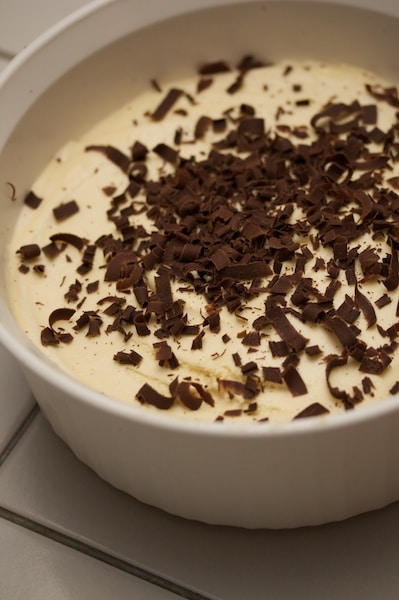 This month's Supper Club theme was Marinated/Soaked. It was another great meal, and this dessert really made the perfect finish. I love tiramisu, so I was glad to find a recipe that had so many great reviews. It's a pretty easy dessert to make, and I made it the night before. The Marsala wine is optional according to the recipe, but I can't imagine it without the richness that it adds. The mascarpone makes this a silky, delicious dessert!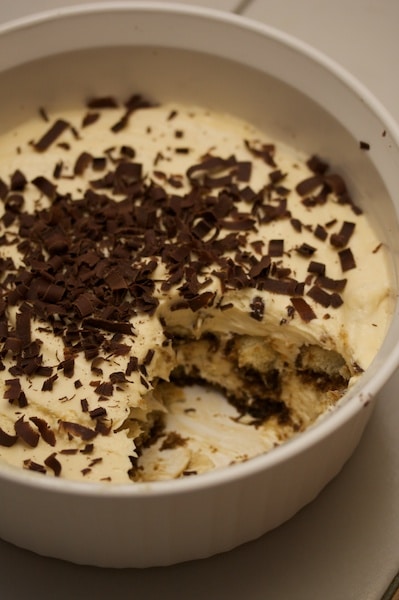 Aunt Enza's Tiramisu
Epicurious December 1996
Makes 6 servings
1 cup unsweetened espresso coffee (around 8-10 shots of espresso)
3 eggs
1/3 cup sugar
1 1/2 cup mascarpone
2 tablespoons Marsala (optional)
4 oz. soft ladyfingers
unsweetened cocoa or bittersweet chocolate for garnish
Prepare the espresso and cool completely. Separate the eggs, discarding the white from 1 of them. Beat 2 egg whites with 1 tablespoon sugar until it forms soft peaks. In another bowl, beat 3 egg yolks with the remaining sugar until thick and pale yellow. Add the mascarpone and Marsala to the egg yolk mixture and blend until well combined. Lightly fold the egg whites into the mascarpone mixture.
Dip ladyfingers, one at a time, in espresso coffee and line the bottom of a 2 quart bowl or serving dish with about 1/3 of the cookies. Cover with about 1/3 of the mascarpone mixture. Continue building the tiramisù making 3 layers of cookies topped with 3 layers of mascarpone mixture. Dust the finished tiramisù with unsweetened cocoa or chop up some bittersweet chocolate and use it to spell out AUGURI on top. Refrigerate at least two hours.
MacGourmet Rating: 5 Stars