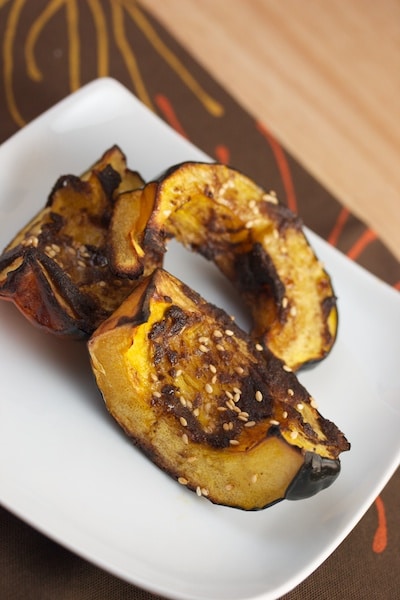 Squash Half-Moons with Butter, Sesame, and Salt
This post may contain affiliate links. Thank you for supporting the brands that keep me creative in my tiny kitchen!
I picked up an acorn squash from the Farm Market at the orchard where we picked apples, and wanted to make something savory with it. This recipe fit the bill. Easy and tasty!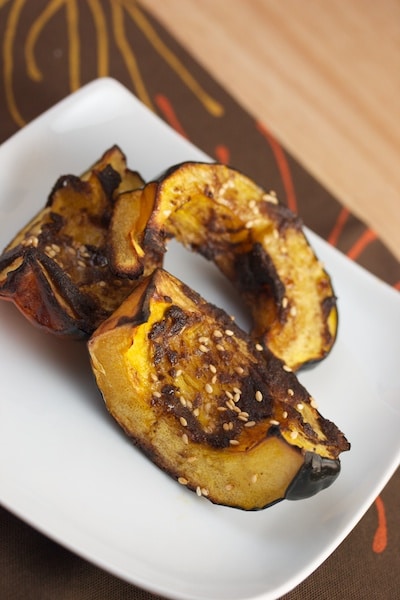 Squash Half-Moons with Butter, Sesame, and Salt
Serious Eats
– serves 6 –
Adapted from Simple Fresh Southern by Matt and Ted Lee.
Ingredients
8 tablespoons (1 stick) unsalted butter
4 teaspoons ground cinnamon, garam masla, curry powder, or your own
blend of wintry spices
Two 1 1/2 pound acorn or kabocha squash
2 teaspoons kosher salt
2 teaspoons sesame seeds
Procedure
1. Heat the oven to 425°F, with a rack positioned in the center of the oven.
2. Heat the butter in a small skillet over medium heat. When the froth on the butter begins to subside, thoroughly whisk in the cinnamon or other spices. Remove from the heat.
3. Cut each squash in half lengthwise and scoop out the seeds. Then slice each half lengthwise into 3 half-moon-shaped slices of roughly equal size. You should have 12 wedges total.
4. Place the squash half-moons, flesh side up, on a roasting pan or baking sheet, baste them with the spiced butter and season them with 1 teaspoon of the salt. Bake for about 35 minutes, or until the squash begins to brown at the upper corners and yields easily to a knife.
5. While the squash bakes, heat a dry skillet over high heat. Add the sesame seeds and toast them, stirring them occasionally, until you just notice their color beginning to darken, 2 to 3 minutes. Transfer the sesame seeds to a small bowl and set aside.
6. When the squash is ready, reheat the butter until it's hot. Baste each squash slice with the spiced butter, then sprinkle them generously with the toasted sesame seeds and the remaining 1 teaspoon salt. Serve immediately.
Big Flavors Rating: 3 Stars