This post may contain affiliate links, which won't change your price but will share some commission.
This side dish is pretty quick to put together, and it has a lot of flavor. The package of baby bok choy I picked up was only around 6 ounces, and it cooked down a lot, so I was left with too much of the sauce for the amount of greens that I had, and it was pretty salty. I adjusted the recipe below, because I think it would have been a lot better with more bok choy to bulk it up. It was great over rice next to some of our leftover Spatchcocked Roast Chicken.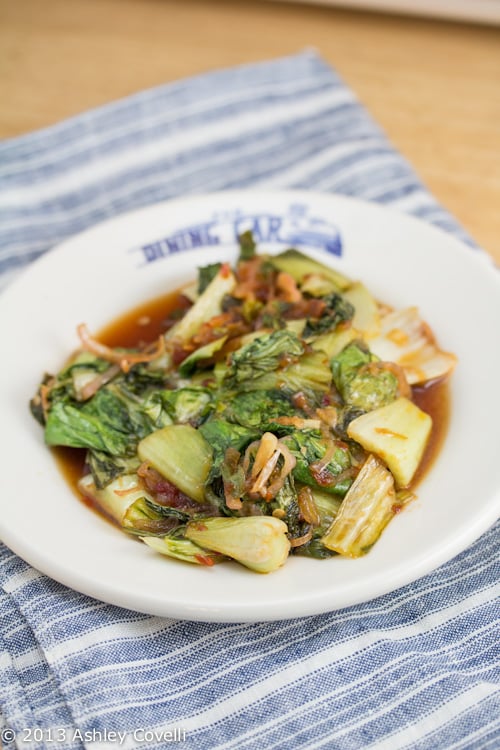 Spicy Baby Bok Choy Sauté
Ashley Covelli
1 tablespoon peanut oil
1 clove garlic, minced
1 small shallot, thinly sliced
1 teaspoon freshly grated ginger
1 pound baby bok choy, trimmed and chopped crosswise into 1-inch pieces
1 teaspoon fish sauce
1 teaspoon chile garlic sauce
1 tablespoon low sodium soy sauce*
1 tablespoon unseasoned rice vinegar
Heat peanut oil in a large, non-stick skillet over moderate heat. Add garlic, shallot and ginger and sauté until soft. Add bok choy and remaining ingredients and sauté until the greens have cooked down to your liking, stirring occasionally.
*Optional: use Gluten Free
Big Flavors Rating: 4 Stars