This post may contain affiliate links, which won't change your price but will share some commission.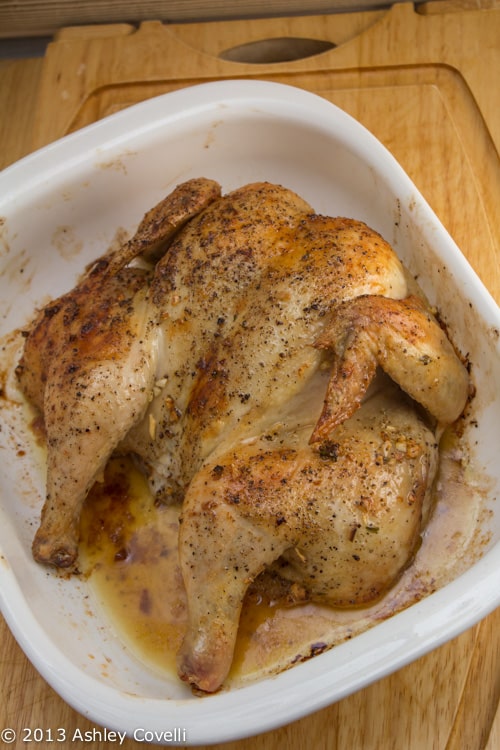 One of the things that has been on my kitchen to-do list for quite some time was to spatchcock a chicken (which, until recently, I thought was spatchcook. Oops!). My husband loves roast chicken, so being able to get one cooked in less time was intriguing to me. In order to cut the backbone out of the chicken, you need a pair of kitchen shears, which I recently got from Procook. This made the job really easy, as they cut right through the bones with no trouble at all. I definitely expected it to be more of a struggle, but the shape and strength of the blades made it easy for me!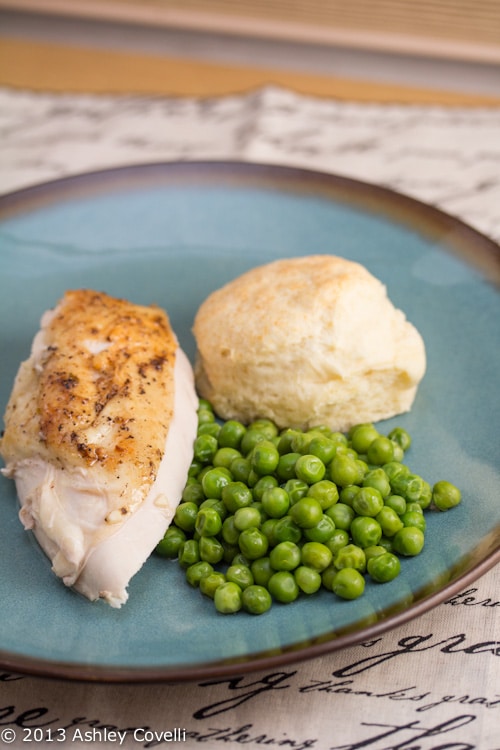 The chicken ended up being super juicy and very flavorful from the compound butter (which I just now realize that I forgot to add the mustard to!). I'd like to try cooking it at a higher temperature for a shorter amount of time, the way we do with Thomas Keller's roast chicken recipe, as that always turns out perfectly for us, with minimal effort. The pan juices were fantastic - we sopped them up with the homemade Southern Buttermilk Biscuits that I made earlier in the day.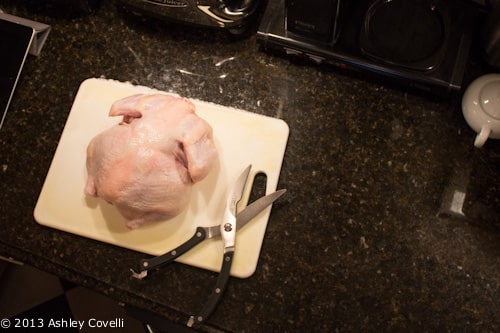 Vegetarians, avert your eyes. Things are about to get real over here. Here are a few shots that Dino took of me removing the backbone of the chicken. I felt simultaneously grossed out and like a total badass for being able to do this on my own. I cook with meat frequently, but something about cutting through bone is just more... gruesome than your normal kitchen tasks. I'm glad I gave it a go, and I saved the backbone to make chicken stock soon, so that should be pretty awesome!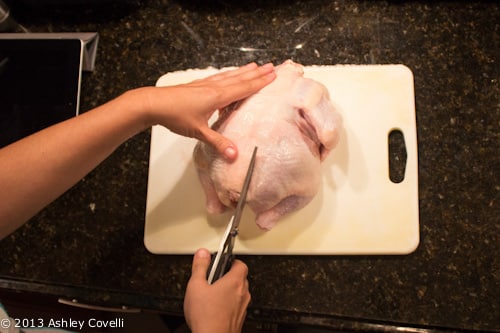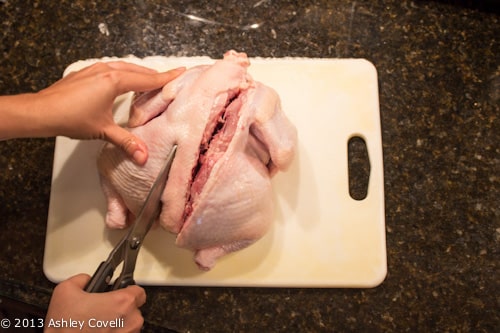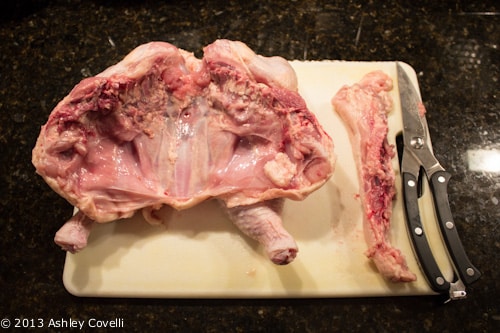 *Note: I received promotional items, but all opinions are 100% my own.
Spatchcocked Roast Chicken
Food52
Serves 4 to 6
• 4 tablespoons softened butter
• Zest of one lemon
• 2 fat cloves garlic, minced
• ½ teaspoon thyme leaves, roughly chopped
• 1½ teaspoons Dijon mustard
• Salt and freshly ground black pepper
• 1 4-lb. organic chicken
1. In a small bowl, combine the butter, lemon zest, garlic, thyme, mustard, a teaspoon of salt and some pepper. Set aside.
2. Remove the gizzards from the chicken and discard. Pat the chicken dry with paper towels and set it on a cutting board. Flip it onto its breast and using sturdy kitchen shears, remove the backbone by cutting carefully down each side of the bone, starting at the tail end of the bird. The entire inside of the chicken should be exposed when you're finished.
3. Sprinkle the cavity thoroughly with salt and pepper, and then flip the chicken over so that it lies flat. Trim any excess deposits of fat from around the cavity, and gently slide your fingers under the skin and ease it away from the meat, around both sides of the breast and both legs. Carefully smear the compound butter underneath the skin all over the meat, being careful not to break the skin. Reserve about a tablespoon of the butter, and then spread that evenly over the skin, followed by a generous sprinkling of salt and pepper.
4. Lay the chicken in a shallow roasting pan just large enough to accommodate it and put in the refrigerator for an hour or two (this will help the skin crisp more when you cook it).
5. When you're ready to make dinner, heat the oven to 425 degrees and remove the chicken from the fridge. Roast for 20 minutes, then baste and decrease heat to 375. Cook for another 15 to 20 minutes, basting once again in the middle, until cooked. Let the chicken sit for a few minutes before carving; serve with the pan juices and some crusty bread or roasted potatoes for sopping them up.
Big Flavors Rating: 5 Stars