This post may contain affiliate links, which won't change your price but will share some commission.
I picked up one of Lidia's books from the library, and picked out a summery pasta recipe to make first. It was in the section of recipes from Sardinia. It was pretty easy to put together, especially since you don't cook the sauce! I used whole wheat spaghetti, and by the time the water boiled, I was almost done prepping the sauce. Fresh mint really makes this sauce different, and the depth that you get from toasting the pine nuts is really wonderful. I happened to have some toasted pine nuts leftover from the Balsamic Zucchini I made a few days ago, so that made it even easier. Bonus!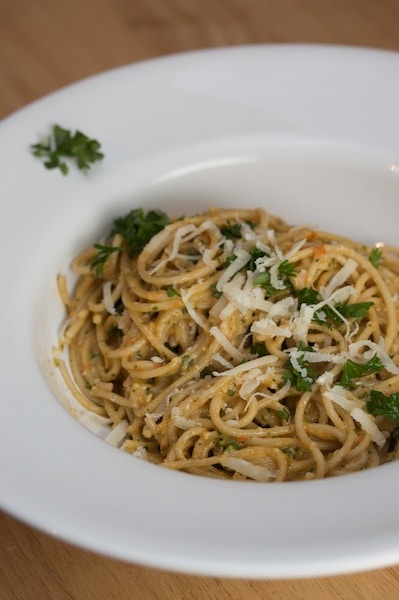 Spaghetti with Cold Tomato-Mint Sauce
Lidia Cooks From the Heart of Italy: A Feast of 175 Regional Recipes - Lidia Matticchio Bastianich and Tanya Bastianich Manuali
Serves 6
For the Sauce:
12 ounces ripe cherry tomatoes, about 2 ½ cups
½ cup loosely packed fresh basil leaves
¼ cup loosely packed fresh mint leaves
¼ cup pine nuts, lightly toasted
2 small anchovy fillets, finely chopped (2 teaspoons)
1 plump garlic clove, crushed and peeled
½ teaspoon kosher salt
⅛ teaspoon peperoncino flakes, or to taste
⅓ cup extra-virgin olive oil
¼ cup small capers, drained
For the Pasta:
1 pound spaghetti
2 tablespoons chopped fresh parsley
1 cup freshly grated pecorino (or half pecorino and half Grana Padano or Parmigiano-Reggiano, for a milder flavor), plus more for passing
RECOMMENDED EQUIPMENT: A large pot for cooking the pasta; a food processor; a large, deep serving bowl
-Fill the big pot with salted water (at least 6 quarts with a tablespoon kosher salt), and heat to a rolling boil.
-To make the sauce: Rinse the cherry tomatoes, basil, and mint leaves, and pat dry. Put them all in the food-processor bowl along with the pine nuts, anchovies, garlic, salt, and peperoncino. Process until puréed, scraping down the work bowl as needed. With the machine running, pour in the olive oil in a slow, steady stream, forming a thick, emulsified sauce. If serving now, scrape the sauce into a warmed deep serving bowl, and stir in the whole capers.
-When the pasta water is boiling, drop in the spaghetti, stirring and separating the strands. Cover the pot, return the water to a boil over high heat, then set the cover ajar, and cook the pasta until al dente. While the pasta cooks, ladle some of the boiling water into the serving bowl to warm it. Scrape in the sauce, and stir in the capers.
-Lift the spaghetti from the pot, let drain for a moment, drop it into the bowl, and toss well, until all the strands are coated with sauce. Sprinkle over it the parsley and grated cheese, and toss again. Serve immediately, passing more grated cheese at the table.
MacGourmet Rating: 4 Stars