This post may contain affiliate links, which won't change your price but will share some commission.
It seems like I'm on a roll with finding awesome recipes from Gourmet, which is so frustrating since it's no longer being published. I'm glad that I keep finding gems like this though – an easy and incredibly flavorful side dish. We made this with some zucchini that some friends gave us from their garden.
This is simple, elegant, and delicious! The balsamic soaks into the zucchini just enough to really add a nice zing, and the cheese melts beautifully on top. The toasted pine nuts add a nice crunch, and really complete the dish. I'll definitely be making this one again and again!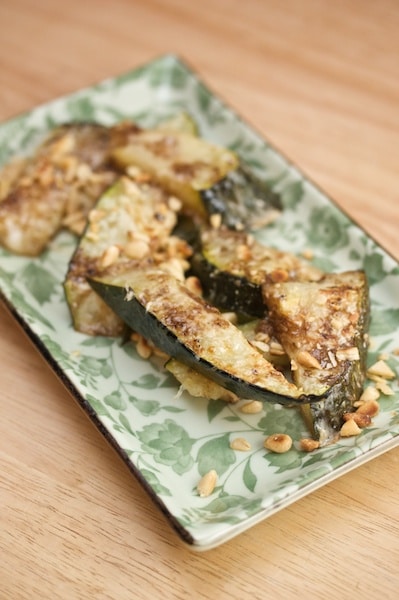 Balsamic Zucchini
Gourmet July 2004
4 lb medium zucchini, cut diagonally into ¾-inch-thick slices
¼ cup extra-virgin olive oil
¾ teaspoon salt
½ teaspoon coarsely ground black pepper
¼ cup balsamic vinegar
1 ½ oz finely grated Parmigiano-Reggiano (½ cup)
⅓ cup pine nuts (1 oz), toasted and finely chopped
Preheat broiler.
Toss zucchini with oil, salt, and pepper in a large bowl. Arrange zucchini in 1 layer in 2 shallow baking pans (1 inch deep). Broil 1 pan of zucchini 3 to 5 inches from heat, without turning, until browned in spots and beginning to soften, 4 to 6 minutes. Drizzle 2 tablespoons vinegar over broiled zucchini and shake pan a few times, then continue to broil until most of vinegar is evaporated, about 2 minutes. Sprinkle ¼ cup cheese over broiled zucchini and broil until cheese is melted, about 1 minute more. Cook remaining pan of zucchini in same manner. Cool to room temperature and serve sprinkled with pine nuts.
Cooks' note:
Balsamic zucchini (without pine nuts) can be made 3 hours ahead and kept at room temperature or chilled, covered. Sprinkle with pine nuts just before serving.
MacGourmet Rating: 5 Stars