This post may contain affiliate links, which won't change your price but will share some commission.
I'm always on the lookout for new dishes to prepare using my slow cooker. A lot of times, slow cooker meals are fairly heavy, but not this time!
This chickpea curry was simple and delicious! The recipe has notes for making it with dried or canned chickpeas (I used canned), and also for cooking it in the slow cooker, pressure cooker or even on the stovetop. Talk about options!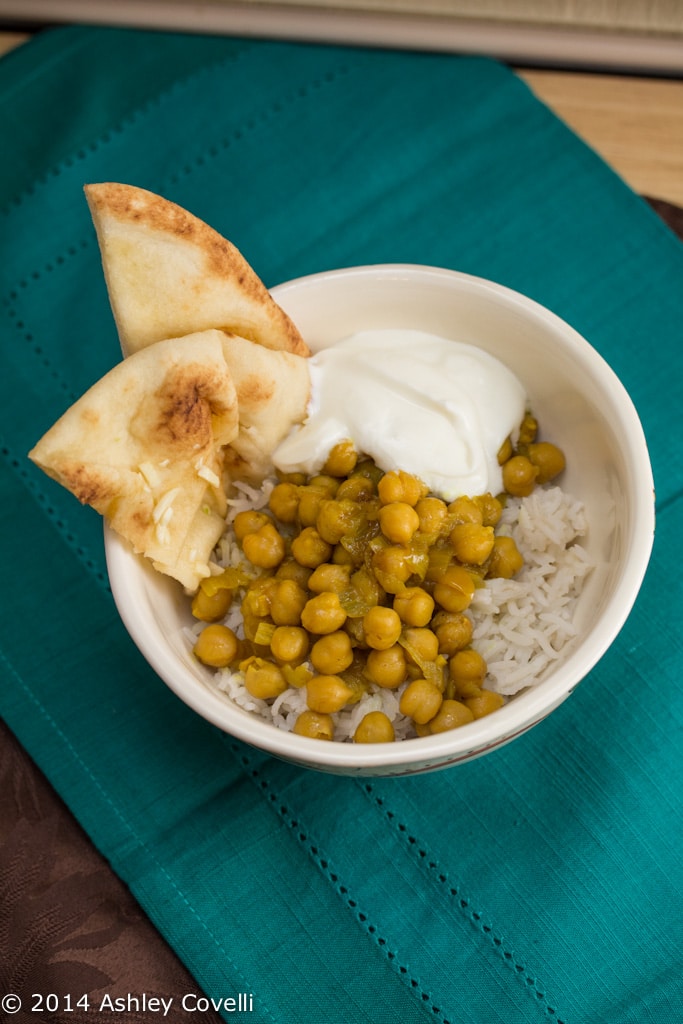 We really liked the flavors of this dish. It was warm and aromatic, and went great with some steamed basmati and garlic naan. I also added some plain yogurt to the side, because I tend to like the way it cools off most curries (temperature-wise, and also heat-wise if it's a spicy curry).
To make the garlic naan, I just melted a few tablespoons of butter, stirred in a few cloves of minced garlic and baked it at 400°F until warm and slightly crispy. It was awesome! I wanted to add some cilantro, but mine wasn't looking so great, so I'll do it again soon and post an official recipe.
Oh, and speaking of naan - you still have a few days to enter my Stonefire giveaway - check out the details at the end of this post.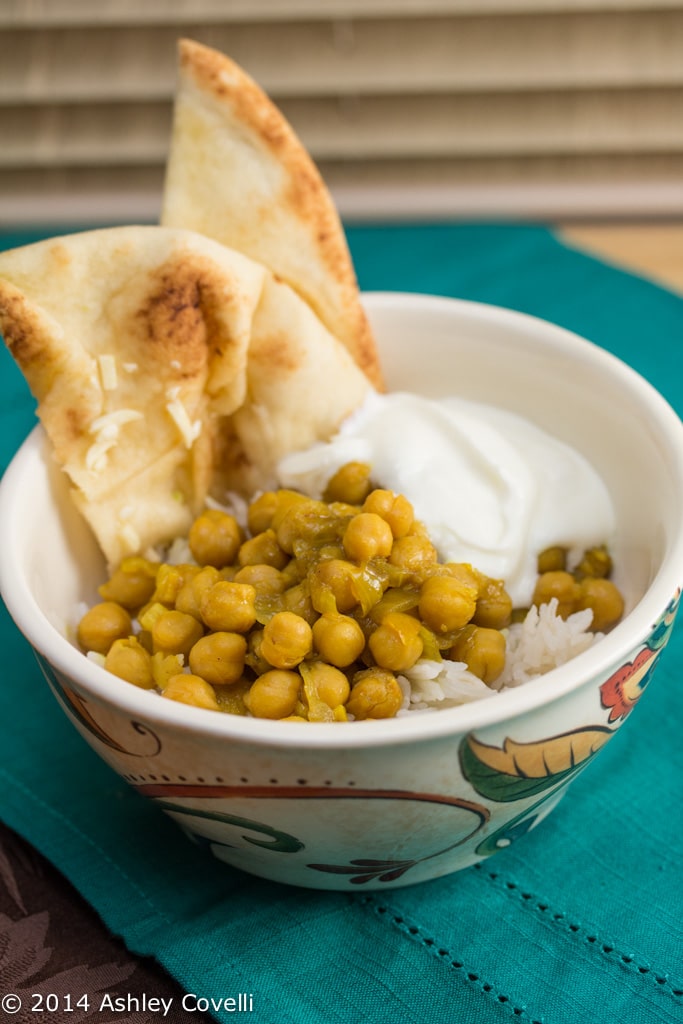 Crockpot Chickpea Curry
Savvy Vegetarian
Total Prep & Cook Time: 6 Hr 10 Min
6 Servings
Ingredients:
2 tablespoon organic cooking oil
1 onion, diced
2 cloves garlic, minced (substitute asafoetida if desired)
1 inch ginger, peeled and grated
1 teaspoon cumin
1 teaspoon coriander
1 teaspoon turmeric
1 teaspoon salt
3 cups cooked chickpeas (2 15 oz. cans chickpeas). If using canned beans, reserve the liquid to add to the pot.
Optional: 1 can diced tomatoes
½ teaspoon garam masala
Salt to taste
Directions:
Cooking Chickpeas:
If you are using dried chickpeas, soak 1 cup of chickpeas for 12 hours. Change the soak water once while soaking or soak them in the fridge. Discard the soak water and rinse beans before adding to the crockpot.
Crockpot Cooking: Add soaked chickpeas to the crockpot. Add water to just cover the beans and cook on low for 8 hours
Stovetop Cooking: Add chickpeas and water to just cover the beans to a large saucepan, bring to a boil, skim the foam, cover and cook on low for 2 hours.
Pressure Cooking: Add chickpeas and water to just cover the beans to a 4 - 6 quart cooker. Bring to a boil, skim the foam, lock the lid, bring up to full pressure, reduce heat to simmer and cook for 12 minutes. All pressure to come down slowly. Beans should be soft. If they are still a bit crunchy, bring back to full pressure for 3 more minutes.
Making Chickpea Curry in the Crockpot:
If you have cooked your beans in the crockpot, drain off excess cooking water from the beans. The water should barely cover the beans.
In a heavy stainless steel or cast iron pan, heat oil and sauté onions, ginger, and garlic for 5 minutes. Add spices and sauté another minute.
Add onion mixture to the cooked beans in the crockpot with the optional tomatoes.
Cook on low in the crockpot up to 6 hours, or until the beans are very soft*. Before serving, add garam masala and salt.
*Note: When using canned beans, don't drain the beans. Add the beans PLUS liquid to the cooking pot. They won't need 8 hours of cooking though, 2 - 4 hours should do it. And you can cook it on high.
Recipe Tips:
If you don't have a crockpot or slow cooker, you can make this recipe on the stove in a covered saucepan in 30 minutes, starting with cooked beans. Saute the veg and spices in the cooking pot, then add beans, optional tomatoes, and water to just cover the beans.
Try adding other veggies, like carrots or bell peppers. Saute with the onion and garlic.
Add a chopped up jalapeño or some cayenne to give your chickpeas a kick. Saute with onion, garlic and spices.
Note: The actual time spent prepping or cooking is 10 - 15 minutes. The long soaking and cooking of dried chick peas, plus the slow cooker time, takes two days, but if you use canned chick peas, you can do a quick prep in the morning and eat in the evening. That's the beauty of slow cooking!
Nutrition Data Per Serving, 113g: 180 cal, 24g carb, 7g fat, 399mg sodium, 7g fiber, 7g protein, low Saturated Fat & Cholesterol, good source Folate and Manganese. Estimated glycemic load 10
Big Flavors Rating: 4 Stars