This post may contain affiliate links, which won't change your price but will share some commission.
Nothing says comfort food like a big, juicy pork chop. I was really intrigued when I saw the almond milk brine in Tyler Florence's latest book.
Almond milk is infused with fresh herbs and dried porcini mushrooms to accentuate the natural flavors of the pork, rather than cover them up. What results is an incredibly tender, subtly flavored piece of pork that's ready for a quick sear.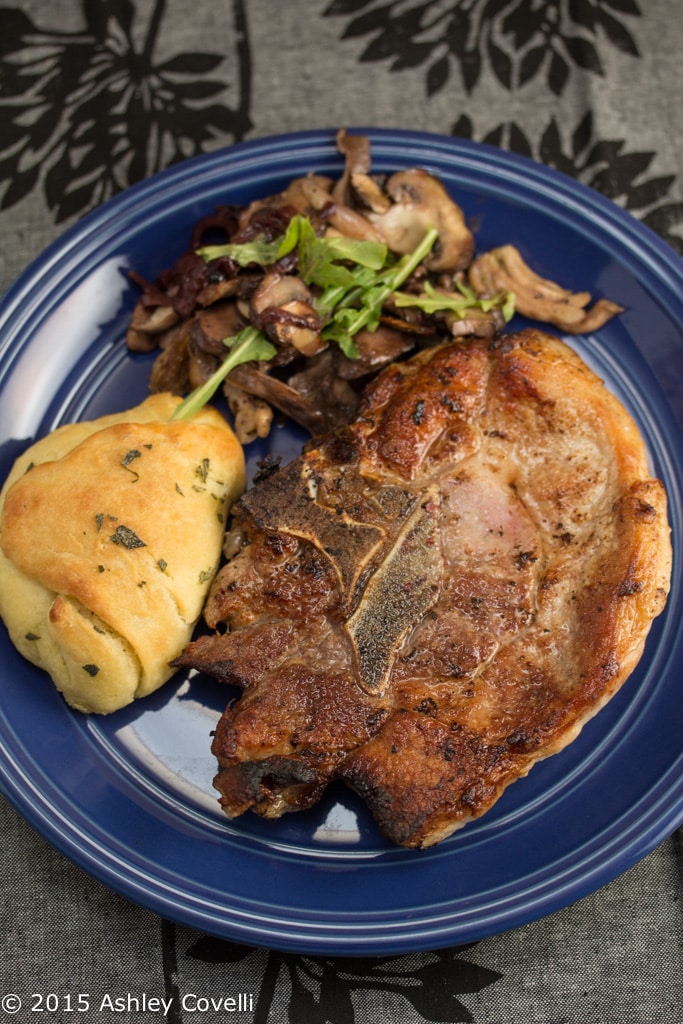 I made these chops for some friends who were over for dinner, and they were a huge hit! I used the book's suggested method of leaving the oven at 200°F and placing the chops in there to keep warm while I cooked the second batch (they were so big that only 2 would fit in the pan at a time).
The caramelization on the outside of the chops was beautiful and absolutely delicious! They didn't need any more salt at the end, but a few cracks of black pepper was definitely welcome. I served these with his Herb-Roasted Wild Mushrooms with Red Wine and Cream and 30 Minute Sage and Onion Parker House Rolls (recipe coming soon!).
Brining pork chops was much easier than I expected, and with results this delicious it will be on the menu many more times in the future!
Seared Almond Milk Brined Pork Chops
Tyler Florence Inside the Test Kitchen: 120 New Recipes, Perfected
Almond Milk Brine
Makes 1 quart, enough for 4 pork chops
1 quart unsweetened almond milk
¼ cup salt
⅓ cup brown sugar
2 fresh save leaves
1 thyme sprig
½ bay leaf
1 tablespoon dried porcini mushroom pieces
Heat the almond milk, salt, brown sugar, sage, thyme, bay leaf and mushrooms in a large saucepan over medium-low heat. You do not need to boil the liquid; just heat it enough so the salt and sugar dissolve. Stir with a whisk, then transfer to a bowl. Let cool down completely.
Seared Brined Pork Chops
Serves 4
1 quart Almond Milk Brine (above)
4 (1-inch thick) pork chops
Grapeseed or vegetable oil
Kosher salt
Freshly ground black pepper
Soak the pork chops in the brine in the refrigerator for at least 30 minutes and up to 1 hour. Remove from the brine and allow the chops to come to room temperature, then pat dry with paper towels. As they have been brined, there is no need to season the chops before cooking.
Heat a heavy sauté pan over medium-high heat. Add enough oil to generously slick the bottom of the pan. When the oil shimmers, carefully add as many pork chops as will fit comfortably in the pan. Sear the pork chops for about 5 minutes on each side, so they have a nice, even brown color and are cooked to medium (if using a meat thermometer, the center should read 145°F.) Remove and season with salt and pepper to taste. If cooking in two batches, add the remaining chops, and cook as directed for the first batch.
Big Flavors Rating: 5 Stars