This post may contain affiliate links, which won't change your price but will share some commission.
I've been following along with the development of Tyler Florence's latest cookbook via his Instagram, and was so excited to get my own copy for Christmas. I can't recommend this book highly enough. Thanks, Santa 😉
Anyhow, after I bookmarked pretty much every recipe in this beauty, I knew I needed to pick just 2 to try out on some friends who were in town for dinner.
Mixed wild mushrooms are roasted with fresh herbs and shallots, then topped with a reduced, shallot laden red wine cream sauce.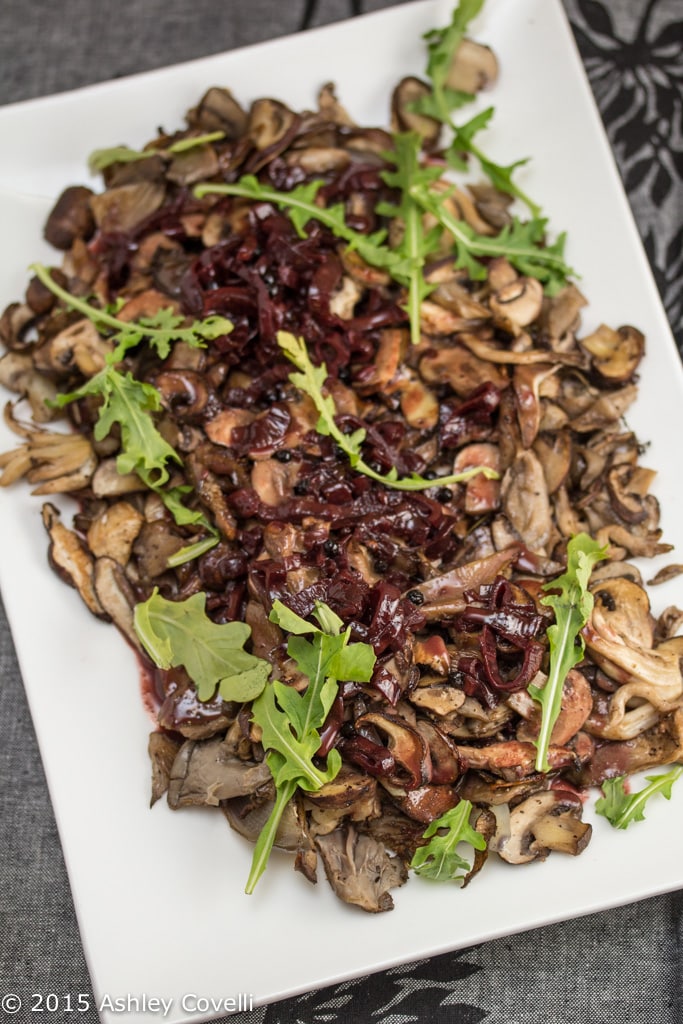 The varied mushrooms really adds to the depth of flavor here, and the sauce is rich and luxurious. I didn't strain the sauce because I wanted to keep the shallots in there, but then we ended up running into whole peppercorns every once in a while, which wasn't entirely pleasant. Next time, I'd maybe use some cheesecloth or a spice ball to make removing them easy.
This dish just looked awesome, too. The arugula on top was the perfect pop of color. It was a beautiful side dish that went perfectly with our Seared Almond Milk Brined Pork Chops and 30 Minute Sage and Onion Parker House Rolls.
Herb-Roasted Wild Mushrooms with Red Wine and Cream
Tyler Florence Inside the Test Kitchen: 120 New Recipes, Perfected
Serves 4 to 6
2 pounds assorted mushrooms (such as cremini, oyster, shiitake, chanterelle, black trumpet)
Extra-virgin olive oil
6 bay leaves
4 thyme sprigs
2 rosemary sprigs, cut into 1-inch pieces
3 shallots, 2 cut in half
Kosher salt
Freshly ground black pepper
1 tablespoon unsalted butter
1 teaspoon whole peppercorns
2 cups good red wine*
¼ cup heavy cream
¼ cup arugula leaves
Preheat the oven to 450°F. Brush the mushrooms clean of any dirt and trim off any deep blemishes. Slice about ¼ inch thick. Put the mushrooms in one layer on one or more sheet pans (as necessary), and drizzle with a little olive oil. Add 4 bay leaves, the thyme and rosemary sprigs, and the 2 halved shallots. Season generously with salt and pepper. Roast about 15 minutes, until the mushrooms caramelize and are golden brown.
Slice the remaining shallot into rings and break the rings apart with your hands. Heat a small saucepan with the butter over medium heat. Add the shallot, 2 remaining bay leaves, the peppercorns, and 1 tablespoon olive oil. Cook the shallot, stirring, until a deep caramel brown. Add the wine and let the mixture reduce until it coats the back of a spoon, about 10 minutes. Add the cream and cook until it thickens again, about 2 minutes more. Season with salt to taste.
Transfer the roasted mushrooms to a serving dish, removing the bay leaves and herb stems, and drizzle with the sauce. Garnish with the arugula.
*Most wine is gluten free, but double check your bottle if you have a gluten sensitivity.
Big Flavors Rating: 5 Stars