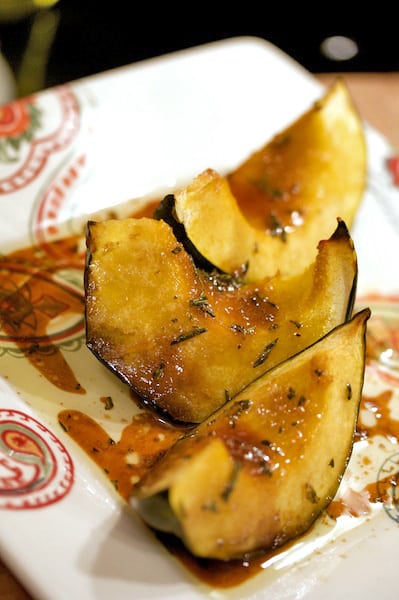 Rosemary Sweet-Roasted Acorn Squash Wedges
This post may contain affiliate links. Thank you for supporting the brands that keep me creative in my tiny kitchen!
I made another winner from The Pioneer Woman today. These roasted beauties are the perfect wintertime comfort food. The rosemary works incredibly well with the squash flavor, and the brown sugar butter paste bakes down into an incredible sauce. This one is fantastic!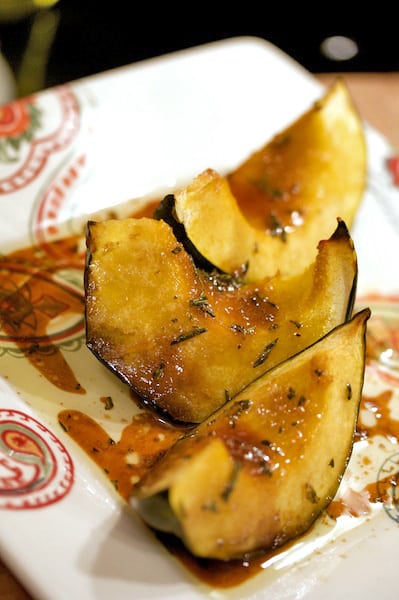 Rosemary Sweet-Roasted Acorn Squash Wedges
The Pioneer Woman
2 acorn squash, cut into 8 wedges each
Olive oil
1 stick butter
1/2 cup brown sugar
Salt
2 tablespoons minced rosemary
Place wedges in a baking dish and drizzle with olive oil, sprinkle lightly with salt, then roast in a 350 degree oven for 20 minutes.
Combine butter, brown sugar, salt, and rosemary in a bowl and mix into a paste.
Remove squash from oven and smear paste all over squash.
Return to oven for 30 minutes, until brown and caramelized. Halfway through roasting, brush sauce over the top.
Serve in the baking dish, drizzling more sauce at the end. Yummy!
MacGourmet Rating: 5 Stars