This post may contain affiliate links, which won't change your price but will share some commission.
This pork recipe was really good! The sweet barbeque sauce goes really well with the pork. The only bit of trouble I had with this one was being able to find the cloves at the end to fish them out of the sauce. I mean, c'mon, how are you supposed to see those little cloves in a dark purple sauce? Other than that, this was a really great recipe. I served it with rice and Lemony Cucumber Salad.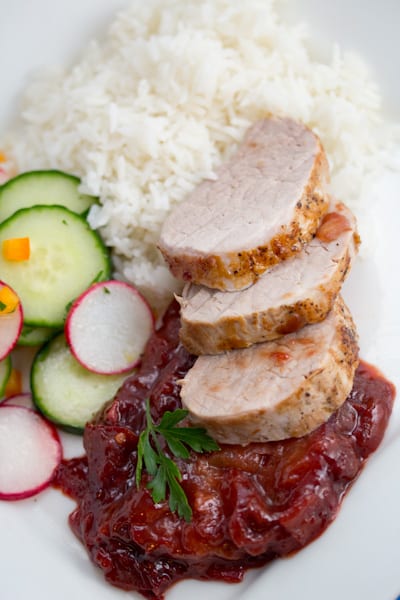 Roast Pork Tenderloin with Plum Barbecue Sauce
Cooking Light July 2011
Asian spices give this barbecue sauce a complex flavor, which enhances the sweet-tart flavor of the plums. Once it's cooked, set aside 2 ½ cups sauce to serve with the pork, and use remaining to baste as it cooks.
Yield: 8 servings (serving size: 3 ounces pork and about ⅓ cup sauce)
Total: 1 Hour, 5 Minutes
Sauce:
2 tablespoons canola oil
1 cup chopped onion
2 garlic cloves, finely chopped
¼ cup packed brown sugar
¼ cup rice wine vinegar
¼ cup ketchup
2 tablespoons lower-sodium soy sauce
2 teaspoons dry mustard
1 teaspoon ground ginger
½ teaspoon black pepper
⅛ teaspoon crushed red pepper
2 whole cloves
1 ½ pounds black plums, quartered and pitted
1 star anise
Pork:
2 tablespoons canola oil
2 (1-pound) pork tenderloins, trimmed
½ teaspoon salt
½ teaspoon freshly ground black pepper
1. Heat a large saucepan over medium-high heat. Add 2 tablespoons canola oil to pan, and swirl to coat. Add onion and garlic; sauté 5 minutes, stirring constantly. Add sugar and the next 10 ingredients (through star anise); bring to a boil. Reduce heat, and simmer, partially covered, for 30 minutes or until plums break down and sauce thickens, stirring occasionally. Discard cloves and anise.
2. Preheat oven to 450°.
3. Heat a large skillet over medium-high heat. Add 2 tablespoons oil to pan; swirl to coat. Sprinkle pork evenly with ½ teaspoon salt and ½ teaspoon black pepper. Add pork to pan; sauté 7 minutes, turning to brown on all sides.
4. Transfer pork to a foil-lined jelly-roll pan; coat with ½ cup plum sauce. Roast pork at 450° for 15 minutes. Remove pork from oven. Turn pork over; coat with an additional ½ cup plum sauce. Roast 10 minutes or until a thermometer inserted in thickest portion of pork registers 155°. Remove from pan; let stand 10 minutes. Slice crosswise. Serve with remaining plum sauce.
Amount per serving
Calories: 378
Fat: 10.3g
Saturated fat: 1.6g
Monounsaturated fat: 5.6g
Polyunsaturated fat: 2.4g
Protein: 25.2g
Carbohydrate: 50.7g
Fiber: 4.7g
Cholesterol: 62mg
Iron: 2mg
Sodium: 417mg
Calcium: 22mg
BigFlavors Rating: 4 Stars