This post may contain affiliate links, which won't change your price but will share some commission.
The last time I made my mom's cole slaw recipe, one of my readers (who is a self-proclaimed "rabid cole slaw fan") posted a recipe for another slaw and asked me to try it. Since I'm a huge fan myself and it looked pretty good, I made a mental note to try it out sometime. A few weeks later, I found out who posted it, and asked if he'd be cool with me crediting him when I made it. Well, I made it tonight, and it was AWESOME!! I used the full 2 lemons, which was great! It was a little too tangy for Dino, so next time I'll try 1 or 1 ½ lemons. My big tip here is to use a food processor with the grater attachment if you have it to make quick work out of shredding the carrots and cabbage. This was really colorful and delicious, and we loved it! Thanks for sharing, Chris 🙂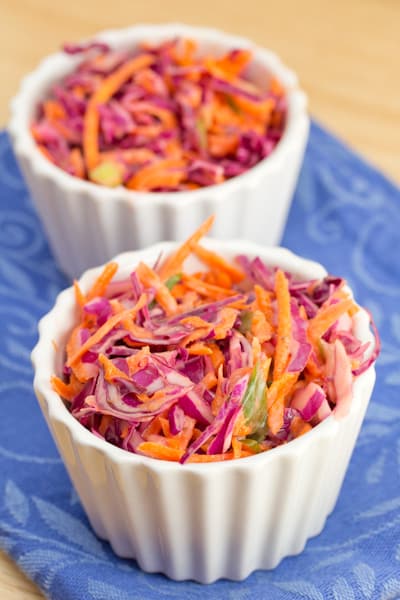 Cole Slaw
Christian Johannesen
½ purple cabbage grated/sliced
3 carrots peeled & grated
3 scallions finely chopped
Juice of 2 Lemons
3 tablespoons of light mayo.
¼ teaspoon celery seed
salt and pepper to taste
Combine in a bowl and voila. If you do not like a tart taste, cut the lemon to 1.
Big Flavors Rating: 5 Stars