This post may contain affiliate links, which won't change your price but will share some commission.
I love breakfast food, but find that I often fall into a rut when making breakfast at home. My husband usually makes breakfast on weekends, which is awesome, but I like to make something during the week for breakfast occasionally.
And breakfast for dinner is where it's at!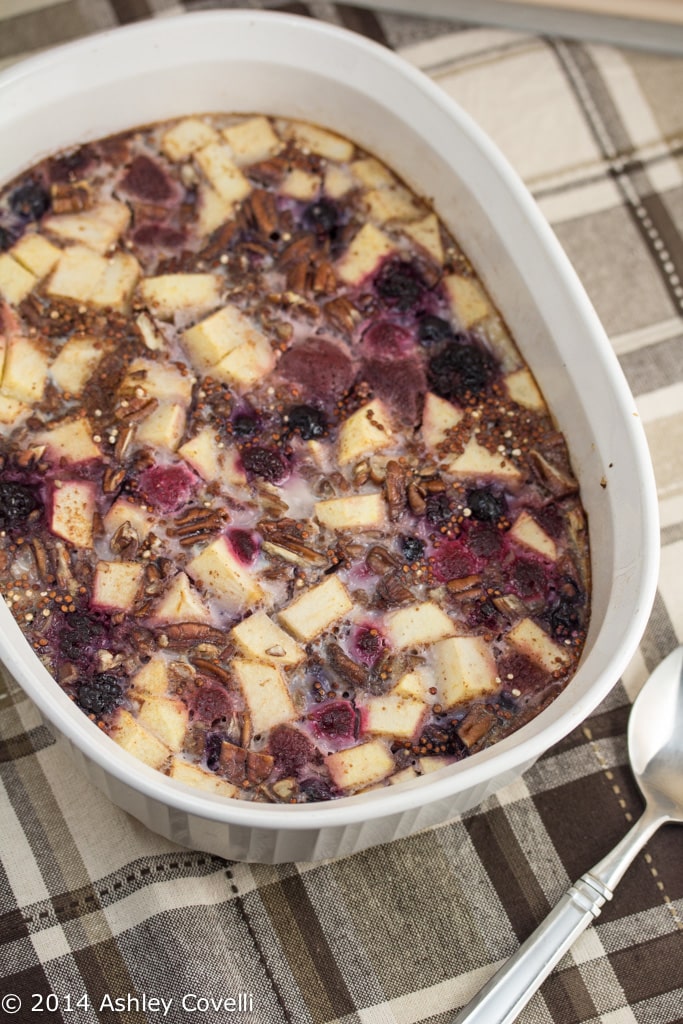 Quinoa is tossed with frozen berries, apple, milk, eggs, maple syrup, nuts and spices and baked till set for a light and healthy breakfast. I drizzled a little extra milk over my son's portion to cool it off and liked the texture that gave it (a little porridge-y).
I used a frozen berry mix that contained strawberries, blackberries, blueberries and raspberries. I chose pecans to go with the fruit and it was a really nice match.
As for the serving size in the recipe, I'd say it's more like 4 servings than 6, unless you're eating it with something else. We enjoyed this one as breakfast for dinner one night with some bacon, but maybe it would have been more filling first thing in the morning.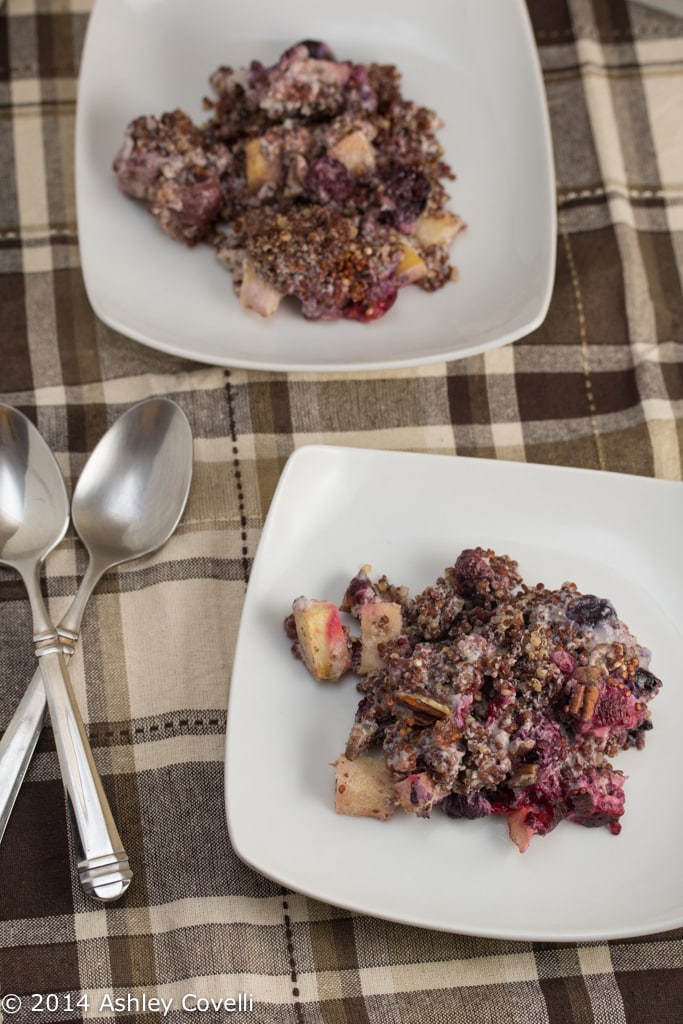 Quinoa Breakfast Bake
Greatist
Serves 4-6
1 cup quinoa (uncooked)
2 teaspoon cinnamon
½ teaspoon allspice
2 eggs
2 cups skim milk
¼ cup maple syrup
1 ½ cups frozen berries
1 apple or pear, peeled, cored, and chopped into ½ inch cubes
½ cup coarsely chopped nuts (optional)
Preheat the oven to 350 degrees. Lightly grease an 8x8 inch square baking pan, and set aside. (Note: a 9x11 works fine, too!)
In a medium bowl, stir together uncooked quinoa, cinnamon, and allspice to coat quinoa with spices. Pour quinoa over bottom of prepared pan.
In the same bowl used for the quinoa, beat the eggs until fully mixed. Whisk in the milk and maple syrup, and beat to combine.
Scatter the berries, apple or pear pieces, and nuts (if using) evenly on top of the quinoa.
Pour the egg and milk mixture over the top of the fruit and quinoa. Lightly stir to partially submerge the fruit. (The milk mixture will cook the quinoa to create a very soft texture on the inside, while creating a lightly crunchy crust on the outside!)
Bake for 1 hour, or until casserole is mostly set with only a small amount of liquid left. Serve warm, and refrigerate leftovers.
Big Flavors Rating: 4 Stars