This post may contain affiliate links, which won't change your price but will share some commission.
I don't know what's been more frustrating this winter: the bone-chilling, ice-cold, blizzard-every-other-week weather or the fact that my family has been sick off and on constantly since Thanksgiving. I mean seriously. The white flag was raised long ago - we give, WE GIVE!
In between bouts of this and that (I'll spare you the details), I made some delicious Brussels Sprouts in Garlic Butter to go alongside this tasty pork dish.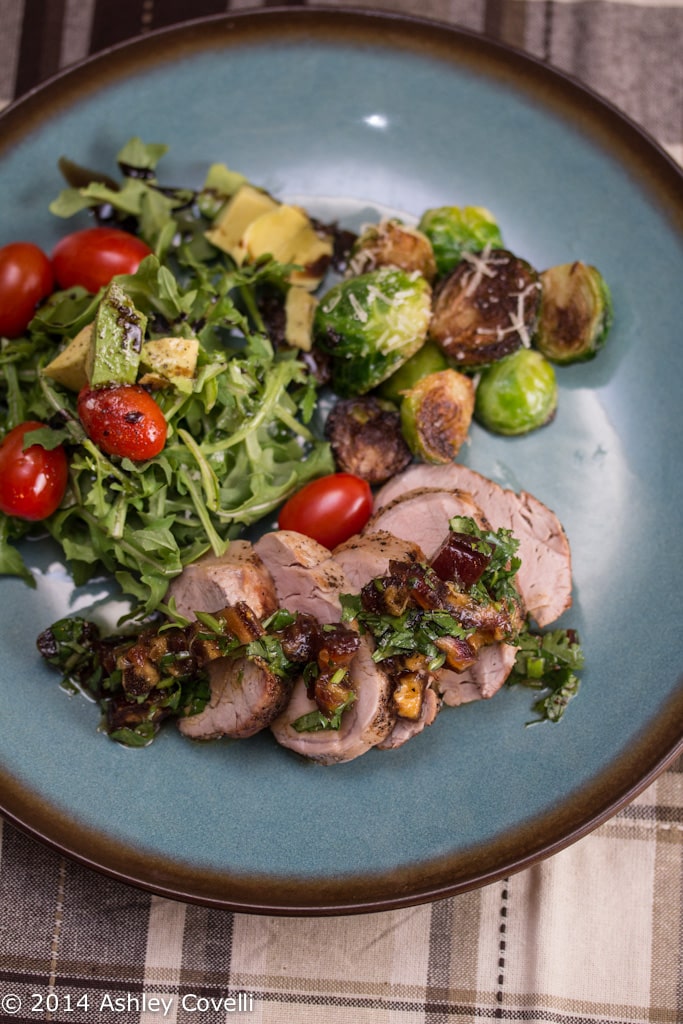 The relish really intrigued me. I've never made a relish that included dates before, and the flavors worked so beautifully with the pork. The dates can be a little tricky to cut, since they're so sticky, so proceed with caution.
I love that the relish can be made ahead of time. It's great for busy weeknights - just don't forget to stir the pan juices from the tenderloin in before serving.
This was a really interesting combination of ingredients that we enjoyed. The sweetness of the fruit is a perfect match for this juicy pork. The cilantro really brightens it up and gives it a fresh finish. Delicious!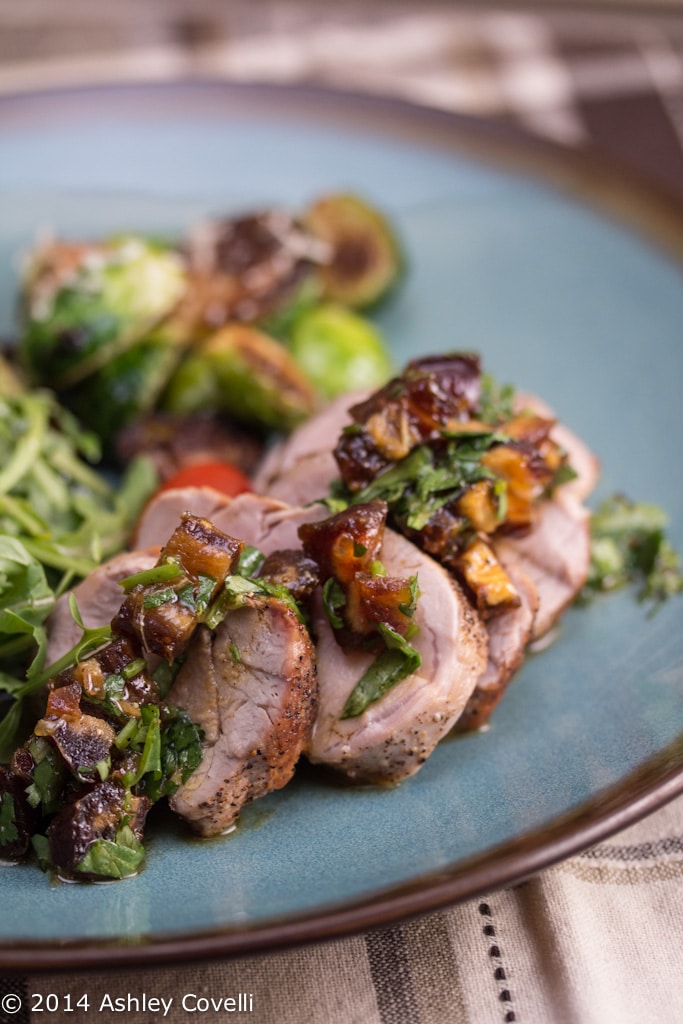 Pork Tenderloin with Date and Cilantro Relish
Bon Appétit November 2013
Yield: Makes 4 servings
Active time: 20 minutes
Total time: 35 minutes
This cut of pork can be very lean, so take care not to overcook it or it will be dry. Ideally, it should still be a little pink in the center.
3 tablespoons olive oil, divided
1 pork tenderloin (about 1 ½ pounds)
Kosher salt, freshly ground pepper
⅔ cup Medjool dates (about 4 ounces), cut into small pieces
2 tablespoons fresh orange juice
3 tablespoons chopped fresh cilantro plus leaves for serving
Preheat oven to 425°F. Heat 1 tablespoon oil in a large ovenproof skillet over medium-high heat. Season pork with salt and pepper and cook, turning, until browned on all sides, 6–8 minutes. Transfer skillet to oven and cook pork until an instant-read thermometer inserted in thickest part registers 140°F, 10–15 minutes. Transfer pork to a cutting board and let rest at least 5 minutes before slicing; set aside pan drippings.
Toss dates, orange juice, reserved pan drippings, 3 tablespoons chopped cilantro, and remaining 2 tablespoons oil in a small bowl; season with salt and pepper. Spoon relish over pork and top with cilantro leaves.
DO AHEAD: Relish (without pan drippings) can be made 4 hours ahead. Cover and chill. Add pan drippings just before serving.
Per serving: 360 calories, 14 g fat, 2 g fiber
Big Flavors Rating: 4 Stars