This post may contain affiliate links, which won't change your price but will share some commission.
I picked up an Armenian cookbook from the library because I wanted to try cooking a type of food I've never made before. It was gorgeous outside, too, so I picked something that we could make on the grill. This recipe was very tasty and much different from anything we've had before. Make sure you don't marinate the pork for longer than an hour, because the book says the marinade will overwhelm the pork. We had the rest of the Farro, Avocado, Cucumber, and Cherry Tomato Salad that I made a few days ago, and also the Whole Tomatoes in Wine. It was a really good meal.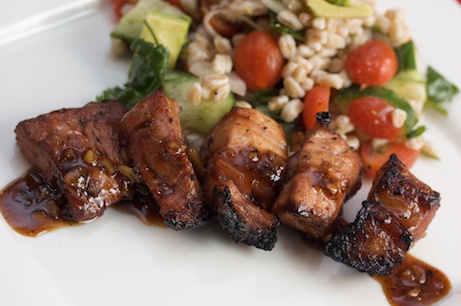 Pork Shish Kebab in Pomegranate, Sumac, and Black Pepper Marinade
The Armenian Table - Victoria Jenanyan Wise
Serves 4 to 6
Marinade
4 tablespoons pomegranate molasses
4 tablespoons white wine
1 clove garlic, minced or pressed
¼ teaspoon cracked black peppercorns
¼ teaspoon kosher salt
½ teaspoon ground sumac
1 tablespoon extra virgin olive oil
1 ½ pounds boneless country-style pork ribs, cut into 1 ½- to 2-inch cubes
Combine the ingredients for the marinade in a dish large enough to hold the pork cubes in one packed layer. Add the cubes and toss to coat. Set aside in the refrigerator to marinate for 45 minutes to 1 hour.
Prepare a medium-hot charcoal fire or preheat a gas grill to medium high. String the pork onto skewers, reserving the marinade. Grill the kebabs over indirect heat, covered, for 20 to 30 minutes, turning 3 or 4 times, until nicely charred on the outside and no longer pink in the center. Transfer to a serving platter and let sit for 5 minutes for the juices to settle.
While the kebabs rest, reduce the marinade in a small saucepan over medium-high heat until thick and bubbly, 2 to 3 minutes. Serve the kebabs with the reduced marinade on the side.
MacGourmet Rating: 4 Stars