This post may contain affiliate links, which won't change your price but will share some commission.
Every few months, I like to bake cookies to give to some of the medical professionals who helped me through a really rough time a few years ago. I figure it's the least I can do to show my appreciation. I also wanted to give a few to some of the neighbor kids who have been playing with my son a lot lately, because they're the sweetest little boys, and who doesn't love homemade cookies?! So I needed to find a recipe that made a LOT of cookies. This one fit the bill, even though I only got 5 dozen out of it (the recipe says it makes 7 dozen). I've eaten peanut blossoms for years, but had never made them before. They're basically just peanut butter cookies that you bake, and then as soon as they come out of the oven, you press a Hershey's Kiss down into the center. The candy melts down onto the hot cookies to kind of glue it down, and once they cool, they re-solidify and are ready to devour. I decided to use a mix of milk chocolate, dark chocolate and Hugs, since I had picked up a few bags on sale a while back. These were a big hit! There's just something about these cookies that are sure to bring smiles to whoever eats them 🙂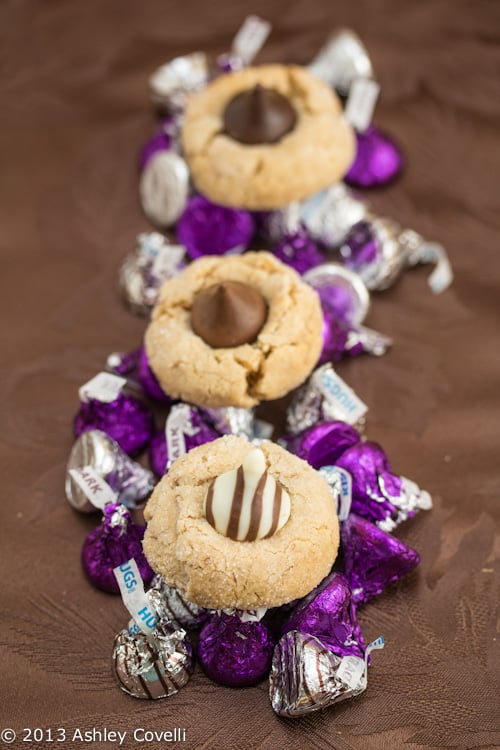 Peanut Blossoms II
Allrecipes - Rosemarie Magee
Makes 7 dozen
1 cup shortening
1 cup peanut butter
1 cup packed brown sugar
1 cup white sugar
2 eggs
¼ cup milk
2 teaspoons vanilla extract
3 ½ cups all-purpose flour
2 teaspoons baking soda
1 teaspoon salt
½ cup white sugar for decoration
2 (9 ounce) bags milk chocolate candy kisses, unwrapped
Preheat oven to 375 degrees F (190 degrees C). Grease cookie sheets.
In a large bowl, cream together the shortening, peanut butter, brown sugar, and 1 cup white sugar until smooth. Beat in the eggs one at a time, and stir in the milk and vanilla. Combine the flour, baking soda, and salt; stir into the peanut butter mixture until well blended. Shape tablespoonfuls of dough into balls, and roll in remaining white sugar. Place cookies 2 inches apart on the prepared cookie sheets.
Bake for 10 to 12 minutes in the preheated oven. Remove from oven, and immediately press a chocolate kiss into each cookie. Allow to cool completely; the kiss will harden as it cools.
Big Flavors Rating: 4 Stars