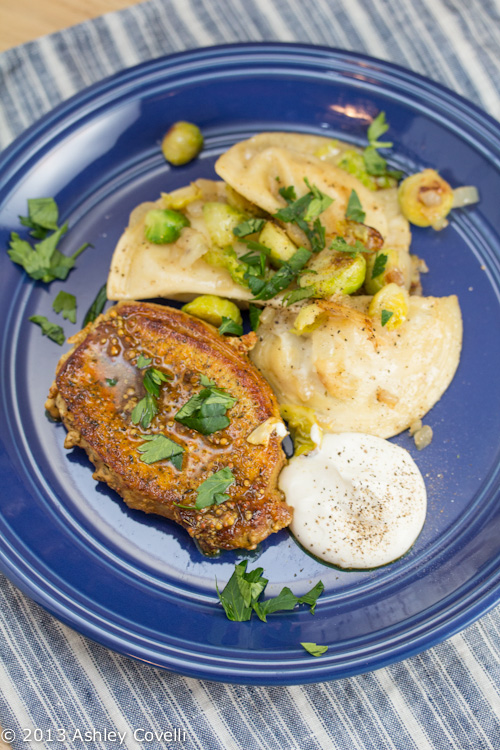 Mustard Spiced Pork Chops and Pierogis with Brussels Sprouts
This post may contain affiliate links. Thank you for supporting the brands that keep me creative in my tiny kitchen!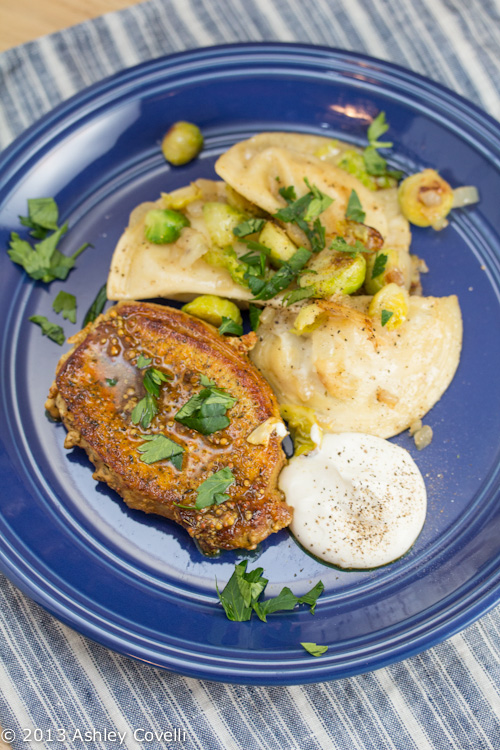 I had a center cut pork loin in the freezer, and some Brussels sprouts in the fridge that I wanted to use up, so I put this meal together. It turned out really well! I heated about 2 tablespoons of olive oil in a large, nonstick skillet. I cut the pork into thick chops and patted them dry. I seasoned both sides with kosher salt, freshly cracked black pepper, turmeric, paprika and dried thyme. I seared them really well on one side, flipped them over and put a lid on the skillet until they cooked through. I uncovered the pan and added 1/2 cup chicken stock, 1 tablespoon of balsamic vinegar and 1 tablespoon of coarse ground mustard to the pan. I stirred it in, cranked up the heat and let it reduce.
While the pork was cooking, I heated a few tablespoons of oil in another large, nonstick skillet. I added a package of frozen onion and cheese pierogis, some chopped onion (about half of a large one), and some Brussels sprouts that I trimmed and halved. I seasoned it all with kosher salt and freshly cracked black pepper, and stirred it occasionally until the pierogis were cooked through. I served them with a dollop of sour crea, alongside the pork chops that I drizzled with the pan sauce. I sprinkled some freshly chopped parsley on top. It was a simple and tasty meal!
Big Flavors Rating: 4 Stars