This post may contain affiliate links, which won't change your price but will share some commission.
I've only eaten Mahi Mahi once or twice, but I really enjoyed it. I saw some frozen fillets at Trader Joe's a few weeks ago, and decided to pick some up to experiment with at home. I had a big bag of green grapes in the fridge, and thought it would be fun to roast them kind of like I did with the grape tomatoes last week when I made Balsamic Roasted Grape Tomatoes Over Angel Hair. I swapped out the balsamic for white wine vinegar to keep it light, and cut down on the garlic a bit, and added in some sliced sweet onions. It turned out great! The sweet and tangy grapes went perfectly with the fish. It was beautifully flaky and tender. The pan juices were great drizzled over some quinoa on the side. Rice would be great here, too. Anything to kind of soak up all of the goodness from the pan. This was a great, light meal - perfect after a weekend full of heavy meals.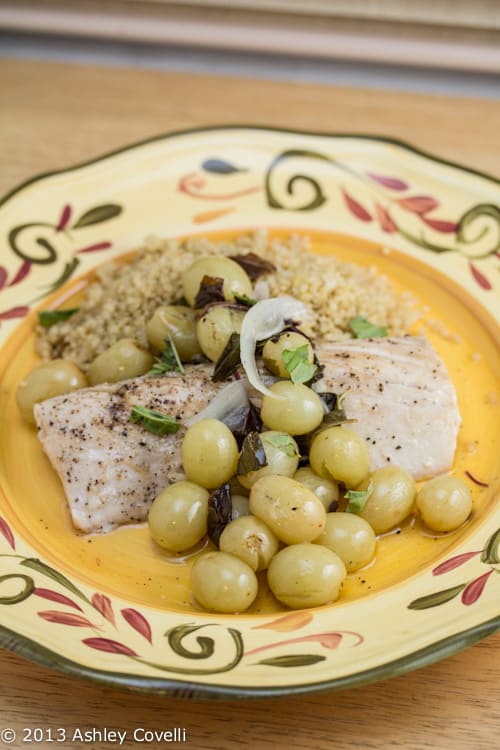 Mahi Mahi with Roasted Grapes and Basil
Ashley Covelli
Serves 4
For roasted grapes:
4 cups green grapes (seedless)
¼ cup white wine vinegar
¼ cup extra virgin olive oil
¼ cup fresh basil, roughly chopped, plus more for garnish
1 clove garlic, minced
Small sweet onion, thinly sliced (about ½ cup)
Kosher salt and freshly cracked black pepper, to taste
For fish:
2 tablespoons extra virgin olive oil
4 boneless, skinless Mahi Mahi fillets (1 ½ - 2 pounds total)
Kosher salt and freshly cracked black pepper, to taste
Preheat oven to 350°F. In a baking dish, toss together grapes, vinegar, oil, basil, garlic, onion, salt and pepper. Roast in preheated oven for 20 minutes, stir, and roast for another 15 minutes.
When grapes are almost done, heat 2 tablespoons oil in a large, non-stick skillet. Pat fish dry and season both sides with salt and pepper. Add to skillet and cook until opaque and flaky - about 3 minutes per side.
To serve, top each fillet with some of the roasted grape mixture, drizzling on the pan juices. Garnish with some fresh basil.
Big Flavors Rating: 4 Stars