This post may contain affiliate links, which won't change your price but will share some commission.
This was one of the first recipes to catch my eye from the Persian cookbook I picked up recently. I love pomegranate molasses, and the idea of a thick, flavorful lamb marinade sounded completely irresistible.
Ground walnuts and thick, tangy pomegranate molasses turn this marinade into a paste that is slathered over cubes of lamb. When you're ready to cook, fire up the grill and dinner will be ready in a flash!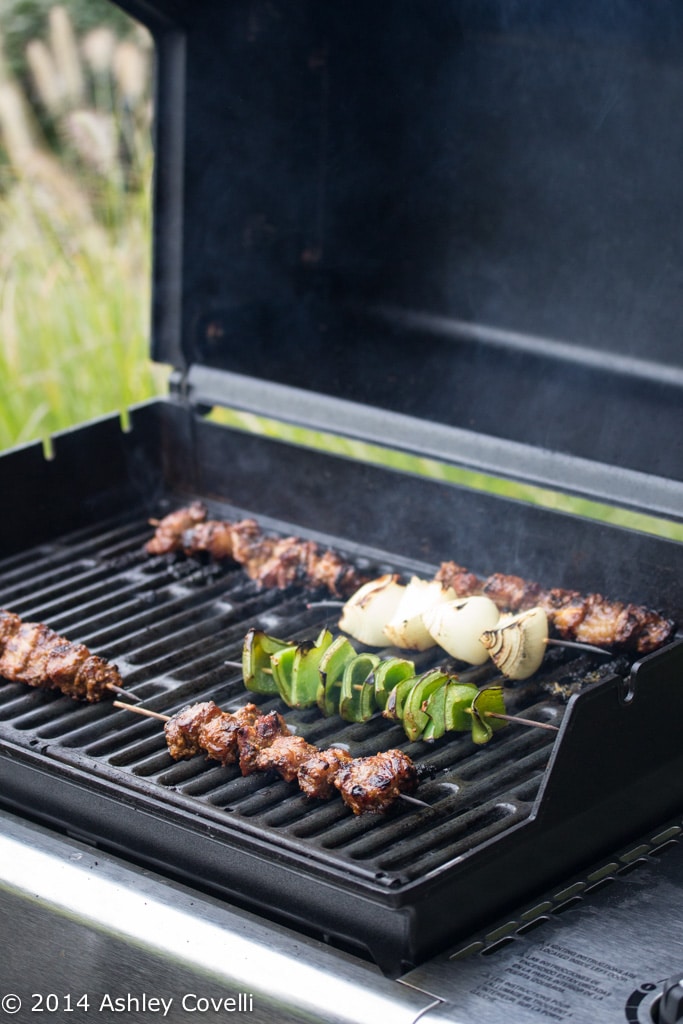 The only mistake I made here was that I didn't brush enough of the marinade off of the lamb before we grilled it. It's very potent stuff, so it was a little overwhelming. But the blend of flavors was really beautiful!
Pomegranate molasses is something I don't use often enough, and this was a good way to use up a lot from the bottle I had in the kitchen.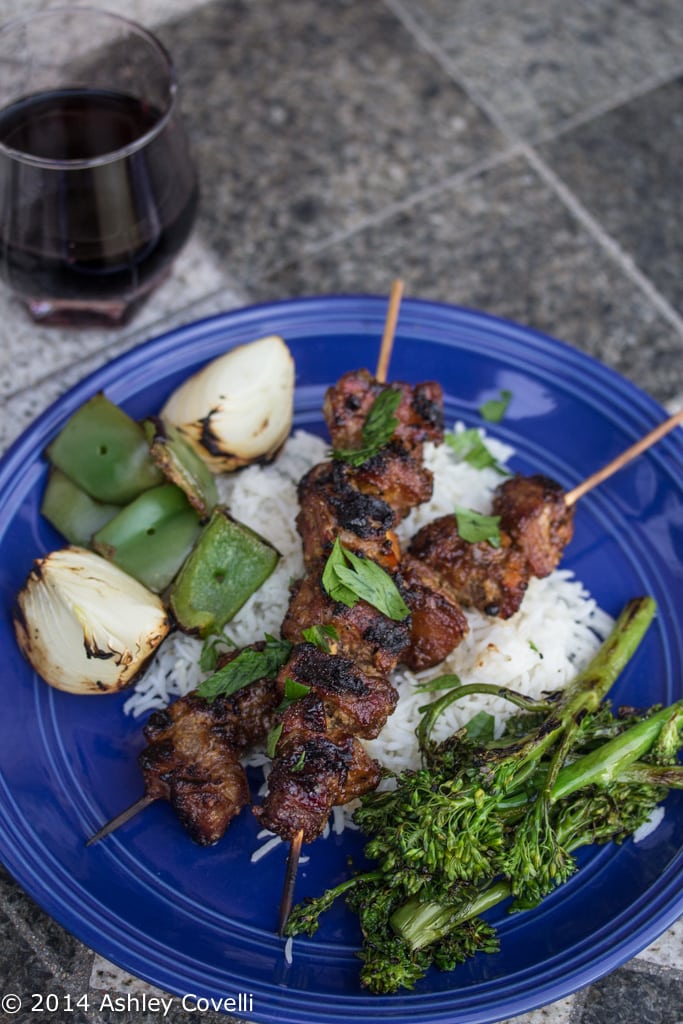 To go with the lamb, I steamed some basmati rice and had Dino grill skewers of onions and green bell peppers. I also requested some grilled broccoli, sprinkled with a little truffle salt, because that's my latest grilled side dish addiction. YUM!
I served this with a glass of 2011 Rodney Strong Symmetry (Red Meritage), which was bold, rich and a bit spicy. It went really well with the strong flavors of our dinner. Definitely a great combination!
Lamb Kebabs in Pomegranate-Walnut Marinade (Kebab-e Torsh)
The New Persian Kitchen – Louisa Shafia
Serves 6
2 pounds lamb tenderloin or boneless shank or neck, cut into 1 ½-inch chunks
1 cup walnuts
¾ cup pomegranate molasses
2 cloves garlic, crushed
2 tablespoons grapeseed oil
1 cup loosely packed fresh flat-leaf parsley, plus extra chopped for garnish
Sea salt and freshly ground black pepper
Place the meat in a large casserole dish. In a food processor, grind the walnuts, pomegranate molasses, garlic and oil into a puree. Add the parsley and pulse into small bits. Pour the marinade over the meat and toss well. Cover and refrigerate overnight.
If using wooden or bamboo skewers, soak them in salty water for a couple of hours before grilling. Thread 3 or 4 pieces of meat onto each skewer ¼ inch apart, leaving 2 inches of space at the end. Discard the marinade. Brush or wipe extra marinade from the skewers. Leave the meat out while you heat the grill so it can come up to room temperature (no more than 45 minutes total).
Prepare a hot grill.
Lightly oil the grill and grill the kebabs for 6 to 8 minutes, turning occasionally. When done, the meat should be slightly charred on the outside and very pink on the inside.
Transfer to a serving platter and season with salt and pepper. Garnish with parsley and serve.
Big Flavors Rating: 4 Stars