This post may contain affiliate links, which won't change your price but will share some commission.
This was another banchan for the Korean BBQ dinner that we had tonight. You salt sliced cucumbers and let them sit for a few minutes, then squeeze them out and stir-fry them quickly before tossing them with sesame seeds and black pepper. It's quick and easy to put together, and is great alongside the rest of the food.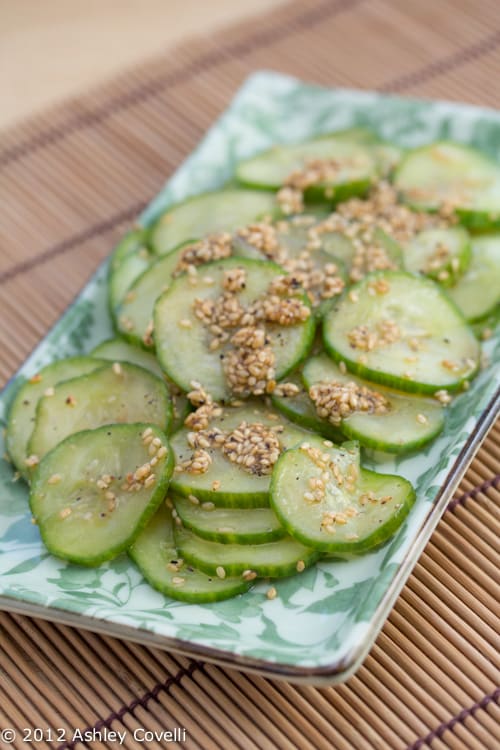 Oi Bokkum Namul (Seasoned Cucumbers with Sesame Seeds)
Institute of Culinary Education
Adapted from The Korean Table - Taekyung Chung and Debra Samuels
Yield: Serves 4
Cooked cucumbers are a terrific treat. You can make a simple salad with lettuce and just these cucumbers. Use mini cucumbers or "baby" cucumbers if you can find them. Otherwise, English cucumbers work just fine.
4 mini cucumbers or ½ English cucumber, sliced into ¼-inch rounds
1 teaspoon salt
1 tablespoon dark sesame oil
1 tablespoon roasted sesame seeds
1. In a large bowl, combine the cucumbers and salt. Mix well. Set aside for 5 minutes. Gently squeeze the liquid from the cucumbers.
2. In a medium skillet, heat the sesame oil over medium heat. Add the cucumbers and stir-fry for 2 minutes. Transfer to a serving bowl. Add the roasted sesame seeds and freshly ground black pepper to taste. Mix well.
This will keep for 2 days in the refrigerator.
Big Flavors Rating: 5 Stars