This post may contain affiliate links, which won't change your price but will share some commission.
I recently found a new Jamie Oliver show that my toddler absolutely loves to watch with me. His food always looks so approachable and fun, and he's so engaging while he's cooking.
It inspired me to try out some more of his recipes - I realized that it had been way too long!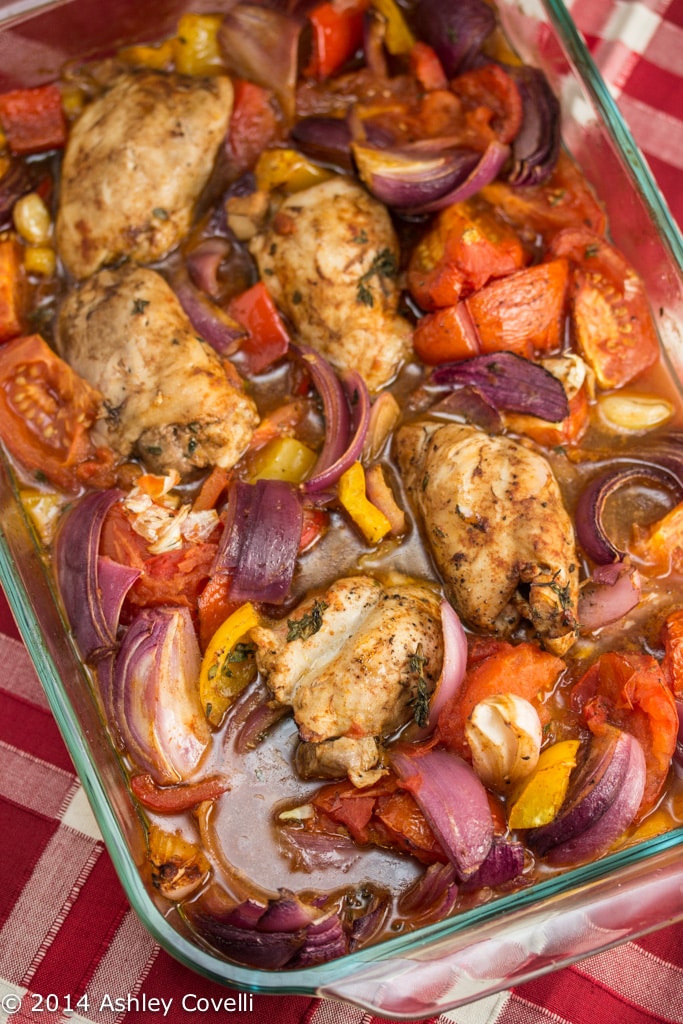 This recipe is super simple - just chop a bunch of veggies and plop them into a baking tray along with chicken, herbs, oil and vinegar. Toss it together and let it bake! You need to stir it a few times, but that's really all there is to it.
This dish was a great combination of roasted veggies and tender chicken. The sweetness of the tomatoes went beautifully with the vegetables, and the smoked paprika added a nice depth of flavor all around. There were plenty of pan juices left - perfect for dipping a chunk of crusty bread into!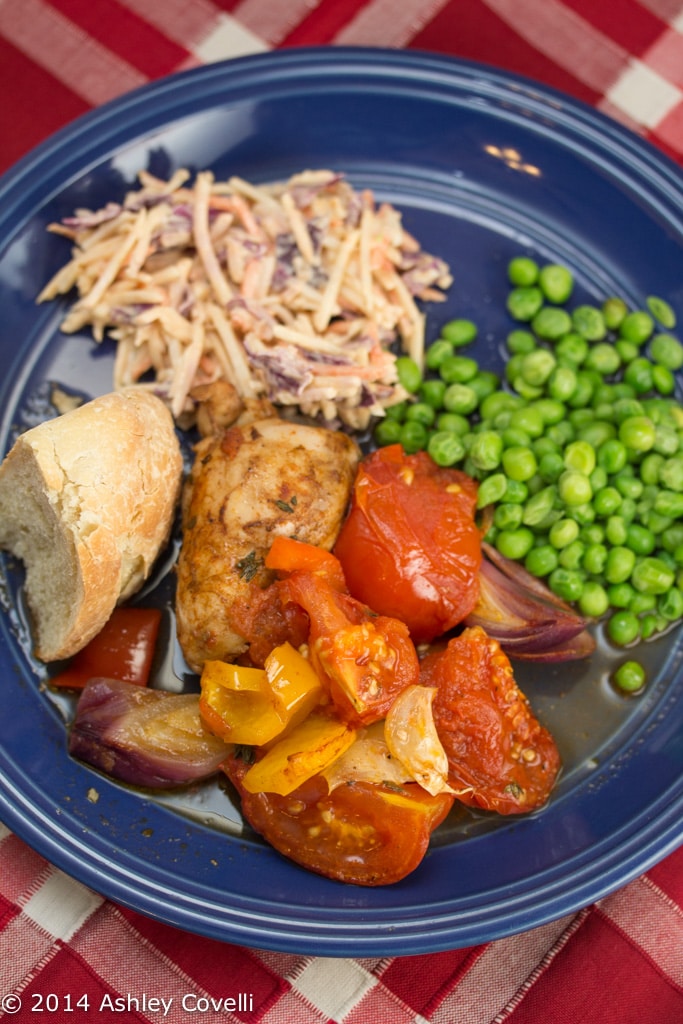 I served this with some peas, crusty bread and a Rainbow Slaw with Smoked Paprika Mayo. It was a nice, comforting meal that took very little effort - perfect for a weeknight!
Hit 'n' Run Traybaked Chicken
Jamie Oliver
Serves 4
1h 10m
4 large ripe tomatoes
2 red onions
1 red pepper
1 yellow pepper
6 skinless, boneless free-range chicken thighs
4 cloves of garlic
½ bunch of fresh thyme
1 teaspoon smoked paprika
2 tablespoons olive oil
2 tablespoons balsamic vinegar
Everyone needs a hit 'n' run recipe like this – it's the kind of fallback meal you can enjoy when prep time isn't on your side. It's simply a case of putting together a combination of ingredients that really love each other, then just tearing, mixing, marinating and baking. It's super quick to prepare, and you're letting the oven do all the work.
Preheat the oven to 180ºC/350ºF/gas 4. Quarter the tomatoes and place them in a large baking dish or roasting tray (roughly 25cm x 30cm). Peel the onions and cut into large wedges, then deseed and roughly chop the peppers. Add all these to the tray along with the chicken thighs.
Squash the unpeeled garlic cloves with the back of your knife and add to the tray, then pick over the thyme leaves and sprinkle over the paprika. Add the oil, balsamic and a good pinch of salt and pepper. Toss everything together really well to coat, then spread across the tray, making sure the chicken isn't covered by the vegetables. Roast for around 1 hour, or until the chicken is golden and cooked through, turning and basting it a couple of times during cooking with the juices from the tray.
Serve the traybake with a lovely green salad on the side. You could also buddy it up with a little rice, polenta or a loaf of crusty bread to mop up the juices.
Jamie's Tip: Roasting garlic cloves whole in their skins makes them really sweet – don't waste that lovely soft flesh, squeeze it out and enjoy it!
Nutritional Information
Amount per serving:
Calories 340 17%
Carbs 18.5g 7%
Sugar 15.2g 17%
Fat 13.9g 20%
Saturates 3.2g 16%
Protein 32.6g 72%
Big Flavors Rating: 4 Stars