This post may contain affiliate links, which won't change your price but will share some commission.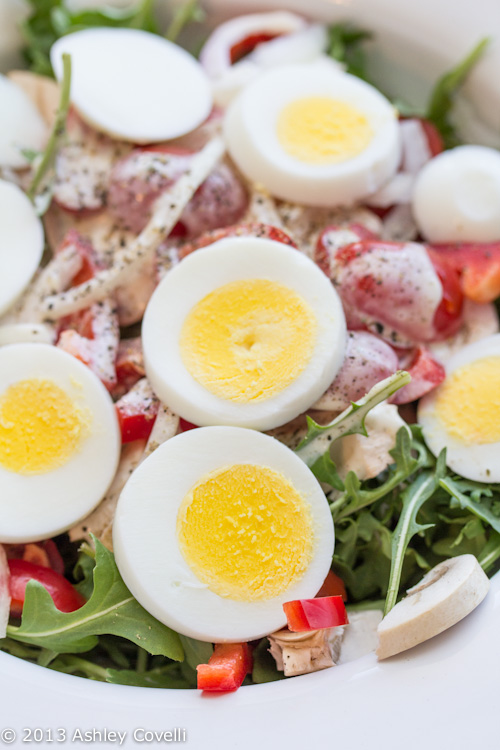 For some reason, lately I've been having trouble hard boiling eggs. I never used to have any issues with it. My old method was to add salt and white vinegar to the water. That's how my grandma did it. But last week, I ran into trouble a few separate times when trying to peel the eggs, so I decided to try out something that I had read online a while back - I added some baking soda. It worked out great! I had a little bit of stick-age still, but not bad at all. So my new method will be:
-Place eggs in the bottom of a saucepan and cover with cold water. Make sure the eggs are completely submerged.
-Add 1 teaspoon baking soda.
-Bring to a rolling boil.
-Cover the saucepan with a tight-fitting lid and turn off the heat. Let sit for 10 minutes.
-Run cold water over the eggs to cool them off.
-Peel, rinse, dry and enjoy!
This egg was destined for a salad that had baby arugula, sliced mushrooms, sliced red bell pepper, halved grape tomatoes, thinly sliced sweet onion and Homemade Ranch Dressing. I cracked some black pepper over top, added my sliced hard boiled eggs and enjoyed!