This post may contain affiliate links, which won't change your price but will share some commission.
My father-in-law gave me a bunch of beautiful tomatoes from his garden, and they were >thisclose< to being too ripe. This pasta was a way for me to use up those tomatoes plus a bunch of beautiful produce that was hanging out in my kitchen, all at once. It was simple enough to put together, because I just kind of chopped things and dropped them into the pan as I went. I really liked how colorful this dish was, and some nice, fat strips of Parmesan right on top added a great bit of salty, creamy goodness.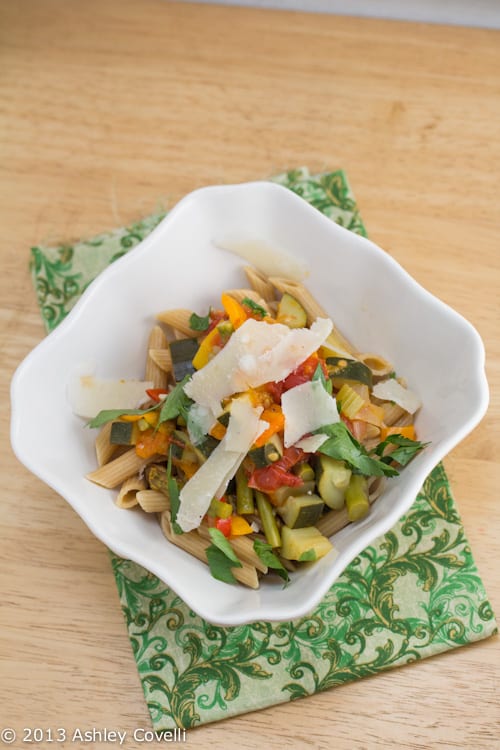 End of Summer Penne Primavera
Ashley Covelli
2 tablespoons extra-virgin olive oil
½ small sweet onion, diced
1 small shallot, diced
2 cloves garlic, minced
1 stalk celery, diced
4 mini bell peppers, diced
2 zucchini, diced
1 bunch asparagus, trimmed and chopped into 1-inch pieces
7 large tomatoes, diced
1 dried bay leaf
1 ½ cups vegetable stock
Kosher salt and freshly cracked black pepper, to taste
Cooked whole wheat penne*
Chopped parsley, for garnish
Parmesan shavings, for garnish (omit to keep it vegan)
*Optional: use Gluten Free
Heat oil in a large, non-stick skillet over moderate heat. Add ingredients, through tomatoes, and season to taste with salt and pepper. Sauté for a few minutes and add the bay leaf and vegetable stock. Check for seasoning and adjust if necessary. Simmer for a few minutes, until the sauce cooks down and thickens a bit.
Serve over cooked penne, garnishing with parsley and Parmesan. Enjoy!
Big Flavors Rating: 4 Stars