This post may contain affiliate links, which won't change your price but will share some commission.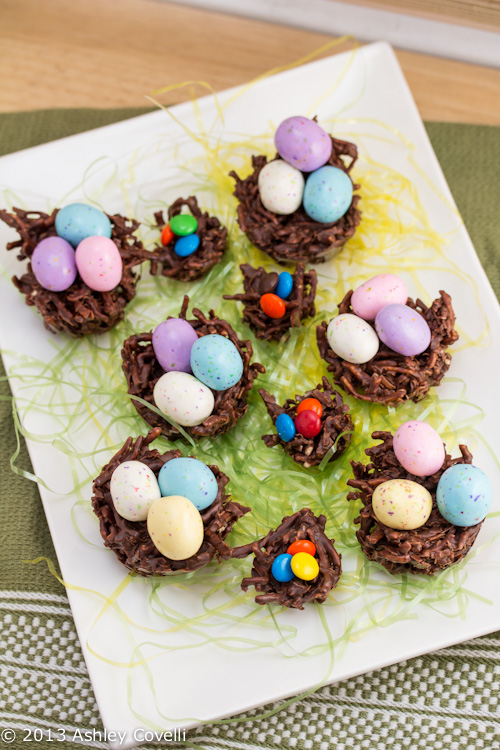 I wanted to make something for Easter dessert, and this spin on the classic Peanut Butter Haystacks was a lot of fun.
I wanted to use some good chocolate, toasted coconut and peanut butter in addition to the chow mein noodles.
I wanted to use smaller malted eggs, but picking up Easter candy a couple days before Easter really limits your options.
Anyhow, these were a big hit. They got a big gasp and lots of comments on how cute they were when I brought them to the table - success!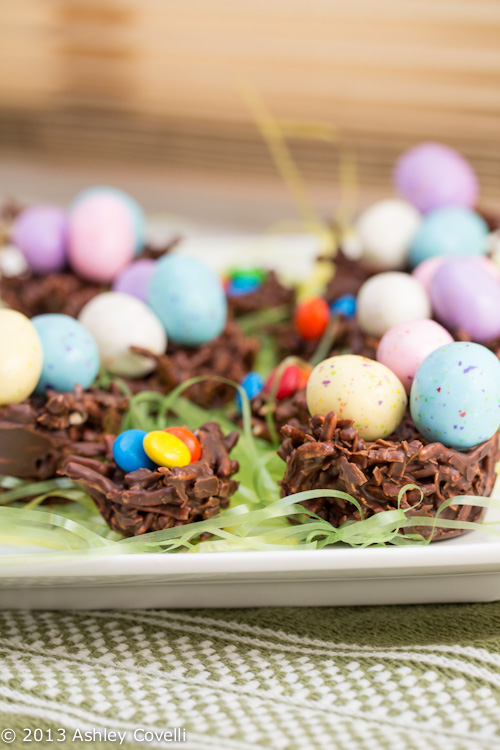 Chocolate Peanut Butter Nests with Toasted Coconut
Ashley Covelli
10 ounce bag chocolate chips (I used Ghirardelli 60% Cacao Bittersweet Chocolate Baking Chips)
½ cup creamy peanut butter
6 ounce bag chow mein noodles
7 ounce bag sweetened coconut flakes
peanut oil or nonstick cooking spray
malted mini chocolate eggs or M&Ms
Preheat oven to 350°F. Spread coconut flakes out on a large, rimmed baking sheet. Bake until nicely toasted, stirring every 5 minutes to make sure it doesn't burn. Remove from oven and set aside.
Prepare your muffin tins (I used one regular tin and about half of a mini-muffin tin): Pour a little peanut oil into a dish and dip a paper towel into it. Rub oil in each muffin cup. This will help the nests come out easier after they set.
In a large, microwave safe bowl, add chocolate chips and peanut butter. Microwave for 30 seconds, stir, and repeat until the mixture is nice and smooth. Pour in chow mein noodles and toasted coconut flakes and stir gently until fully coated.
Spoon mixture into prepared muffin tins, pressing down slightly in the middle of each portion to help shape the nest. Refrigerate for at least 30 minutes, or until the chocolate is set.
To assemble, remove from the refrigerator and let sit out for a few minutes. Gently twist the nests to release them from the pans. Place on a serving tray and top with candies.
Big Flavors Rating: 4 Stars