This post may contain affiliate links, which won't change your price but will share some commission.
I saw this simple pudding recipe on TV a few weeks ago and immediately knew it would be a great Valentine's Day dessert. Because Valentine's Day is just an excuse to eat copious amounts of chocolate, right? This recipe was on an episode about lightened up desserts, too, so it was a win/win!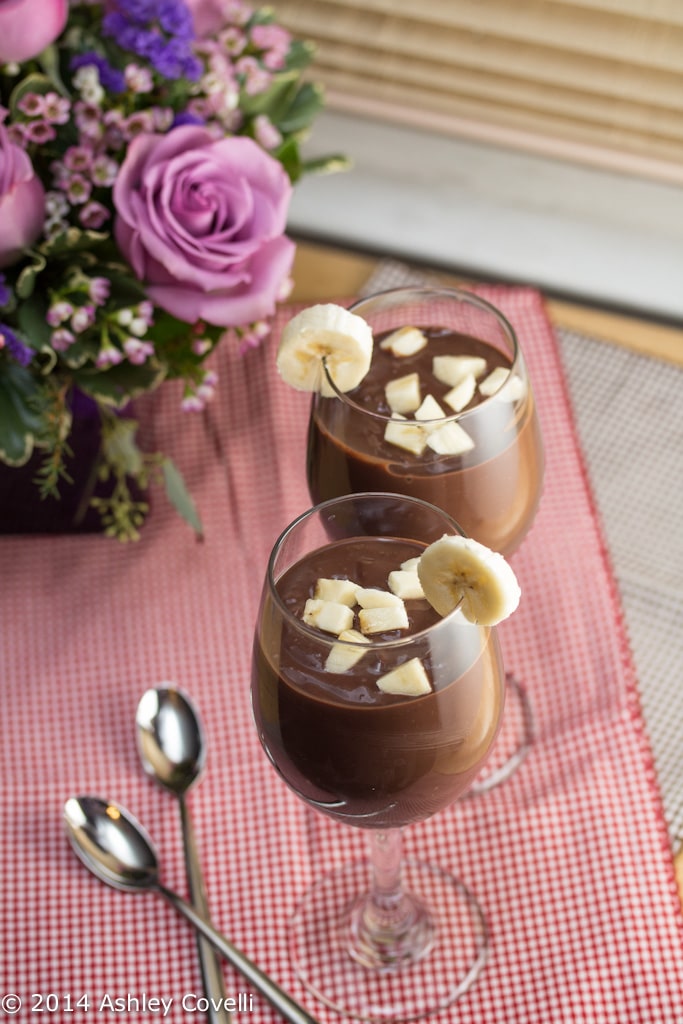 This recipe is great because you can make it ahead of time and just stir the bananas in at the end.
It makes 4 servings, unless you happened to have misread the recipe and assumed it was for 2.
Ahem.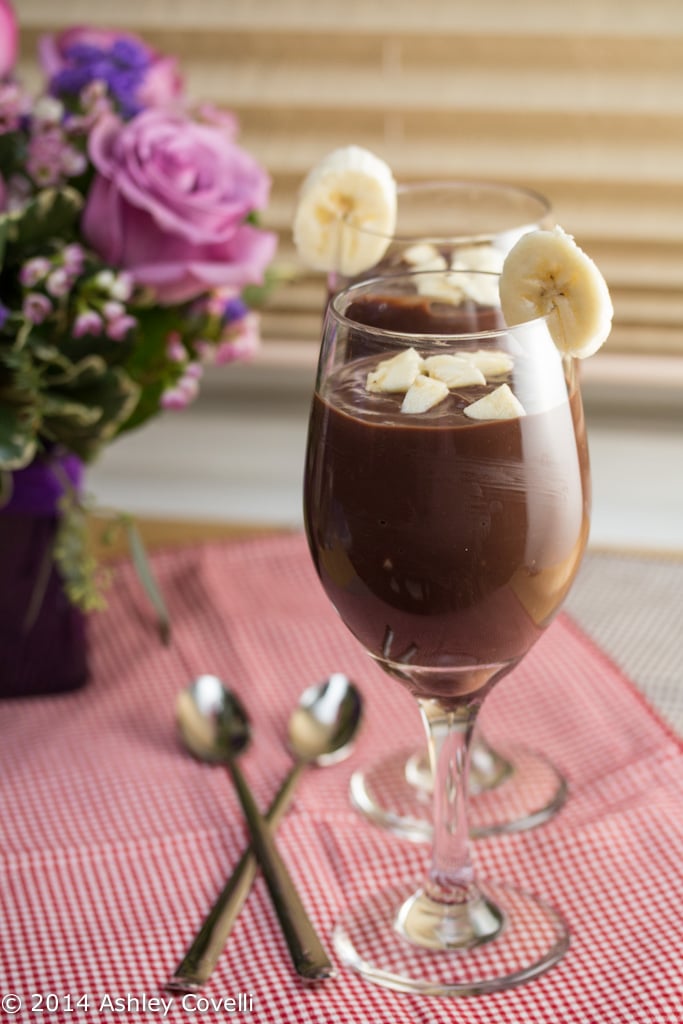 This is rich, chocolatey and delicious, even though it only uses egg whites and cornstarch as thickeners. I even used low-fat milk.
I loved the addition of the banana pieces. My pudding was a bit lumpy, but it was fine since the banana pieces were in there, too.
Chocolate Banana Pudding
Best Recipes Ever – Kary Osmond
Servings: 4
2-¼ cups (550 mL) milk
⅔ cup (150 mL) granulated sugar
2 egg whites
⅓ cup (75 mL) unsweetened cocoa powder, sifted
3 tablespoon (45 mL) cornstarch
2 teaspoon (10 mL) vanilla
1 banana, diced
In medium-size heavy saucepan or double boiler over medium heat, combine 2 cups (500 mL) of the milk with sugar, stirring often, for about 5 minutes or just until bubbles form around edge of pan.
Meanwhile, in bowl, whisk together remaining milk, egg whites, cocoa and cornstarch; gradually whisk in hot milk mixture. Pour into clean saucepan; cook over medium heat, stirring with wooden spoon, for about 10 minutes or until consistency of melted chocolate. Let cool slightly; stir in vanilla.
Place plastic wrap directly on surface of pudding; refrigerate for at least 2 hours or until cold. (Pudding can be prepared to the point and refrigerated for up to 2 days.) Just before serving, dice banana and stir into pudding.
Variation:
Butterscotch Pudding: Omit cocoa powder and banana; reduce vanilla to 1 teaspoon (5 mL). In small saucepan over medium heat or in microwave at Medium (50%), heat 2 cups (500 mL) of the milk just until steaming. Set aside and keep warm.
Meanwhile, in medium-size heavy saucepan, stir sugar with ¼ cup (50 mL) water over medium heat until dissolved. Bring to boil, brushing down sides of pan with pastry brush dipped In cold water.
Cook, without stirring, for about 5 minutes or until deep golden. Remove from heat; vigorously whisk in hot milk in slow steady stream while mixture bubbles and foams. In glass measure or small bowl, whisk together remaining milk, egg whites and cornstarch. Whisk into hot milk mixture in slow steady stream.
Cook over medium-low heat, stirring with wooden spoon, for about 8 minutes or until thickened. Stir in vanilla and 1 tablespoon (15 mL) butter. Refrigerate for at least 2 hours or until cold. (Pudding can be refrigerated for up to 2 days.)
Nutritional Info:
cal 285, pro 8 g, total fat 5 g, sat. fat 3 g, carb 56 g, fiber 3 g, chol 10 mg, sodium 152 mg, %RDI:, calcium 16%, iron 7%, vit A 7%, vit C 3%, folate 4%
Big Flavors Rating: 4 Stars