This post may contain affiliate links, which won't change your price but will share some commission.
Big Flavors From A Tiny Kitchen just celebrated its third birthday on August 1st! This blog has grown a lot since its original home over on livejournal - and I've also grown a lot. I'm much more comfortable in my (still tiny) kitchen, and I'm willing to try so many more new and exciting techniques, ingredients and cuisines. Thank you so so much to all of my readers, lurkers, family and friends for all of your support. Your encouragement (and willingness to eat leftovers) really helps me keep going even when life gets exhausting.
I wanted to bake something to celebrate, but I had to put it off for a few days - I was away at a lovely spa resort in upstate New York. What a wonderful (and MUCH needed) trip! So when I got back home, I had to figure out just what to bake.
These muffins turned out fabulous! I saw it on allrecipes with a 4.8 star average, with well over 4,000 reviews! I got to try out my new silicone muffin liners finally, and they were a cinch to use. These muffins actually reminded me of the Banana Coffee Cake that I made a few weeks back (it was only missing the chocolate chips and nuts). They were pretty simple to put together, and they look and taste really impressive. My batter made enough for 11 muffins instead of 10 - so that justifies me eating 2 for dessert, right?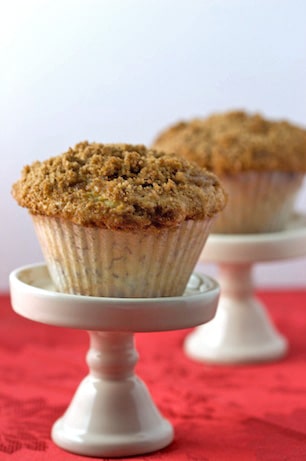 Banana Crumb Muffins
Allrecipes - Lisa Kreft
"The crumb topping is what makes these banana muffins stand apart from the ordinary. They're scrumptious!"
PREP TIME 15 Min
COOK TIME 20 Min
READY IN 35 Min
Original recipe yield 10 muffins
1 ½ cups all-purpose flour
1 teaspoon baking soda
1 teaspoon baking powder
½ teaspoon salt
3 bananas, mashed
¾ cup white sugar
1 egg, lightly beaten
⅓ cup butter, melted
⅓ cup packed brown sugar
2 tablespoons all-purpose flour
⅛ teaspoon ground cinnamon
1 tablespoon butter
1. Preheat oven to 375 degrees F (190 degrees C). Lightly grease 10 muffin cups, or line with muffin papers.
2. In a large bowl, mix together 1 ½ cups flour, baking soda, baking powder and salt. In another bowl, beat together bananas, sugar, egg and melted butter. Stir the banana mixture into the flour mixture just until moistened. Spoon batter into prepared muffin cups.
3. In a small bowl, mix together brown sugar, 2 tablespoons flour and cinnamon. Cut in 1 tablespoon butter until mixture resembles coarse cornmeal. Sprinkle topping over muffins.
4. Bake in preheated oven for 18 to 20 minutes, until a toothpick inserted into center of a muffin comes out clean.
MacGourmet Rating: 5 Stars