I feel so fortunate to live in New York's Hudson Valley. I'm close to both the hustle and bustle of New York City life and also lots of wonderful farms and agricultural centers.
Today's post is the first in a new series where I'll be spending some time with local farmers and environmental educators to learn and explore nature's bounty right here in my backyard. In addition to learning about each farm, we'll be discussing things like eating seasonally and sustainably, the benefits of Community Supported Agriculture and how to grow food in your very own home garden.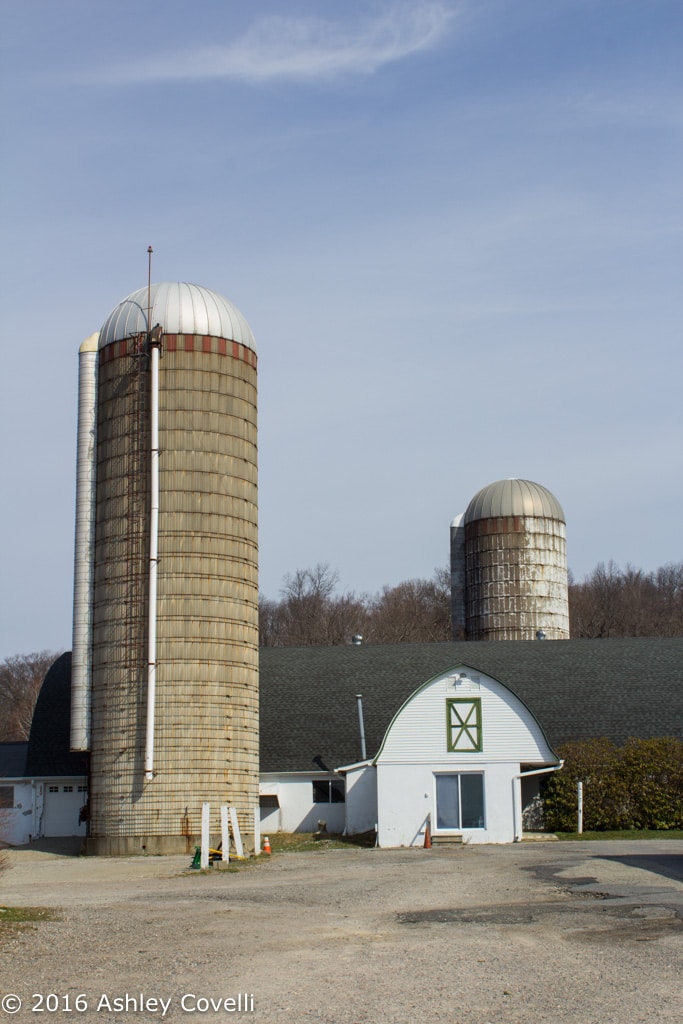 For each farm that I visit, I'll be chatting with the farmers as well as taking home some goodies straight from the farm to cook with in my tiny kitchen. I hope to inspire you to get to know your local farmers, try some new and exciting foods, and take your family to visit a farm near you to see how your food is grown.
My first stop was Hilltop Hanover Farm & Environmental Center in Yorktown Heights, New York. It's a beautiful farm with 3 separate, inter-linked hiking trails in 134 acres of forest which are open from dawn to dusk, self-guided walking tours, barnyard animals and lots of organically grown produce.
I got to spend the morning with Michelle Graham - Retail Manager, Farmer and Veggie Lover Extraordinaire, while my 4-year-old wandered around the farm with my in-laws.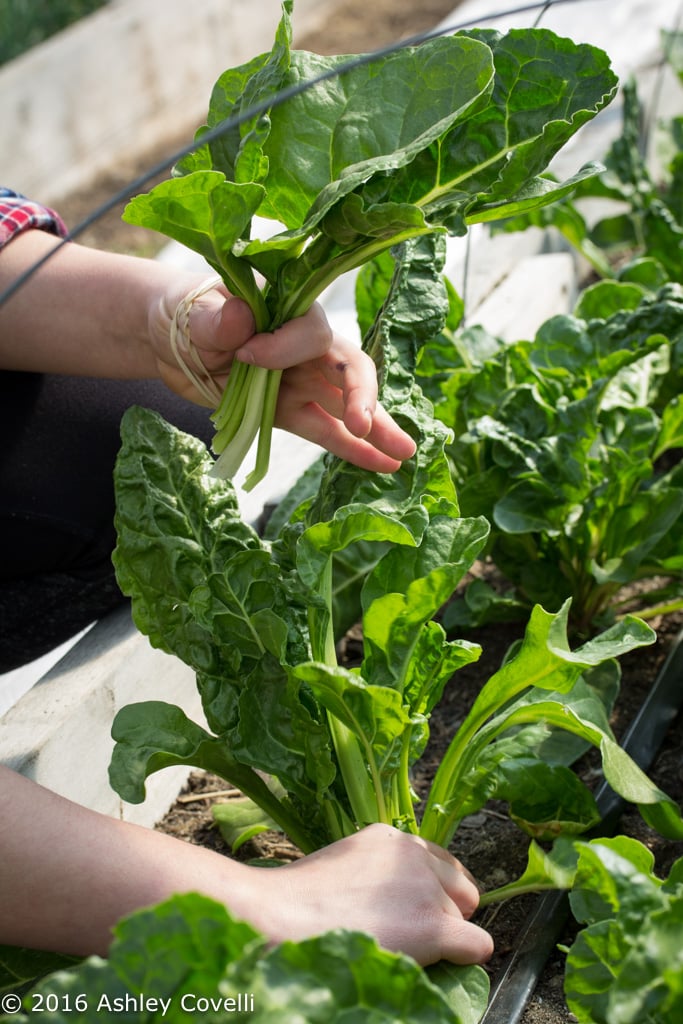 Big Flavors: Tell me a little bit about your farm.
Michelle: Hilltop Hanover was historically a dairy and Holstein breeding farm. Throughout the years it kind of went down with big production taking over. In 2003 the county bought the land to help preserve it for historic agriculture reasons as well as land preservation for the watershed, because the reservoir is right down the hill.
From there it's gone through ups and downs recreating what it is, but for a while now it's really been thriving as an organic sustainable vegetable farm and education center. So it's really booming, and for the head farmer, Max, to take that on, it's really quite an endeavor.
Currently we grow on 7 acres of vegetable farming - we increased 2 acres last year. We have a CSA share with about 160 members last year. This year, we're doing something really exciting that I'm working on - a workplace CSA. It's a satellite CSA - I'm in the works talking to different business locations to see who's gonna bite. It is a bit to organize, and we have to get the numbers high enough to make sure that it's worth our time and their time.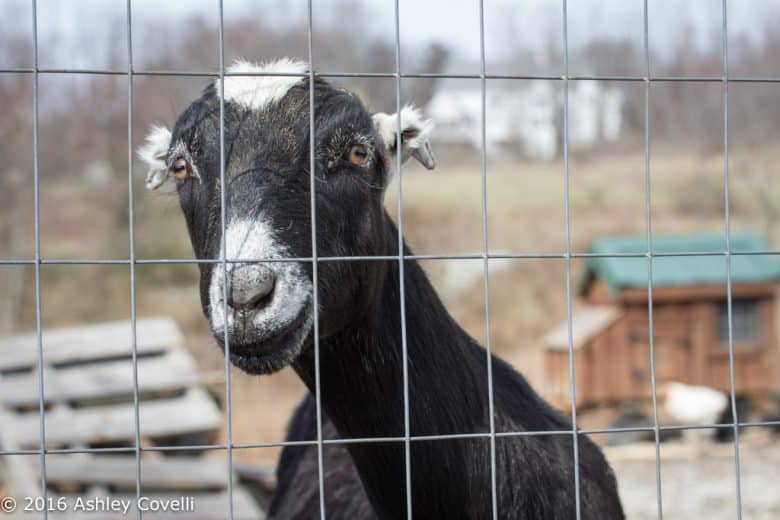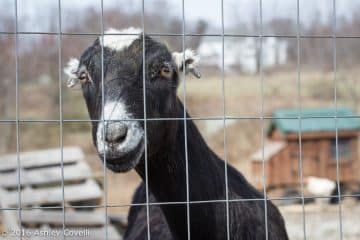 Big Flavors: That's great, because it makes it easy if you're coming to them - I think a lot of people wonder when they'd have time to pick up their CSA shares, but if you're bringing it right to their office, that's fantastic!
Michelle: And here we offer Tuesday/Thursday from 2-7pm, but if you're getting off work at 6 and have to pick up kids and if you have a 1 parent home or even 2, or you have kids getting off the bus or a babysitter who's waiting for you to get back… it can be hard. So we're trying to make it more accessible. And that's part of one our missions - sustainable food systems for all people and all walks of life.
And we are a non-profit - we've donated over 14,000 pounds of produce this past season alone to food banks and shelters in Westchester County. It was kind of my endeavor to really not let food go to waste. And anything that is going to "waste", we are putting into compost and it gets recycled into the earth.
We grow hundreds of different varieties of vegetables.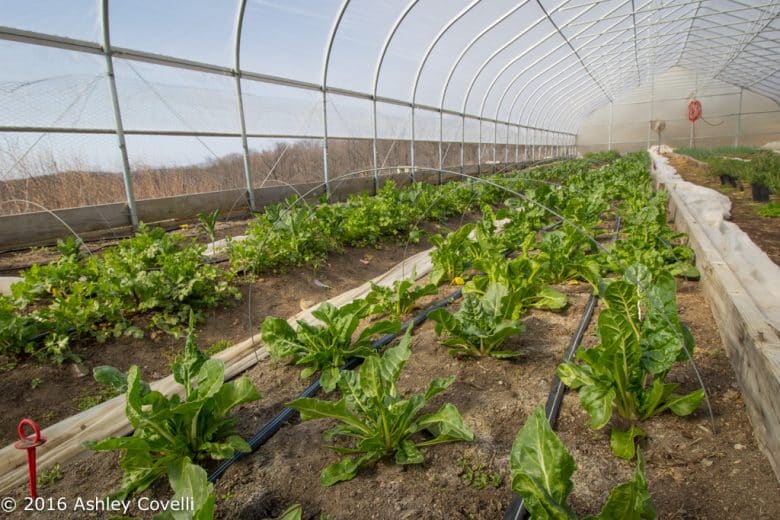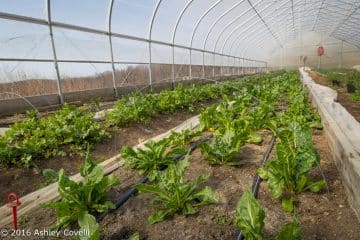 Big Flavors: For people who are unfamiliar with CSAs, can you talk a bit about what it is and why it's beneficial?
Michelle: It stands for Community Supported Agriculture, and people buy in at the beginning of the season. Ours is $700, which equals $35/week for 20 weeks. So you really are getting your money's worth. Paying down can be hard for people because it seems like a lot of money, but you'll see that you really do get your money's worth and more.
Big Flavors: Yeah, that's almost half the year!
Michelle: Yes! And we do a market style CSA, so we lay out all our radishes, beets, etc. and say "take a pound of this, 2 pounds of this, a pound and a half of this OR this…" like, we'll give you a choice of 2 different kinds of kale.
For the workplace CSA we're going to package it so it's all ready to pick up and go, but for the marketplace CSA, you get to walk around and grocery shop, essentially.
Big Flavors: I love that - I have a friend who had a share here last year and he was on vacation and let me come pick up his share for the week and I was like, "this is awesome! YES I will take 3 pounds of cucumbers!!"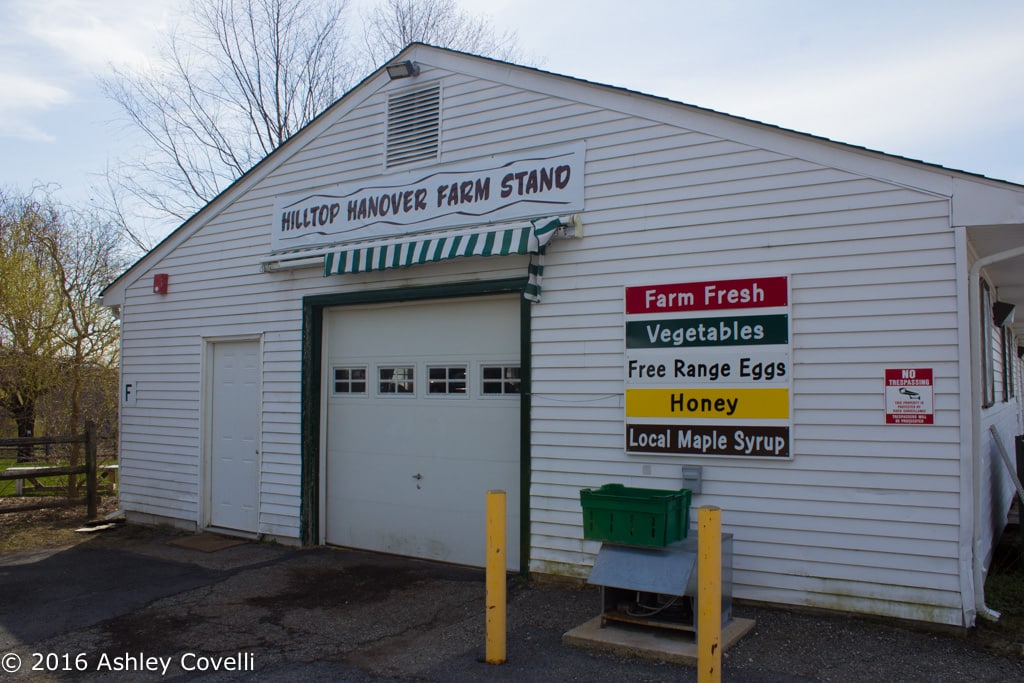 Michelle: It's important for people to realize that this is when we need our money, because this is when we buy our seeds, and seeds aren't cheap! And we're paying people's salaries in the winter when we have to do all this work to prepare. A lot of farming is in the preparation and planning. I never was involved in the planning process until this year - I only worked seasonally. And it's exhausting and a lot of math, juggling, choosing, making big decisions… so that's when the support from our community is really important.
Big Flavors: So they're helping to fund everything they're going to be eating for the year.
Michelle: Yes.
Big Flavors: What's in season right now?
Michelle: Not much if you don't have a greenhouse or if you haven't overwintered things. Overwintering is if you plant something in the fall or even summer and then keep it either in a hoop house or covered or something that can last through the winter all the way through. So for example carrots and parsnips can last throughout the winter. They're frost resistant so they can survive without wilting and dying - they're actually stored in the ground. And there's heartier versions of chard and kale that we've been growing in our greenhouse over the winter along with cilantro. Scallions can also be overwintered.
You can also get things like storage variety onions, pumpkins or squashes that store better. Or if you have a root cellar you can store roots and things like that. But mostly if you don't have a greenhouse, you're doing storage and thriving of what you've already grown.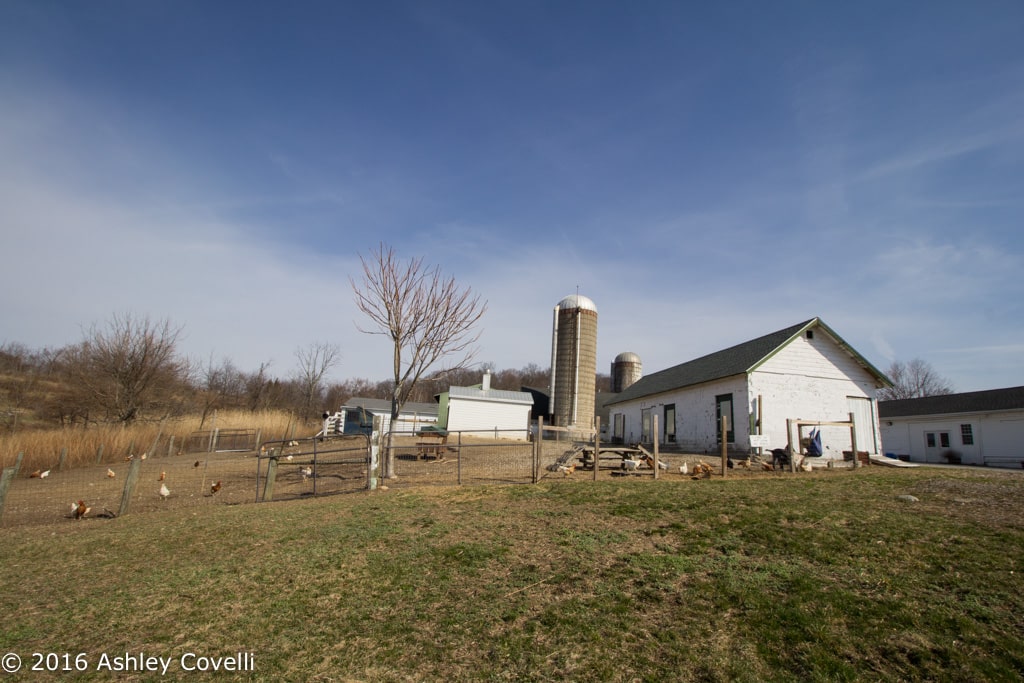 Big Flavors: What's one of your favorite more obscure vegetables?
Michelle: I love all vegetables, really! I'd have to think about that. But I have a fun one - about 2 years ago, I started asking people what their spirit vegetable was. People had been asking me, "oh what's your spirit animal" and I dunno… a bird? But then I realized that my spirit vegetable is a beet. So it started as a joke, but then I started asking the farmers and people I work with. So we've all decided upon our spirit vegetable and how it grows and its characteristics. So you can think about that and what your spirit vegetable is.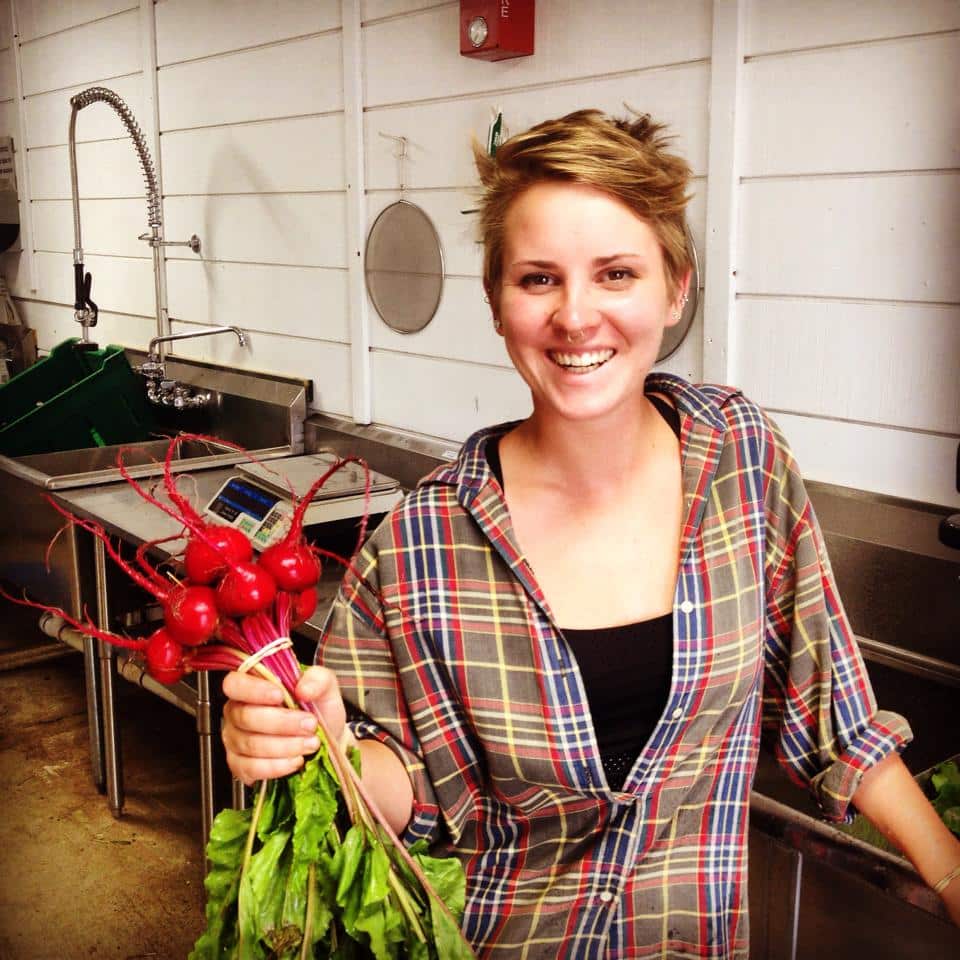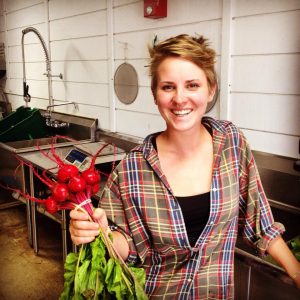 Big Flavors: Ha! I totally will. Now… any type of beet?
Michelle: I'm particularly a golden beet because I'm a blonde. But I have a connection with all the beets, I don't discriminate. There's the leafy and rooted and grounded and they're diverse and they have sugar compounds that provide a lot of energy, not afraid to get a little dirty. And tough!
Big Flavors: That's awesome.
Michelle: <laughs> I've thought a lot about it.
Big Flavors: For good reason, clearly!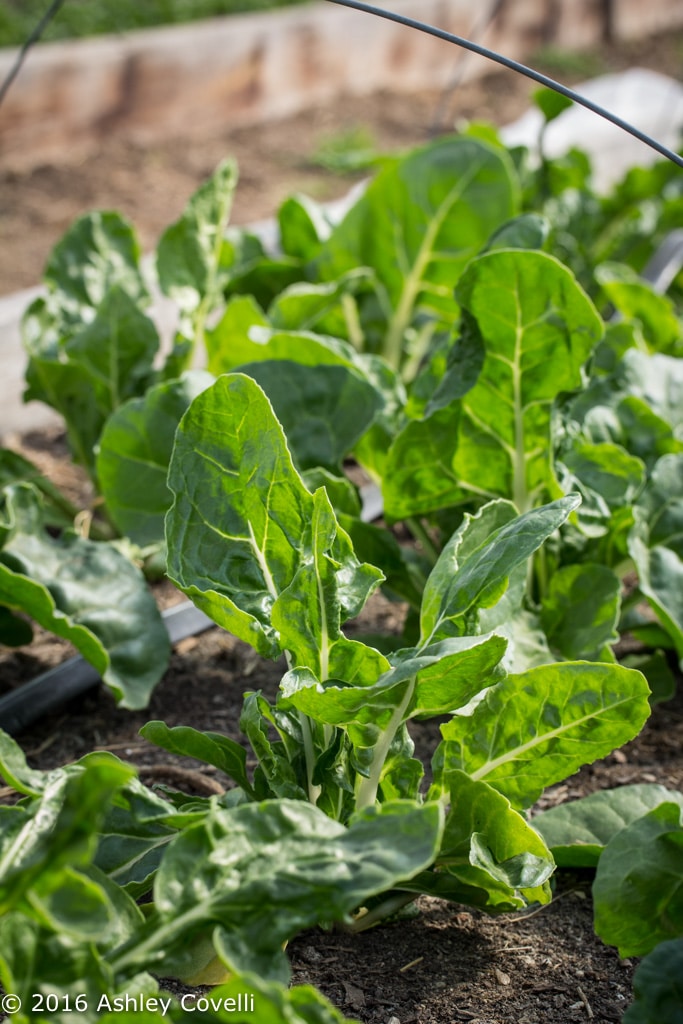 Big Flavors: How does your farm deal with pests and keeping the crops healthy?
Michelle: We don't use any pesticides, herbicides or fungicides - synthetic ones. So our pest management is either companion planting - trying to plant things together that are beneficial for each other. The classic example is one that a lot of home growers know - marigolds and tomatoes. But there's also dill and zucchini or summer squash plants. Nasturtiums as well - they help keep away different squash beetles.
Big Flavors: And they taste delicious together!
Michelle: Exactly! And Nasturtiums you can harvest for the flowers. We do use one organic spray - the difference is that it's organic compounds and it decomposes within 12 hours. So it kills whatever is there, doesn't harm the plant, and then you can harvest after 12 hours without even ingesting anything that was there. But we really only use that in extreme circumstances. Like we had a really big problem with potato beetles this past year and we were trying to knock that back. You can also row cover to keep pests at bay. Once we seed, we'll cover our rows until they become more substantial and can thrive on their own.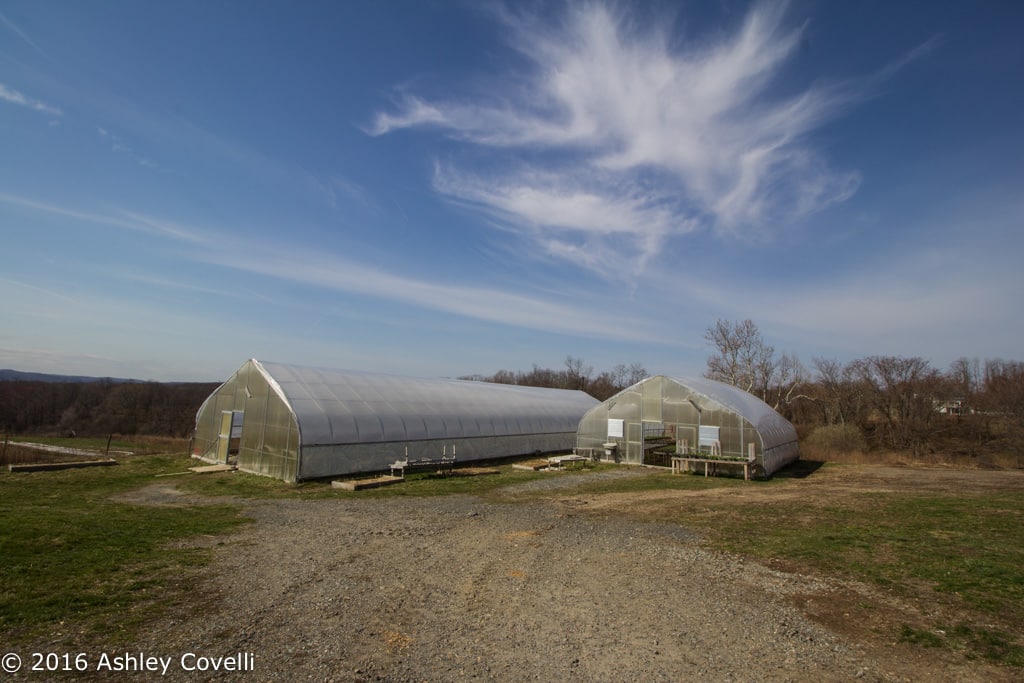 Big Flavors: What are some low maintenance crops that you'd suggest for people who want to try growing at home?
Michelle: I'm actually putting together a slideshow for a container class we teach here at the farm for people who have at home garden. Things like radishes, carrots, turnips - all those grow pretty easily in containers. Herbs - if you're terrible, that's where to start!
Big Flavors: I can't grow cilantro! It seems very weak, like the stems don't get hearty enough.
Michelle: They're picky about their sunlight, that's definitely true. Things like eggplant and peppers aren't terribly hard to grow - they do have to be outside because they have to be pollinated. You need a 5 gallon bucket for one plant.
Big Flavors: Ah, that may have been my problem - I did carrots for the first time a few years ago and they looked like they were gonna be great… and they were itty bitty. Adorable, but tiny.
Michelle: Yeah, you probably need bigger containers.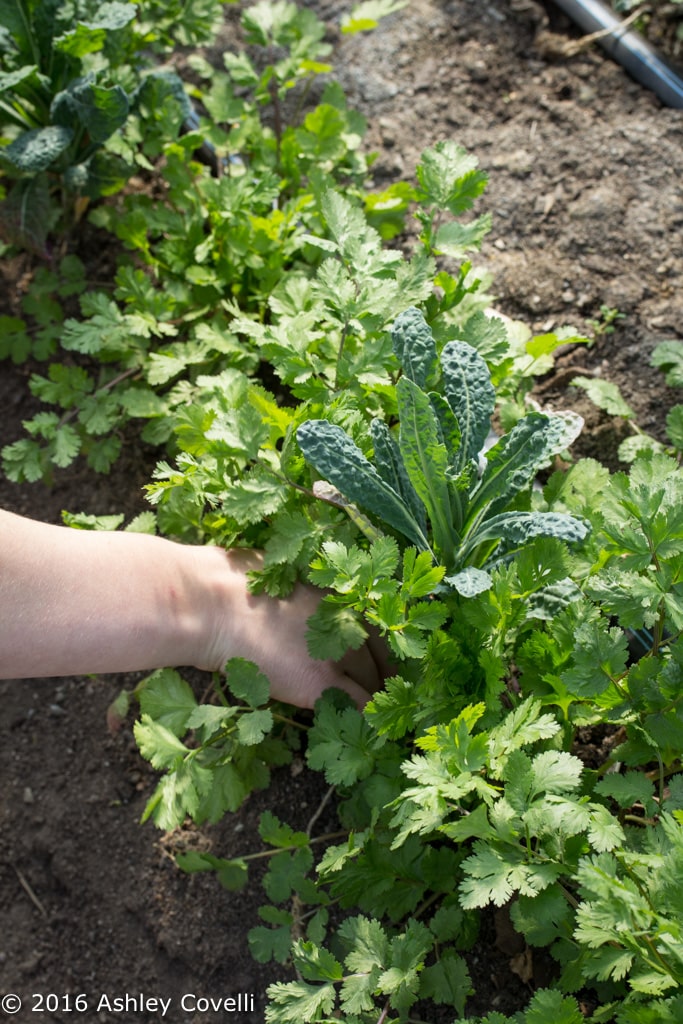 Michelle: Potatoes are really great to grow in containers because you can just dump out the container - and that's really fun for kids. Cherry tomatoes... there are different types of tomatoes that are good for smaller gardens. There are ones that grow more as bushes and ones that grow up more, and picking those varieties can help you if you have less space. Bibb lettuce is pretty easy. And that you can just keep cutting it.
Big Flavors: Can you tell me about some of the other programs you have here? I know I spotted a Yoga on the Farm class on your website, and that sounds awesome! Are you going to vary the location on the farm from week to week?
Michelle: I'm teaching that, actually! I'm going to talk to the class and see what they're interested in. Some people hate outdoor yoga and some people love it. It's a little different because you're dealing with uneven ground, a mosquito might come at you… but I think it's wonderful to feel a breeze and hear the birds. I actually used to do it on my own before work when I'd come here. One - it would make sure I wasn't late for work, and two - I was ready! And it also helps because with farming you can get injured pretty easily, especially if you aren't stretching well. That repetitive movement - it's really important to take care of your body.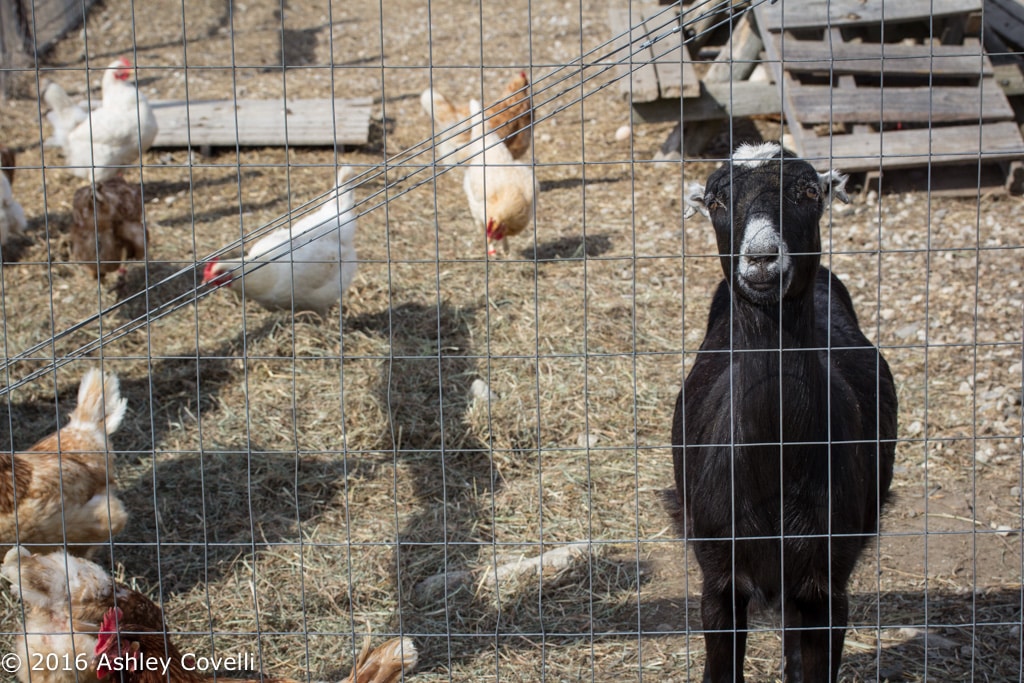 Big Flavors: Plus you have all the roots that are grounded and you're getting grounded with your body…
Michelle: Exactly! We also do a lot of educational classes and school trips and field trips. It's really rewarding because we get to interact with kids. We have educational directors that give them the whole tour, but they come into the field and we have them help us pick for the day. A lot of these kids are coming from the city or the Bronx or Queens and some of them have never been on a farm or seen a cow or known how things grow. And it tastes awesome! We let them try things and it's really exciting to see. Education about sustainability and farming is so important. If you aren't educating the next generation about it, sustainability isn't sustainable. You need that educational component.
We have a U-Pick on Saturdays, similar to pick your own apples, which is really popular. You can come pick your own veggies. So you're cutting bok choy and picking potatoes and peas, and that's a really fun family activity. If you join our mailing list, we'll send out emails with what's available each week for U-Pick.
We also have flowers - you can cut your own flowers and make your own bouquet.
Big Flavors: That'd be perfect for Mother's Day!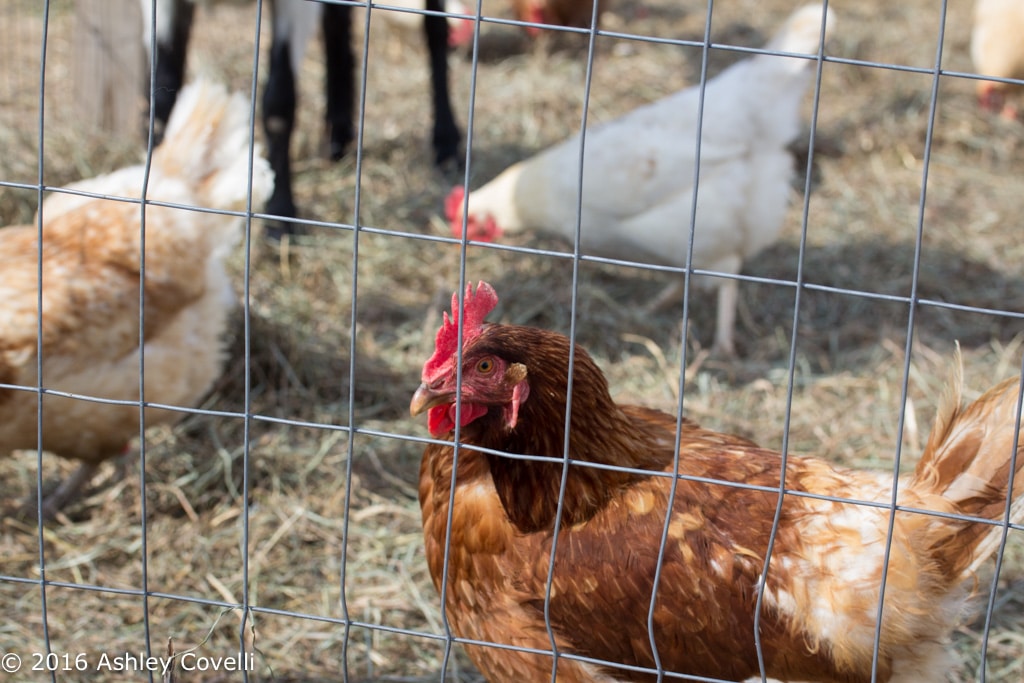 Michelle: We also have beekeeping classes, homesteading classes. We teach a class on how to start your own garden and sell a veggie kit along with it that gives you like 2 eggplants, 2 tomatoes, etc. that are all things that I selected that are good for home gardeners.
We also have a sale for plant starters at the beginning of the season. It's much better to get your plants from a farm than a grocery store or somewhere like that. First of all, you don't know how they've been treating that plant. Usually they've been stressed out. If they're already flowering you know they haven't been getting the types of nutrients and sunlight they should be. But from a farm, we treat your plants that you're about to buy the same as our plants that we've been growing. We want our plants to be successful in the field. We put a lot of care into what we choose and what we grow.
Big Flavors: How can people sign up for a CSA or one of your classes?
Michelle: Online. You can pay for our CSA or classes on our site, and you can always stop in and we're happy to help you here as well.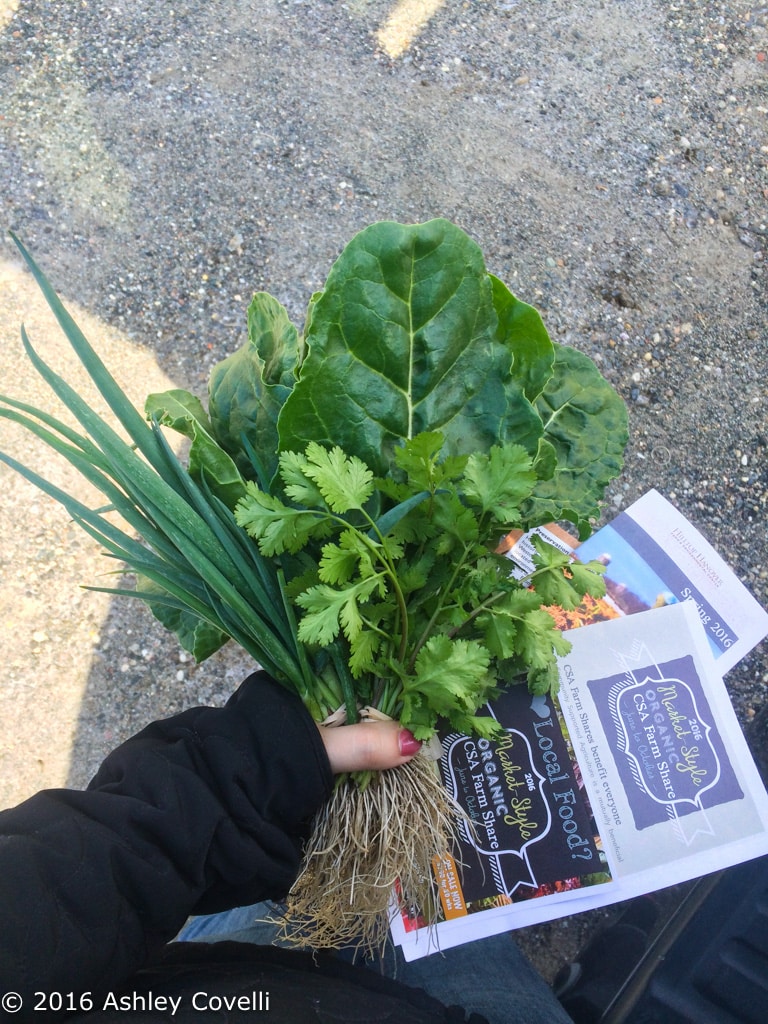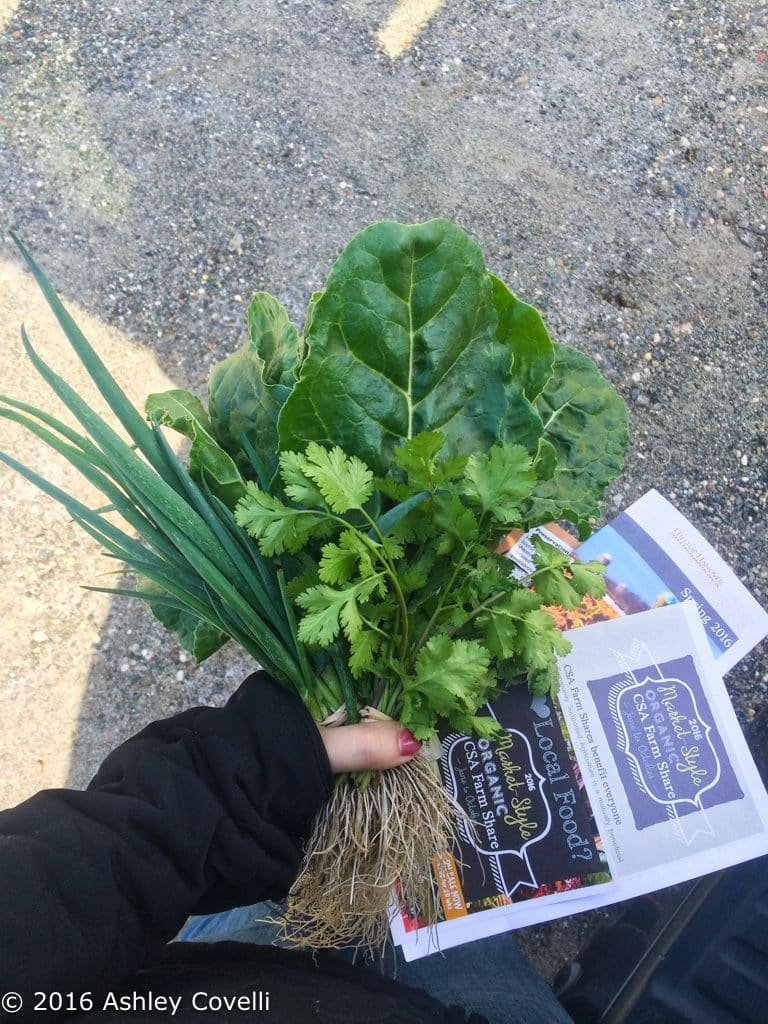 Thanks again to Michelle and Hilltop Hanover for such a fun, educational day! To keep up with classes, events, U-Pick and everything else going on at the farm, head over to their website or follow them on Facebook, Instagram, Pinterest and Twitter.
Hilltop Hanvoer Farm & Environmental Center is located at 1271 Hanover Street in Yorktown Heights, NY.
Stay tuned later this week see what I did with the goodies I brought home from the farm!
UPDATE: here's the recipe for my Italian-Style Veggie Polpette!