This post may contain affiliate links, which won't change your price but will share some commission.
This post was created in partnership with Stonyfield and prAna. As always, all opinions are 100% my own.
This time of year is absolutely beautiful here in the Hudson Valley. The leaves are stunningly colorful, and the air is nice and crisp.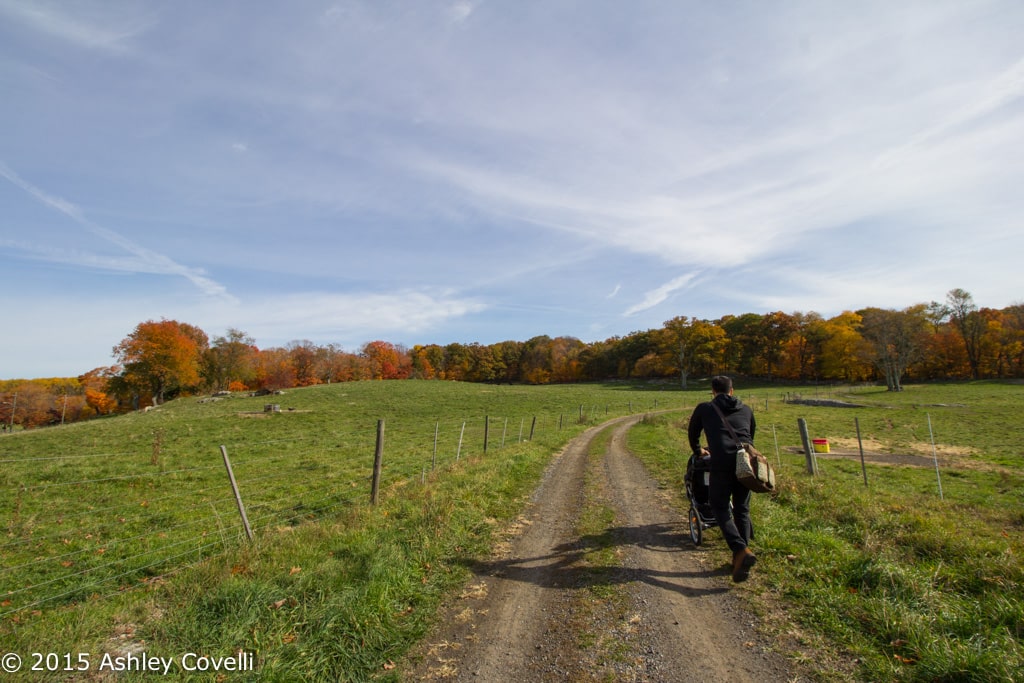 I love heading outside with my family as often as possible to keep active and spend quality time together.
And if you know me, you know I'm always packing snacks!
One of my favorite snacks hands down is Stonyfield's Oh My Yog! - I've talked about it before, but it's worth repeating.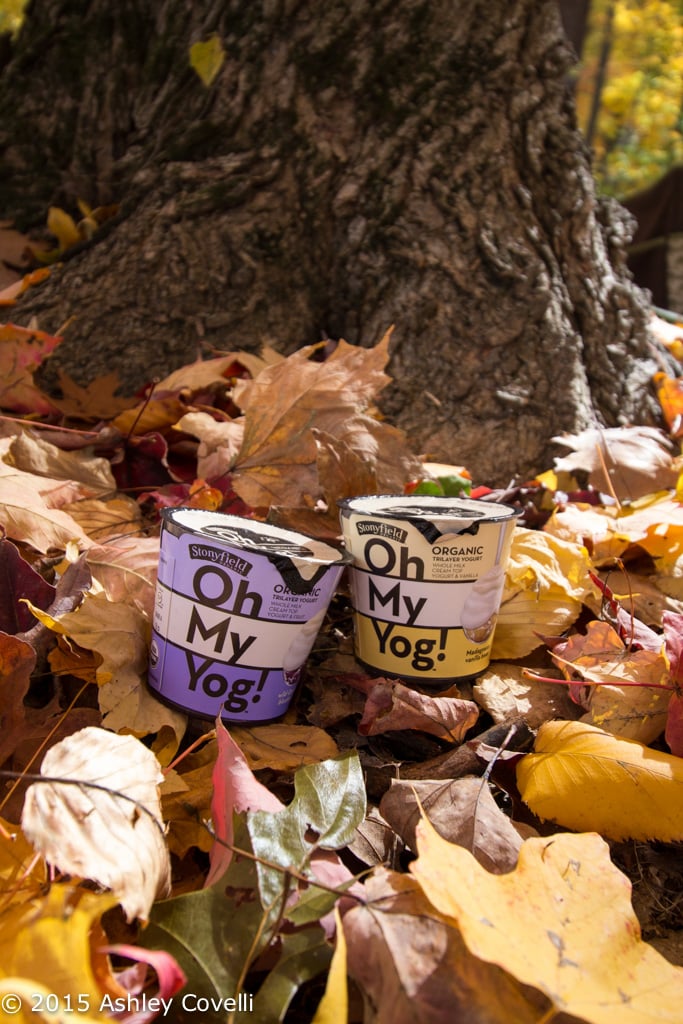 Oh My Yog! is a whole milk yogurt with a layer of cream on top, a honey infused center and a thick, jammy fruit layer on the bottom. It comes in several flavors, but my (current) favorite is Madagascar Vanilla Bean.
I like to pack up some snacks in a cooler and bring it out with us on our adventures. I'd hate to call it quits on a beautiful fall day to head home to get something to eat when someone gets hangry. And I've my 3-year-old has been known to get hangry!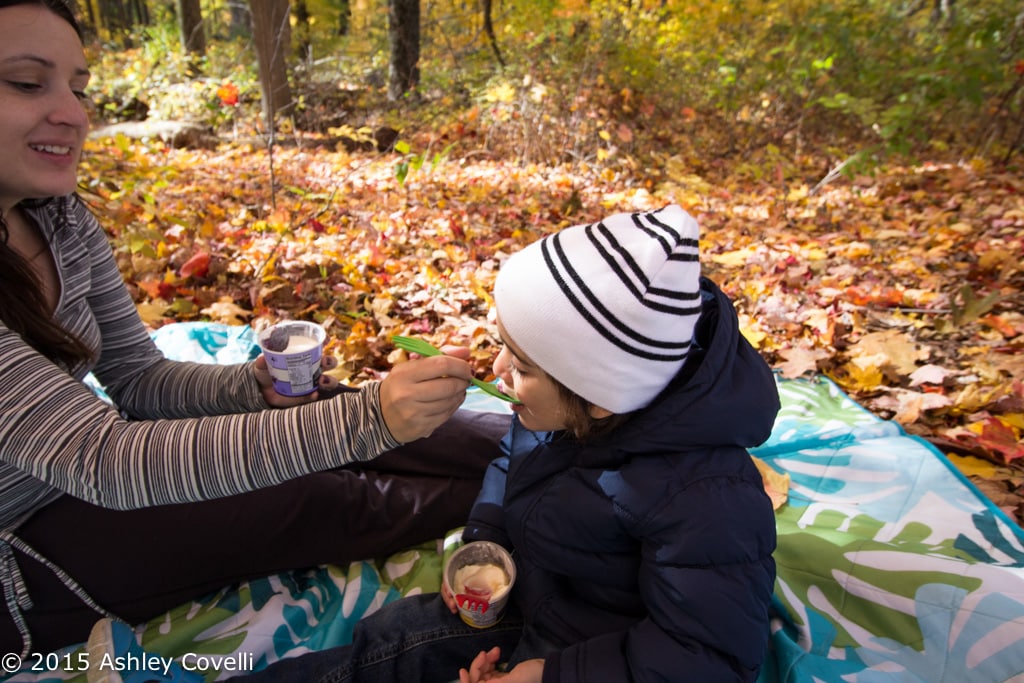 This year, Halloween was the perfect day for a family outing. It was unseasonably warm with a cool breeze, so we thought we'd go for a hike/stroll out on the trails near a local farm.
I told my son to keep his eye out for the perfect spot for us to stop to have a picnic. We shared two flavors of Oh My Yog! (switching off occasionally to QC each other's flavors, obviously) and some baked green pea snacks before running off for a game of tag with my husband.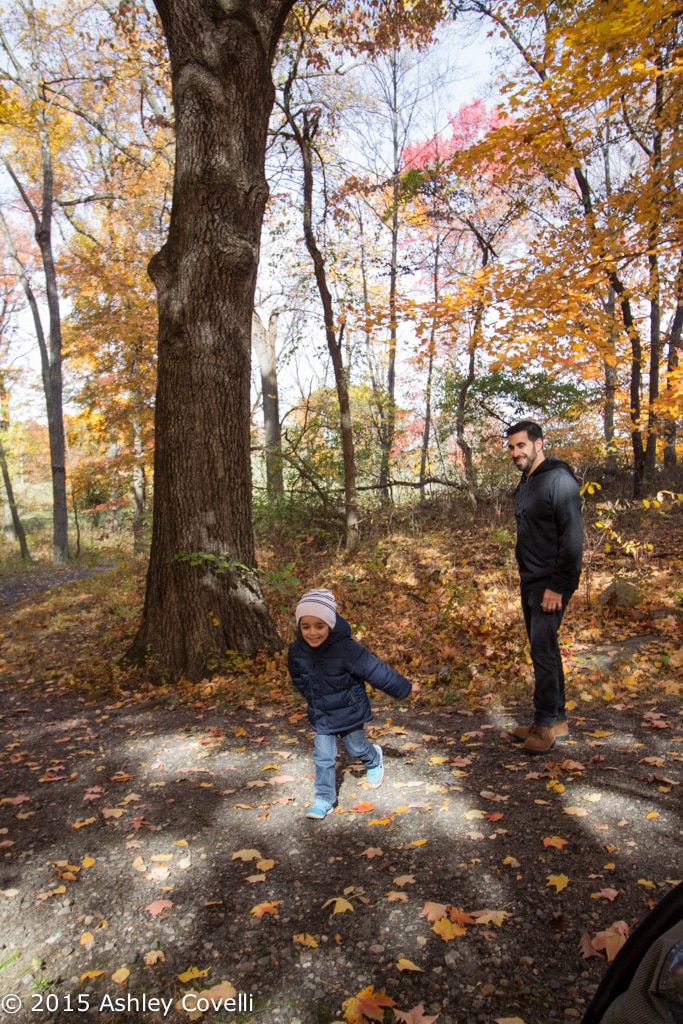 It can be tricky to dress appropriately for this finicky weather, especially when you're planning on being active. With running I usually dress in layers, but for this outing, I wore prAna's Vinyasa Hoodie in Winter Stripe.
It was lightweight yet warm and breathable. I really liked the scoop neck and cinched waist - much more stylish than a lot of my other workout gear! I'm definitely going to be wearing it over my yoga tank tops as the weather gets cooler, too!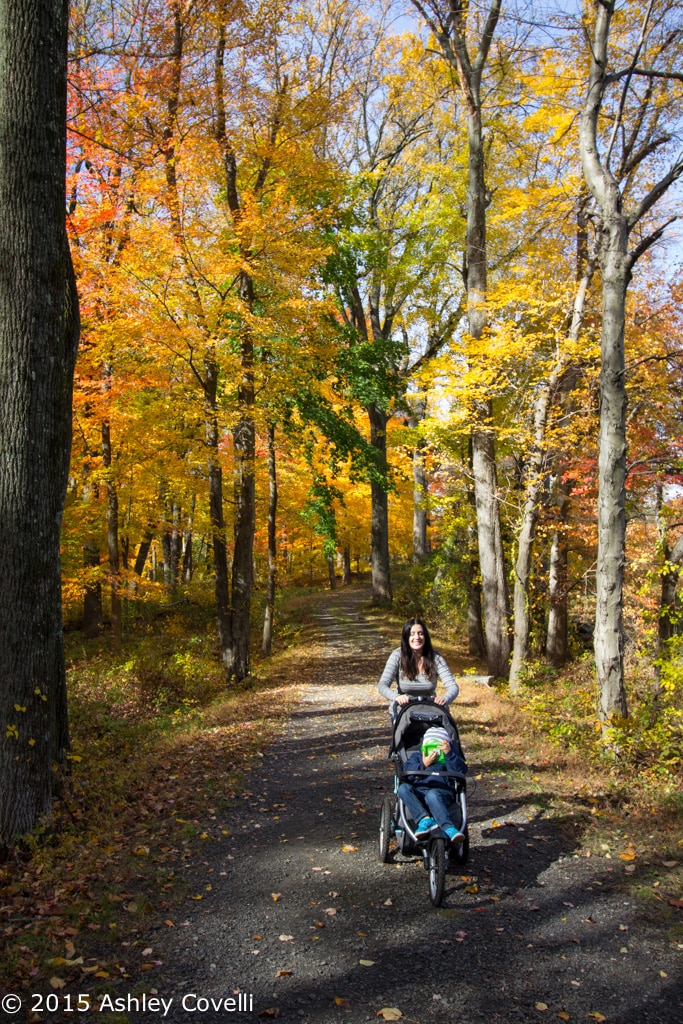 Another one of our favorite outdoor activities is Geocaching. It's like a real world treasure hunt, and it's a really fun family activity.
We checked our app and saw that there was one near where we were picnicking, so we headed off to find it. Took a little searching, but we got it! My son looooves "treasure hunting". We're up to 44 total finds now, and have hooked a few other people on it.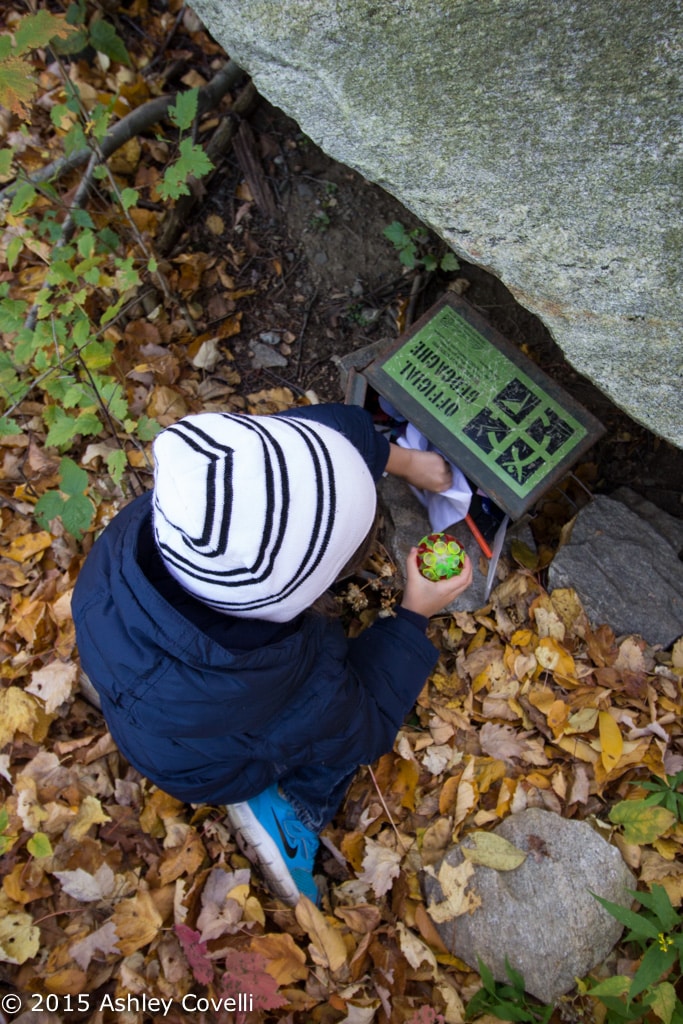 After a bit more running around, we needed to head home to get our costumes on for a Halloween party and trick-or-treating. My son picked out all of our costumes this year - he was Sonic the Hedgehog and my husband and I were peanut butter and jelly. Ridiculous and hilarious - 2 of my favorite things!
It really ended up being such a gorgeous day, and I love any excuse I can get to spend time laughing and playing with my boys.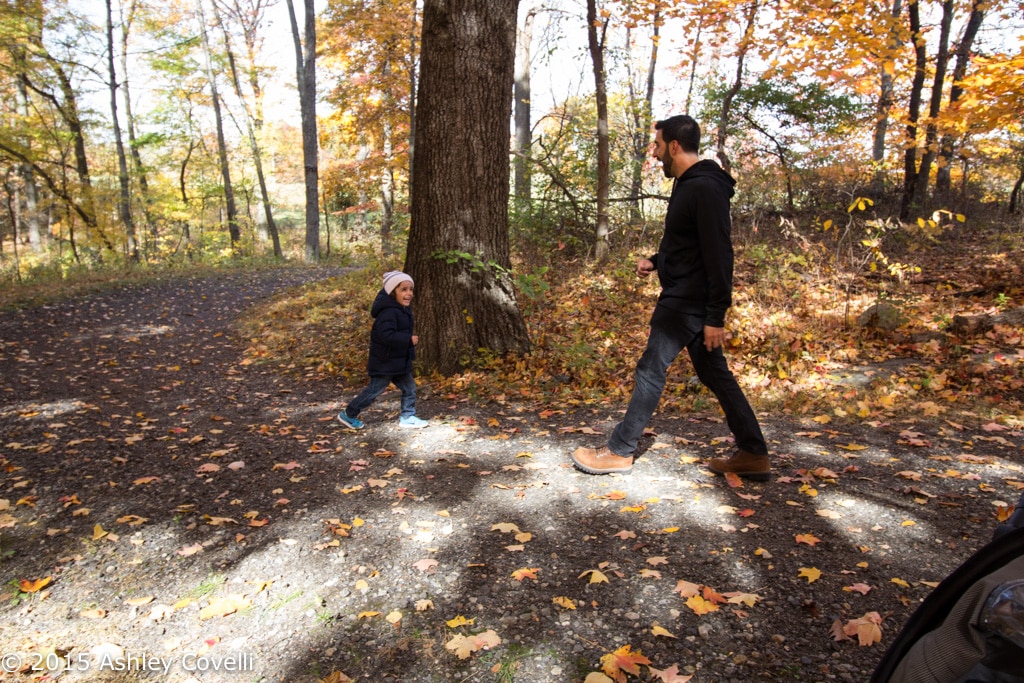 I'm excited to announce that prAna is offering a few goodies for Big Flavors readers! You can use discount code JBYF15BFSK over on prAna's website for 15% off anything on their organic line now through December 15th. (Not valid for prAna influencers, on gift certificates or with any other offers).
They're also offering ONE reader a free item from their organic line (up to $99)! How cool is that?!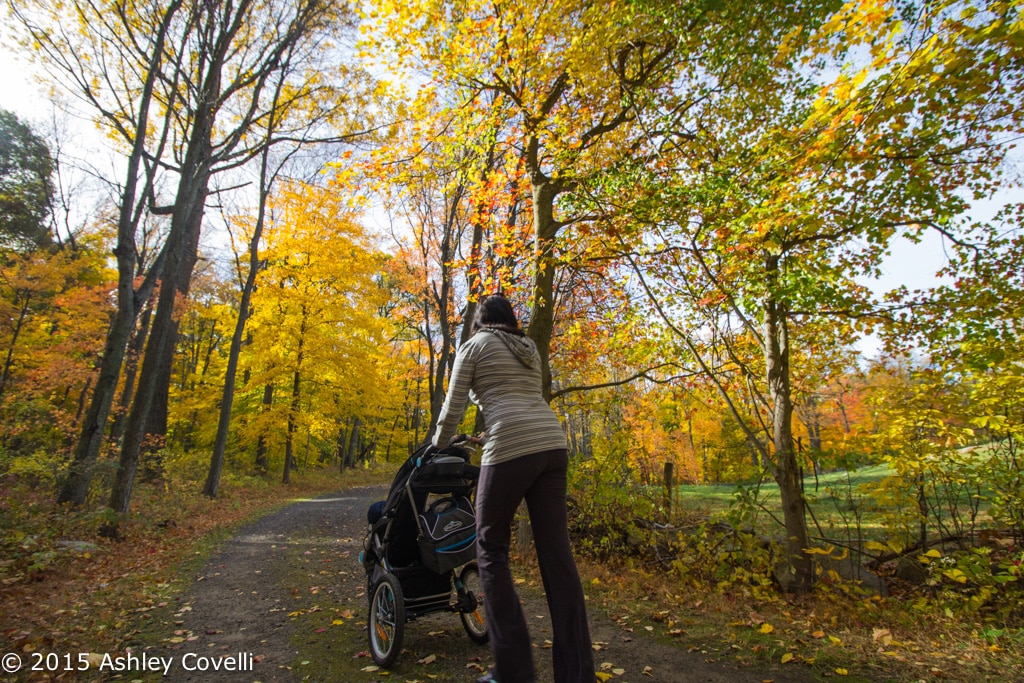 To enter to win, leave a comment below telling me your favorite pre- or post-workout snack. The contest will close on Monday, November 16, 2015 at 12 noon (Eastern Standard Time). One winner will be chosen via random.org and will be contacted via email to get mailing information and item selection. Prize will be shipped by the sponsor. U.S. residents only. Good luck, everyone!
UPDATE – The winner has been selected via random.org – CONGRATS to Lauren!