This post may contain affiliate links, which won't change your price but will share some commission.
I had baked a couple of potatoes at the end of last week for this soup, but I didn't get around to making it until tonight. It made it a lot easier to already have the potato part done. This is a really good, hearty, comfort food type of dish. I seasoned it with more salt and pepper at the end, and ate a nice big bowl. This would also be good with a dollop of sour cream on top. Yum!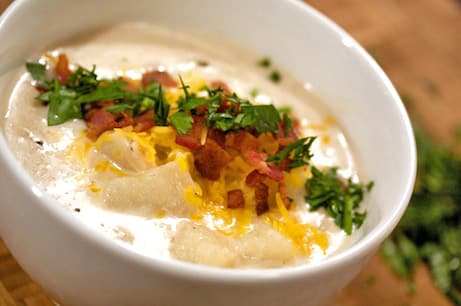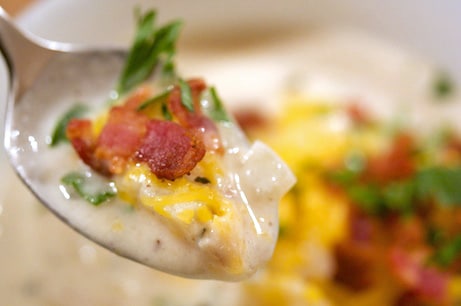 Baked Potato Soup
Allrecipes Kristi Teague
"A good friend who runs a bed-and-breakfast game me this creamy potato soup recipe that's become a winter favorite,' recalls Kristi Teague of Southside, Tennessee. 'A dash of hot sauce a little basil give it special flavor."
Prep Time: 10 Min
Cook Time: 20 Min
Ready In: 30 Min
Yield 4 servings
3 bacon strips, diced
1 small onion, chopped
1 clove garlic, minced
3 tablespoons all-purpose flour
1 teaspoon salt
1 teaspoon dried basil
½ teaspoon pepper
3 cups chicken broth
2 large baked potatoes, peeled and cubed
1 cup half-and-half cream
½ teaspoon hot pepper sauce
Shredded Cheddar cheese
Minced fresh parsley
In a large saucepan, cook bacon until crisp. Drain, reserving 1 tablespoon drippings. Set bacon aside. Saute onion and garlic in the drippings until tender. Stir in flour, salt, basil and pepper; mix well. Gradually add broth. Bring to boil; boil and stir for 2 minutes. Add the potatoes, cream and hot pepper sauce; heat through but do not boil. Garnish with bacon, cheese and parsley.
MacGourmet Rating: 4 Stars