This post may contain affiliate links, which won't change your price but will share some commission.
I made this side dish to go with the Lemon Pepper Shrimp Scampi, since the magazine recommended asparagus as a side dish. It was good, but the sauce would be better if it was reduced so it would be thicker on the asparagus.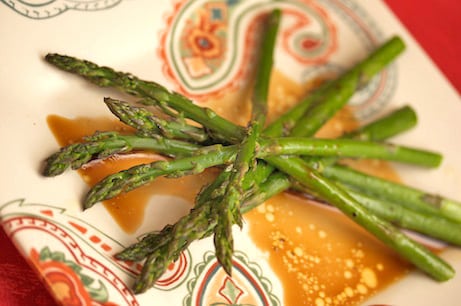 Baked Asparagus with Balsamic Butter Sauce
Allrecipes CAE
"This is a simple and delicious side dish. Fresh asparagus is baked until tender, and dressed with a blend of butter, soy sauce, and balsamic vinegar."
Prep Time: 10 Min
Cook Time: 12 Min
Ready In: 25 Min
Yield 4 servings
1 bunch fresh asparagus, trimmed
cooking spray
salt and pepper to taste
2 tablespoons butter
1 tablespoon soy sauce
1 teaspoon balsamic vinegar
1. Preheat oven to 400 degrees F (200 degrees C).
2. Arrange the asparagus on a baking sheet. Coat with cooking spray, and season with salt and pepper.
3. Bake asparagus 12 minutes in the preheated oven, or until tender.
4. Melt the butter in a saucepan over medium heat. Remove from heat, and stir in soy sauce and balsamic vinegar. Pour over the baked asparagus to serve.
Nutritional Information:
Calories: 77 | Total Fat: 5.9g | Cholesterol: 15mg